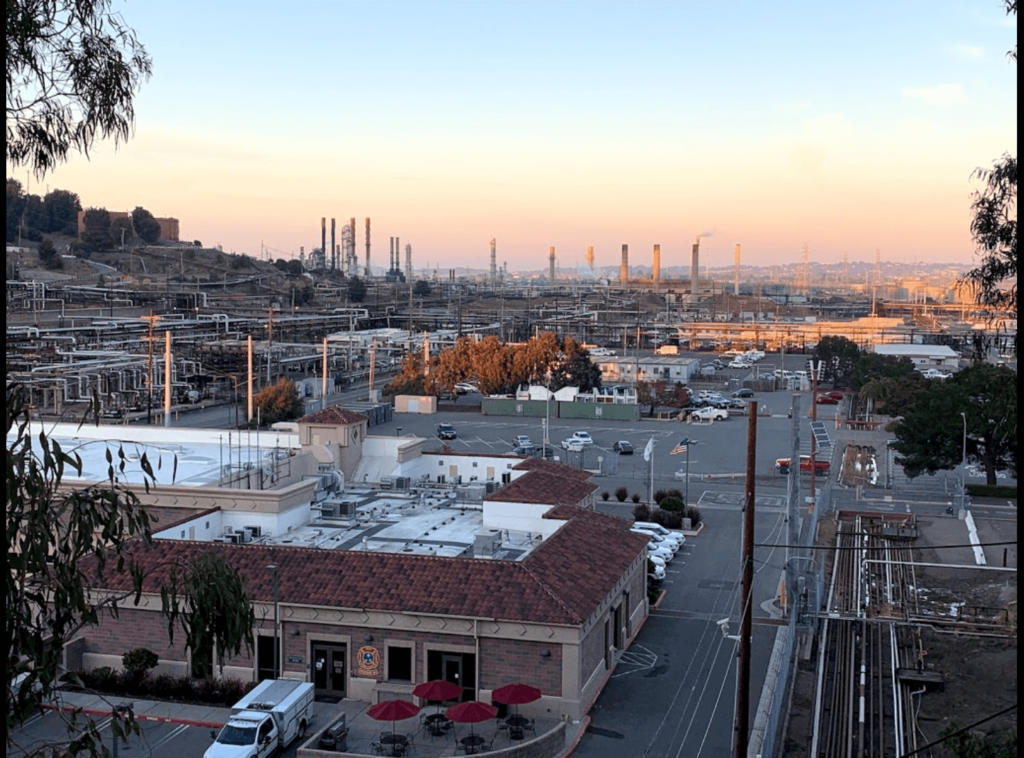 Bay City News [BCN]. Peninsula 360 Press [P360P].
After an oil spill at the Chevron refinery in Richmond yesterday afternoon, Contra Costa County authorities have joined in the cleanup of the oil to prevent the situation from becoming an environmental catastrophe in the area.
A leak in one of the refinery's pipelines caused five gallons per minute of hydrocarbon to spill along the Chevron Richmond dock yesterday afternoon.
The company said yesterday afternoon that at about 3 p.m., workers at the Richmond refinery observed a sheen in the water near its dock, which they said prompted them to immediately initiate their response protocol and begin working to isolate and contain the release of oil and notify all necessary agencies.
"The release of oil has stopped at this time and cleanup is ongoing. Chevron is cooperating fully with authorities, including the U.S. Coast Guard and OSPR," he said.
Through their Twitter account, they detailed that they issued a warning to the community and asked the public to stay away from the area so that crews can quickly contain and clean up the released volumes.
Criticism from elected officials and an environmental group was swift, and a team of county, state and federal officials joined Chevron to take charge of cleaning up an oil leak.
The unified command is made up of officials from Contra Costa Health Services, the California Department of Fish and Wildlife's Office of Spill Prevention and Response and the U.S. Coast Guard, along with Chevron.
It should be noted that the California Department of Fish and Wildlife is "actively monitoring the situation to assess any potential public health concerns related to the incident".
To mitigate the problem, an additional 2100 feet of containment barrier has been placed around the spill site and three skimmers ?devices designed to remove oil floating on a liquid surface? of oil will be operating overnight.
The state's press release confirmed Chevron's account of its initial response, which quickly drew local criticism as about 600 gallons reached the bay between 2:40 p.m. and 4:30 p.m. yesterday when the leak was stopped, according to Contra Costa supervisor John Gioia, who said "This is unacceptable!" in a social media post.
Chevron's initial response was "inadequate" and "the oil quickly breached Chevron's containment boom," the Oakland-based environmental watchdog group San Francisco Baykeeper said in a statement in which it released photos to back up its claims.
The ecological accident was classified at Level 2 and Contra Costa Health Services issued an advisory shortly before 4 p.m. for Richmond, San Pablo and unincorporated North Richmond, warning people with sensitive respiratory conditions to stay indoors to avoid nose, throat and eye irritation.
Booms were initially put in place to control the spread of the spill, but the East Bay Regional Park District had to close the beaches as a safety precaution and "the oil came ashore in South Richmond, which will harm wildlife and marine life," Gioia said.
State officials report that although no animals have been reported to be affected, the public should report any wildlife encounters or sightings they have oil to the Wildlife Enhanced Wildlife Care Network at 1-877-UCD-OWCN (1-800-823-6926).