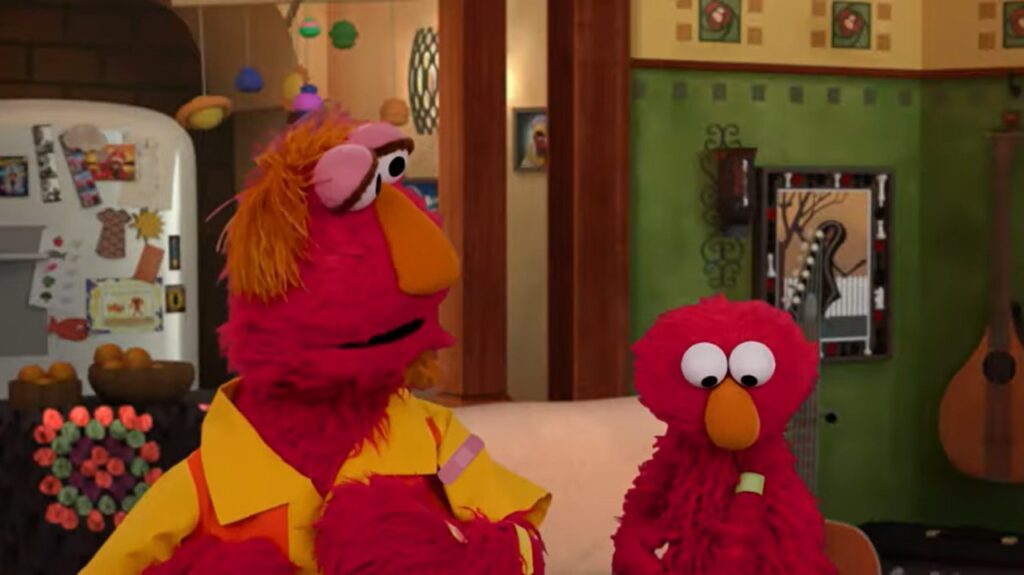 Little Elmo, one of Sesame Street's most lovable characters, happily received his first dose of the COVID-19 vaccine on Monday after it was licensed by the U.S. Centers for Disease Control and Prevention (CDC) for children 6 months of age and older.
After a small pinprick, the three-and-a-half-year-old "muppet" said he was fine and happy to have a "super-duper" bandita.
"It was a little pinprick, but everything is fine. Elmo is happy that daddy and baby David went with him," said the furry red guy in a video that was broadcast on Sesame Workshop's channel on the streaming platform Youtube.
For his part, Louie, Elmo's dad, reminded parents that it's okay to have questions and encourages viewers to talk to a pediatrician or health care provider to get the latest data on vaccines, which have been shown to reduce the chances of serious illness and hospitalization from COVID-19.
Elmo was joined by his father Louie, who just a year ago received the adult vaccine, which, in his own words, "allowed him to begin to live more freely with the people around him.
Louie, did not wait for several questions that arose before vaccinating her little Elmo, such as, "Is it safe? Was it the right decision?" questions that she felt were pertinent to Elmo's pediatrician.
"I talked to our pediatrician so we could make the right decision. I learned that having Elmo get his vaccine is the best way for him, our friends, neighbors and all of us to be healthy and doing the things we love," Louie said.
This is not the first time Elmo has been to the doctor, but it is the first time he has been vaccinated against COVID-19, and he knows very well how to approach that topic, as previously in the Sesame Street: The ABCs of COVID Vaccines panel, in which he participated, he did so with the same question: Can children under five be vaccinated?
At that time - November 2021 - Pfizer's COVID-19 vaccine was approved for children five to 11 years of age in doses just one-third the amount given to adolescents and adults.
In that campaign, a total of 28 million children in that age range were vaccinated.
The minute-long video, which is endorsed by the CDC and the American Academy of Pediatrics (AAP), was broadcast in English and Spanish.
The PSA, featuring Elmo and his father Louie, encourages parents and caregivers to learn about COVID-19 vaccines so they can authorize the necessary doses for their children, protecting them and the surrounding community against the disease.
The new ad is the latest in a series starring the Sesame Street Muppets, first targeting adult vaccinations and more recently children ages 5 and up.
Nearly 5.7 million childhood cases of COVID-19 were reported nationwide in 2022 alone, making vaccination an important step in protecting children and their families against this highly contagious virus and its variants.
According to the AAP, only 29 percent of children ages 5 to 11 and 59 percent of adolescents ages 12 to 17 in the United States were fully vaccinated as of early June.
New research from the nonprofit Ad Council found that 52 percent of parents have not made a firm decision to vaccinate their children over six months and under 5 years of age.
However, that analysis also revealed that more than 50 percent of parents believe that their children under 5 years of age are most at risk of contracting a COVID-19 infection in public settings, specifically in out-of-home day care centers and in public.
"With the start of summer activities and the new school season approaching, vaccines will help protect children in these public settings that parents say make them more vulnerable," the nonprofit educational organization Sesame Workshop said in a statement.
Children under 5 years of age will be considered fully vaccinated against COVID-19 with two doses of Moderna vaccine - one-fourth of the adult dose - four weeks apart, or three doses of Pfizer's BioNTech vaccine - one-tenth of the adult dose - with the first two doses administered three weeks apart and a third dose at least eight weeks after the second dose.
"Our work with Sesame Workshop has been invaluable in helping us connect parents and caregivers with the accurate information they need when deciding to vaccinate their children against COVID-19, an important decision many must make before the upcoming school season," said Lisa Sherman, president and CEO of the Ad Council.
In addition to the new announcement, Sesame Workshop is releasing additional bilingual resources for parents, caregivers and providers to answer common questions in an age-appropriate manner and provide strategies to help children prepare for vaccination.
"With the help of Elmo and his dad Louie, we want to model real conversations, encourage parental questions and help kids know what to expect," said Dr. Jeanette Betancourt, senior vice president of U.S. Social Impact for Sesame Workshop.
In December, 6-year-old Big Bird and his Granny Bird were featured in a video for parents and caregivers of children ages 5 to 12, who also received the vaccine, as did Rosita.
It should be noted that the CDC advises vaccination even for those who have already had COVID-19 to protect against reinfection, plus they have noted that it is okay to receive other vaccines at the same time.
You may be interested in: Vaccination against COVID-19 in children under 5 years of age will reinforce community-wide protection