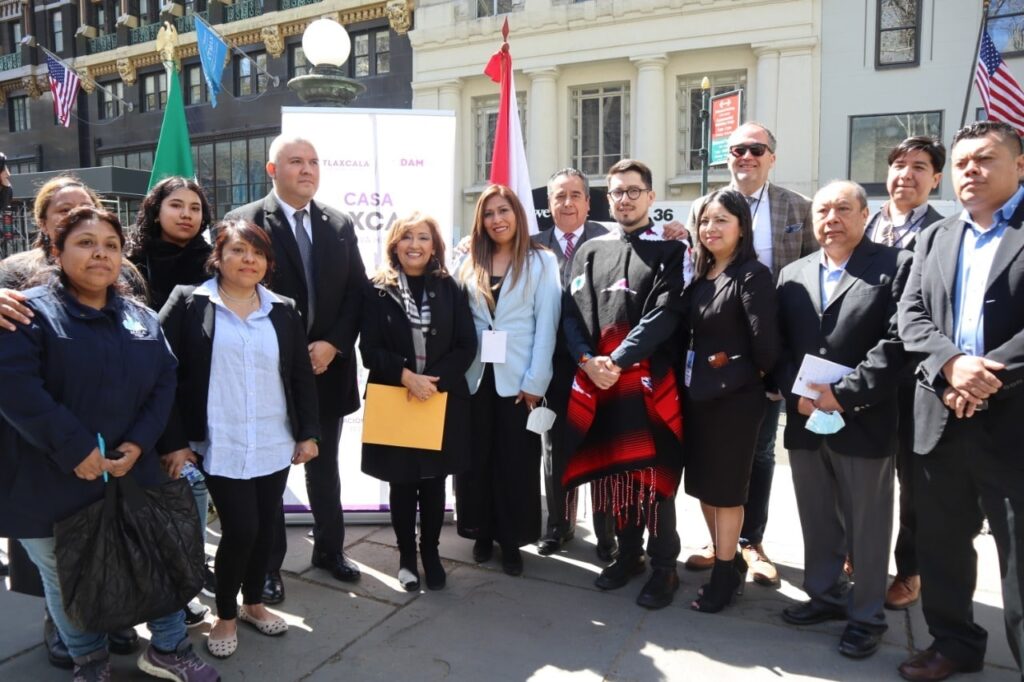 Tlaxcalans living in New York City already have a space for them, since on April 19 "Casa Tlaxcala" was inaugurated in the Big Apple.
The governor of the state of Tlaxcala, Mexico, Lorena Cuéllar Cisneros, was in charge of cutting the ribbon for the inauguration of the "Casa Tlaxcala"This space serves as a governmental representation where advisory and support services will be provided for various procedures for Tlaxcalan immigrants living in New York.
Among the procedures that can be carried out at Casa Tlaxcala are the issuance of birth certificates, driver's licenses or certificates of no criminal record, apostille of documents, clarification of certificates, repatriation of the bodies of deceased persons, and support to obtain dual nationality.
"It fills my heart with joy to see the materialization of a commitment I made during my campaign with the migrant community, and that today I deliver in New York. Casa Tlaxcala is the space that will provide advice and support for various procedures for Tlaxcalan migrants," said the Mexican official through her social networks.
Cuellar Cisneros explained that services at the office located in the WeWork building at 54 West 40 Street New York will be completely free of charge.
Manuel Castro, Commissioner for Migrant Affairs in New York City, emphasized that the Tlaxcalan community has been fighting for a long time to have a space that would provide them with adequate attention, since many of them cannot go to Mexico to carry out the necessary procedures.
He added that the office he heads offers various services to the immigrant community, so that, if required, they can also approach the office for assistance in education or transportation, among other services.
Casa Tlaxcala arrives in New York, after a constant struggle by this community in "The Big Apple", as several members said they felt forgotten by previous Tlaxcalan administrations, so they were grateful for the new space.
It is also worth mentioning that on April 19 the "Day of Friendship with Tlaxcala" was declared in New Haven, Connecticut.
The mayor of Tlaxcala, Justin Elicker, recognized Cuellar for his work on behalf of the migrant population of Tlaxcala.
Both officials inaugurated the Consulate on Wheels in the town of Connecticut, and highlighted the importance of the initiative that will seek to bring various services to migrants from Tlaxcala.
"Thank you for receiving us, for giving us all the facilities so that today we can celebrate every April 19 a celebration of Tlaxcala for the world, so that they know the cultural richness," said Lorena Cuellar in the establishment of the day.
He mentioned that the lack of job opportunities is the main factor of migration in the state, so his government is already working to generate more and better sources of work, so that there is no need for more families to migrate and separate, and that those already living in this situation can be reunited in their place of origin.
"I want to tell you that the people of Tlaxcala are very talented, where there is a Tlaxcalan there will always be success because they are very hard workers? we also want to achieve family reunions," he stressed.
For his part, the Mayor of New Haven, Justin Elicker, said that in recognition and appreciation of the contribution of Tlaxcalans, he initiated the New Haven-Tetlanohcan Sister City Project, with the goal of raising awareness of the economic, cultural and political realities of Mexico that value people, communities and the environment over profit.
He emphasized that there is a great connection between the two states, so he pledged to establish a cooperative and ongoing working relationship to improve the lives of residents, as well as expatriates from Tlaxcala, through economic opportunities, social and governmental services that support their overall well-being.
With information from "El Sol de Tlaxcala".
You may be interested in: Organization brings healthy food to underserved Bay Area communities