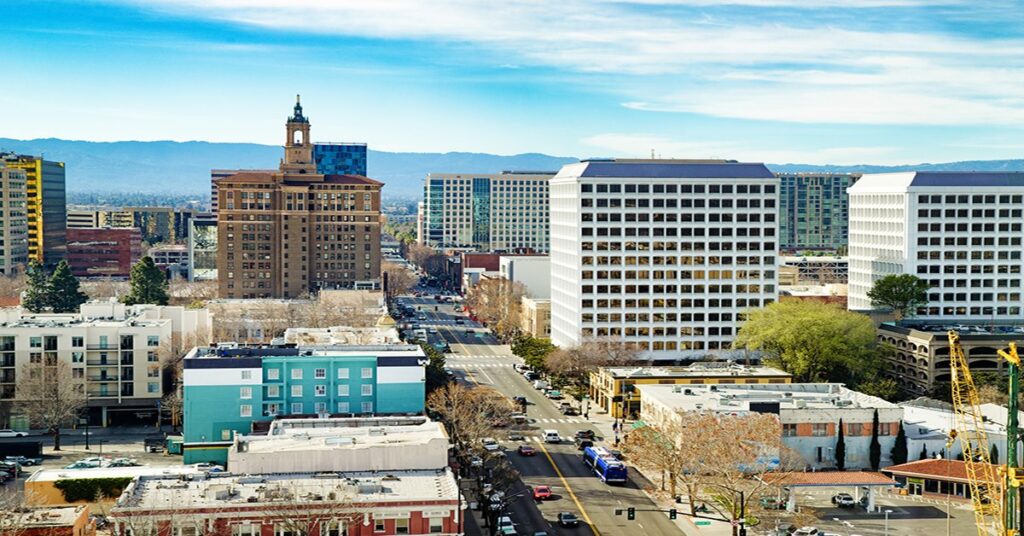 By Loan-Anh Pham. San Jose Spotlight. Bay City News
San Jose is the No. 1 metropolitan area for immigrants in the US looking for a better life.
That's according to a study released this month by the George W. Bush Institute showing that immigrants thrive in tech hubs. San Jose is classified as a rapidly growing suburban area within a large metropolitan region that attracts immigrants from all over the country. The study defines the San Jose metropolitan area as San Jose, Santa Clara, and Sunnyvale.
The report examines immigrant satisfaction based on factors such as median household income, housing status, and language proficiency. It used data from the US Census Bureau's 2020 American Community Survey and looked at the 100 largest metropolitan areas in the country.
San Jose-Silicon Valley NAACP President Bob Nunez said San Jose's appeal goes beyond the tech industry. He said immigrants are drawn to the area in search of a high-quality education for their children, as well as economic and job opportunities.
"?Is? a desire to be able to dictate their own destiny," Núñez told San Jose Spotlight.
The Baltimore metropolitan area ranks second and the San Francisco metropolitan area, which includes San Francisco, Oakland, and Berkeley, ranks third in terms of immigrant well-being.
The study reveals that San José also ranks first among the country's largest metropolitan areas in terms of median foreign-born household income at $136,154. San Francisco ranks second, with a median foreign-born household income of $102,953.
Dennis King, executive director of the Silicon Valley Hispanic Chamber of Commerce, said a diverse community is an underappreciated factor and another attraction for immigrants seeking guidance.
"Most of the immigrants in our community have returned home, essentially, to an infrastructure that was presented to them, either from people from their nation or from their communities," King told San Jose Spotlight. «There are infrastructures created, both formally and informally, between various organizations? of services? different, but also between people themselves.
The study shows that San Jose is the top metropolitan area for foreign-born Asian immigrants, a group that makes up 24.5 percent of the general population based on 2020 data.
San José ranks 17th among foreign-born Hispanic immigrants, representing 8.4 percent of the general population.
Overall, immigrants make up 39.1 percent of the area's population, more than 770,000 residents, a number second only to Miami.
The study doesn't tell the whole story, Núñez said. Immigrant families who flock to San Jose face the same high costs as everyone else, he said, and families of color are displaced in the process.
The report shows that San Jose still ranks first nationally in terms of living standards for immigrant residents, even when the median income of foreign-born households takes costs of living and housing into account.
Yet the wealth gap persists: Data from the 2022 Silicon Valley Pain Index revealed that approximately 11 percent of Latino residents live in poverty and saw an average drop of $404 in annual income last year. Residents say the minimum wage rises too little each year as San Jose, with the worst housing shortage in the nation, remains one of the most expensive areas to rent.
"People are leaving California, not just the Bay Area, because it's hard for them to maintain their standard of living here," Nunez said.
San Jose Chamber of Commerce CEO Derrick Seaver stressed that immigrants moving to San Jose face the same cost-of-living and affordable housing challenges as others in the region. He said those problems are further exacerbated by recent supply chain disruptions.
"The immigrant residents of our region have not been immune to these challenges," he added.
Even with those setbacks, Seaver said San Jose still offers great opportunities for immigrants, including the ability to start small businesses. The study reveals that the long-term impacts of a large immigrant population include more start-ups, universities, and cultural markers such as food culture.
"Almost every economic sector in this area has profound contributions from the immigrant community," Seaver explained to San Jose Spotlight. "Many small, medium, and large businesses in our area were founded by immigrants who used entrepreneurship as a path to economic mobility."
Joint Venture Silicon Valley CEO Russell Hancock said Silicon Valley's tech industry draws residents from across the country, supporting both tech workers and food and janitorial workers at tech companies. Joint Venture is a research group on economy and quality of life.
"This is a very productive economy," Hancock explained. "Technology is a huge ecosystem on its own, and it has a lot of room for…hundreds or even thousands of different roles."
You may be interested in: San Mateo County revenue grows during the 2021-2022 period