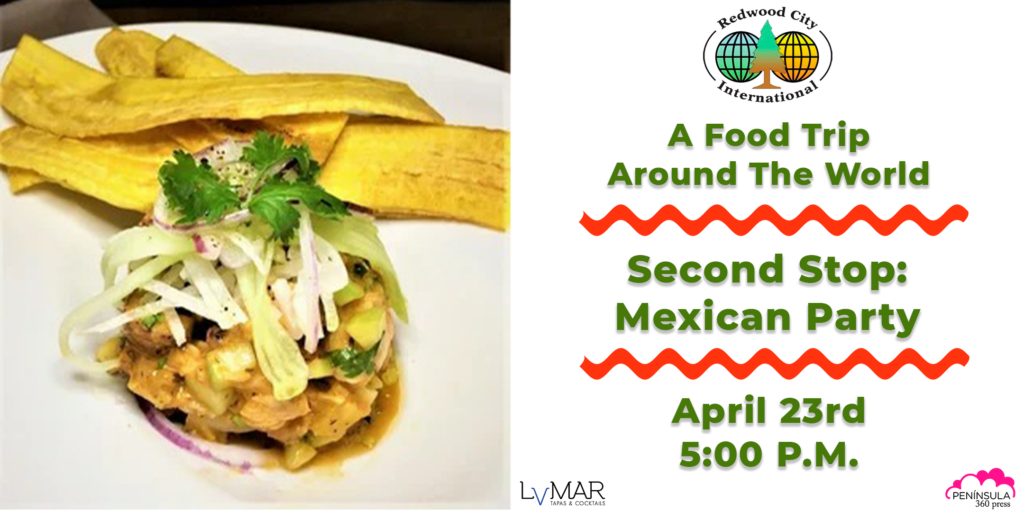 There's no better way to spend a Saturday than eating delicious dishes with family and friends. And this April 23, there's a perfect reason to get hands-on and learn how to cook delicious Mexican food in Redwood City.
May 5, one of the most important Mexican holidays in the U.S., is approaching and the culinary initiative Food Trip Around The World has decided to dedicate its second edition to Mexico.
So, you can start buying the ingredients so that with the help of expert chefs you can learn recipes worthy of a great Mexican table and together we can shout ¡Viva México!
The totally free virtual event, held in conjunction with Redwood City International and La Viga restaurant, will be broadcast by Peninsula 360 Press through its YouTube channel this April 23rd starting at 5:00 p.m., for which it will be necessary to register through Evenbrite.
Registered event participants will be entered into a drawing to win a gift card to one of Redwood City's most beloved Mexican restaurants, LV Mar.
So join Redwood City International, Peninsula 360 Press and chef Manuel Martinez of Redwood City's LV Mar and La Viga restaurants to learn how to prepare irresistible ceviches, guacamole and margaritas.
Throughout the demonstration, you will learn how to prepare Chef Manuel's recipes and learn more about Redwood City International's sister city relationships with Ciudad Guzman, Colima and Aguililla in Mexico.
We share with you 3 recipes that you will learn in the session.
CLASSIC MARGARITA (for 1 person)
? 1 oz agave syrup
? 1 ounce of lime juice
? 2 oz white tequila (your choice)
Shake all ingredients with ice and pour into an old fashioned glass that has been frosted with the salt of your choice; kosher salt, chili salt, grasshopper salt, worm salt, volcanic salt, etc. and lime wedge.
GUACAMOLE WITH PEPITAS (For 3-4 diners)
? 2 large avocados
? 1 ounce of diced cucumber
? 1 bunch of chopped grilled spring onions
? 1 tablespoon diced serrano chiles
? 1/2 ounce of lemon juice
? kosher salt to taste
? 1 tablespoon of roasted pumpkin to crown seeds ?baked with paprika, salt, oil and lime juice?
Mash all avocados and add all ingredients except pumpkin seeds, check taste, add more spices or lime as desired, serve in a large bowl and top with crunchy seeds...enjoy with corn tortilla chips!
FISH CEVICHE (for 3-4 diners)
? 6 oz of sliced white fish ?snapper, halibut, sea bass, hamachi?
? 5 ounces of lime juice
? 1 large diced ball tomato or 2 small roma tomatoes
? 1/2 English cucumber diced and peeled
? 1/2 chopped red onion
? 1/2 bunch of chopped coriander
? 1 teaspoon of tajin chili powder
? 1 tablespoon of tapatio sauce
? 1/2 cup of clamato juice
? 1/2 tablespoons of kosher salt
? To garnish; grated cucumber, sliced jicama and red onion, sliced avocado, olive oil, micro cilantro,
? salt and pepper.
Mix the sliced fish with the lime juice and half of the salt, let stand for 8 minutes. Drain half of the liquid to one side, then in a bowl add the fish with the lime juices, tomatoes, cucumbers, onions, cilantro, tajin chili powder, Tapatio sauce, Clamato juice and the rest of the salt. Mix and serve in a bowl, and garnish with grated jicama, onion, cucumber and avocado slices, olive oil and enjoy with corn tortilla chips.
You may be interested in: Do you like authentic barbecue tacos?