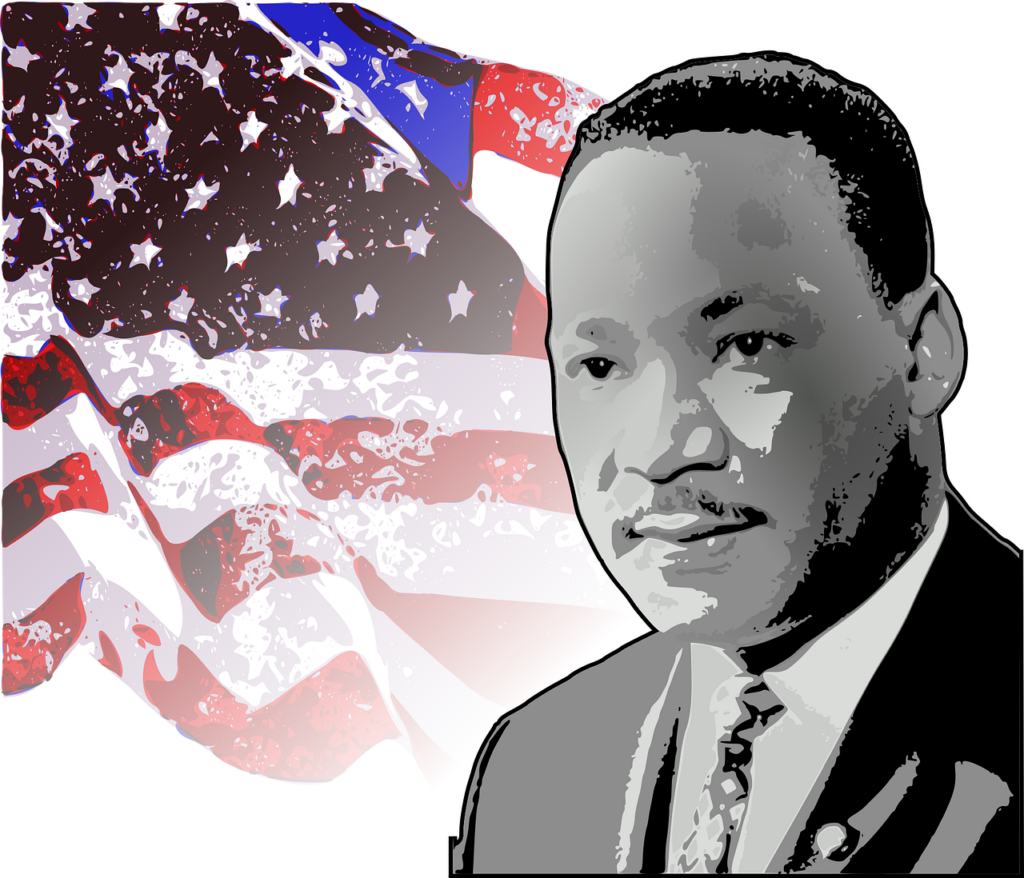 "Wild ducks follow the leader of their flock by the shape of his flight and not by the strength of his quacking," notes a Chinese proverb. The best leaders are always able to inspire greatness in others through their words and actions. And while the issues facing communities diversify, the qualities of true leaders remain.
African American Community
Martin Luther King Jr. was born under the name of Michael King Jr. was a Baptist pastor and activist who was at the forefront of the U.S. civil rights movement for African Americans and was involved in numerous protests against the Vietnam War and poverty.
He was awarded the Nobel Peace Prize? in 1964. Four years later he was assassinated in Memphis.
Rosa Louise Parksthe 42-year-old seamstress who worked at a department store in Montgomery, Alabama, boarded her bus on December 1, 1955, to head home, as she did every day after work.
On that day, however, the African-American defied racial segregation by refusing to give up her seat for a white person to sit down.
Her protest was supported by many others in her community and sparked the civil rights movement that, in the 1960s, eventually won equal rights.
Malcolm XEl-Hajj Malik El-Shabazz, born Malcolm Little and known as Malcolm X, was an orator, religious minister, and activist advocate for African-American rights. He has been described as one of the most influential in his community in the history of the country.
Alicia Garza, Opal Tometi and Pattrice Cullors ? They are the activists behind the hashtag #BlackLivesMatter. In 2013, after George Zimmerman was acquitted of shooting the boy Trayvon Martin to death, they started the African American Civil Rights Movement, within Black Power, 1980s black feminism, anti-apartheid, LGBT activism and the Occupy Wall Street protest.
Latino Community in the U.S.
Vilma Socorro Martínez. She is an American activist who fights for Hispanic rights and the recognition of minorities in the United States. The daughter of Mexican parents, Vilma grew up in the midst of the hardships and racial hostility that the Hispanic community faces daily in the country. In 1967, she received her law degree from Columbia University.
Cesar Chavez. He was a very important Mexican-American activist of the 20th century, recognized both by society and by great figures in American politics. Robert F. Kennedy described him as "one of the heroic figures of our time.
He was born in the state of Arizona in 1927, in the bosom of a farming family that after the Great Depression had to face great injustices and economic difficulties. In 1952 he began his political activity in the Community Service Organization.
Janet Murguía. A leading civil rights advocate, she was born in Kansas in 1960 to a family of Mexican descent. She studied journalism, Spanish and law at the University of Kansas. However, her legislative career began in Washington, D.C., where she served as an assistant to Jim Slattery.
In 2005 she was elected president and CEO of the National Council of La Raza, an organization that fights for the rights of Hispanics and Latinos in the United States. Her work has
Fred Korematsu. Born in Oakland, California, to Japanese parents who owned a nursery. He was a civil rights activist who opposed the internment of Japanese Americans during World War II.
Shortly after the Imperial Japanese Navy launched its attack on Pearl Harbor, President Franklin D. Roosevelt issued an executive order authorizing the expulsion of people of Japanese ancestry living on the West Coast from their homes and their mandatory incarceration in internment camps. Korematsu defied the orders and became a fugitive.
He received the Presidential Medal of Honor, and on January 30, 2011 California celebrated the first Fred Korematsu Day in his honor.
Haunani-Kay Trask. Born into a family that defended Hawaiian statehood, Haunani-Kay Trask went against the grain and has spent her life fighting for the independence of her people.
Born in 1949, 10 years before Hawaii became a state, he spent several years on the mainland while attending the University of Wisconsin and the University of Chicago, where he joined the Black Panther Party. Trask focused on the preservation of Native Hawaiian culture.
Grace Lee Boggs. She was an American author, social activist, philosopher, and feminist, known for her years of political collaboration with CLR James and Raya Dunayevskaya in the 1940s and 1950s. By 1998 she had written four books, including an autobiography. In 2011, still active at the age of 95, she wrote a fifth book, "The Next American Revolution: Sustainable Activism for the Twenty-First Century," with Scott Kurashige and published by the University of California Press. She is considered a key figure in the Asian American Movement.
Yuji Ichioka. He was an American historian and civil rights activist best known for his work in ethnic studies, and as a leader of the Asian American movement. An adjunct professor at UCLA, he coined the term "Asian American" in 1968 during the founding of the Asian American Political Alliance to help unify different Asian ethnic groups - Japanese American, Chinese American, Filipino American, etc.
Native American Community
Leonard Peltier. Born on September 12, 1944, he is an American activist of Anishinabe Lakota descent, a member of the American Indian Movement and incarcerated since 1976.
Lorelei DeCora Means. She was a Native American nurse and civil rights activist. She is best known for her role in the second siege at Wounded Knee, South Dakota, on the Pine Ridge Indian Reservation. She also co-founded the Native American organization, Women of All Red Nations.
Russell Means. He was an American Indian actor, writer, politician and activist. He was born into the Lakota tribe. He was a member of the American Indian Movement. He was a member of the Libertarian Party, and was a candidate in 1988.
He was an actor in the movie The Last of the Mohicans, playing the role of Chingachgook. He also appeared in Pathfinder, the Gorge Guide in 2007. He provided his voice in the 1995 film Pocahontas.
Sacheen Littlefeather. She is a Native American civil rights activist. She is best known for giving a speech on behalf of actor Marlon Brando at the Oscar ceremony on March 27, 1973, protesting the treatment of Native Americans in the film industry. She wore a typical Apache dress on that occasion.
LGBTTIQ+ Community
Harvey Bernard Milk. He was an American politician and activist who became the first openly gay man to be elected to public office in the U.S., as a member of the San Francisco Board of Supervisors in 1977.
Martha Shelley. She is a bisexual American activist, writer and poet best known for her involvement in lesbian feminist activism.
Ellen Broidy. She is a gay rights activist. She was one of the proponents and co-organizer of the first gay pride march.
You may be interested in: Mistrust of Health Care System a Barrier to African Americans Getting COVID-19 Vaccine: Experts