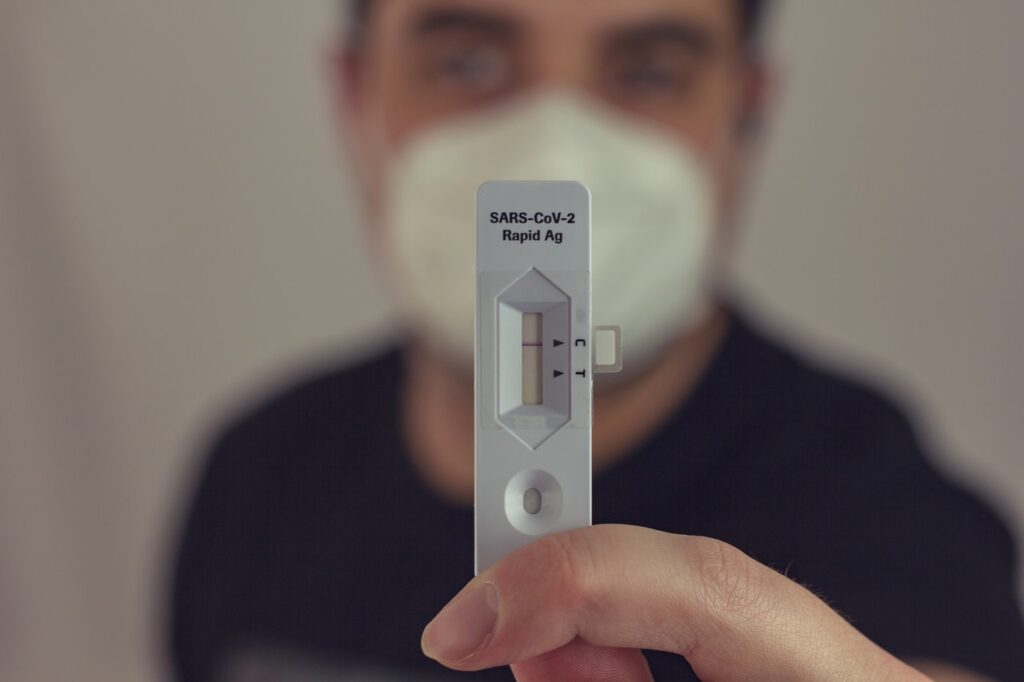 In response to the increase in the Omicron variant, San Mateo County is expanding opportunities for COVID-19 testing.
Among the actions are a new testing site, longer hours at selected existing sites and the distribution of home test kits to residents at higher risk.
These actions will be implemented in the coming weeks as local health leaders seek to ensure that the county maintains one of the highest per capita testing rates in California.
"The safety of our community is the number one priority, and we are using available resources to help let many more residents know if they are COVID-19 positive.
We are not the only testing option for residents with private health care providers or access to privately purchased tests, but we are proud to be an important part of helping to stop the spread and prevent severe health impacts," said County Administrator Mike Callagy.
Currently, the county has 10 sites offering PCR laboratory testing with results available within 72 hours, depending on demand.
The current capacity is 8,500 tests per week and the expanded schedule will add about 10 percent.
Thus, beginning this Friday, January 7, a walk-in testing site operated by private vendor Virus Geeks will open in the parking lot of the San Mateo County Event Center, with the capacity to provide two thousand PCR tests daily.
However, county tests only account for approximately 15 percent of all tests and do not include data on home results.
"With a national shortage of COVID testing, particularly in pharmacies, this shows an incredible effort to do everything we can as a county to meet the demand for testing and keep our residents safe from the Omicron variant," said David Canepa.
He added that the increased capacity at the Event Center and other county test sites will be a relief to those who wish to keep their families safe during this surge in cases, "this effort must and will continue until COVID and all its variants are behind us."
It should be noted that PCR tests generally yield results within 72 hours, and that an appointment is required to go to this testing site, otherwise the test will be rejected.
In addition, beginning Monday, January 10, 2022, the county has contracted with Bay PLS to offer up to 500 rapid antigen tests daily at its current San Bruno location, for which an appointment is also required.
Separately, the county announced that it is purchasing 50,000 home test kits to distribute through partner agencies to the most affected and/or at-risk residents and first responders. Each kit contains two rapid tests.
As if that were not enough, availability at the LHI/OptumServe site at the Ted Adcock Community Center in Half Moon Bay, where PCR-type testing is being performed, is being expanded from one to three days per week and the number of Wednesday appointments will increase from 132 to 258 for the remainder of January.
In turn, the LHI/OptumServe site at the College of San Mateo, which operates five days a week, will increase from eight to 12 hours per day.
When should I get tested?
The Centers for Disease Control and Prevention (CDC) recommends 1-3 days before a family gathering or before any travel, even if you do not have symptoms. The rapid antigen test should be performed 24 hours before a gathering or travel. The PCR test should be performed within 72 hours, with results available prior to a gathering or travel.
County-supported test sites and schedules can be found at the site. www.smcgov.org/testing. Residents should also check with health care providers and pharmacies for the availability of PCR and rapid home tests.
It is necessary to remember that residents should not visit local emergency rooms for unscheduled COVID-19 testing.
What else should I do?
Get vaccinated, including booster if eligible.
Use well-fitting, filtering face masks in ALL indoor public environments - including public transportation. N95 and KN95 or surgical masks filter viruses best.
Anyone who feels sick, even with mild symptoms - sore throat, cough, cold - should stay home, isolate themselves from others and get tested. Anyone confirmed positive for COVID should be quarantined. Seek medical attention if you experience breathing difficulties.
For answers to other common questions about the COVID-19 tests, please visit https://cmo.smcgov.org/press-release/covid-19-what-you-need-know-today.
You may be interested in: Chaos and exclusion at COVID-19 testing in Redwood City