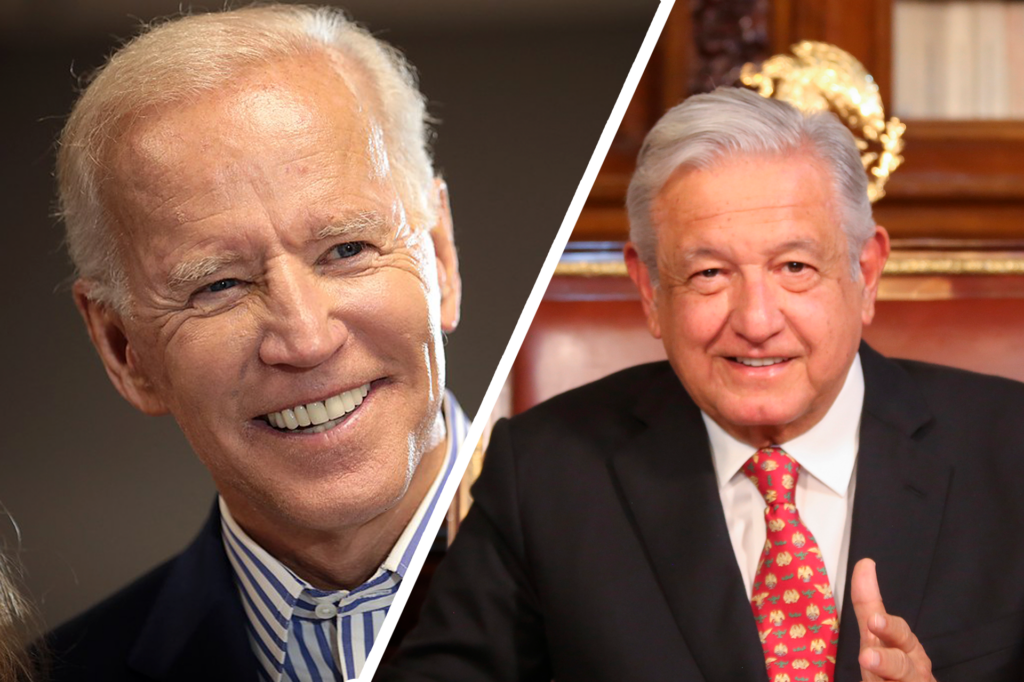 This Tuesday, the President of the United States, Joseph Bidenreceived his Mexican counterpart for the second time, Andrés Manuel López ObradorThe two leaders agreed that close collaboration will be necessary to address "real but solvable problems".
In a meeting with the media in the Oval Office, the U.S. president said that the country sees Mexico as "an equal partner".
"Our nations share close ties of family and friendship, and we are united by our values and our history. For me and my administration, the U.S.-Mexico relationship is vital to achieving our goals," said Biden.
This, he said, "from the fight against COVID-19, to continuing to grow our economies, to strengthening our partnerships and addressing migration as a shared hemispheric challenge".
And, he said, one of the main common challenges facing both countries is migration, which has reached historic levels in the north of the continent. "Mexico, like us, has become a major destination for migrants.
Last year, his administration set a record by issuing more than 300,000 H-2 visas for Mexican workers, as well as the highest number of visas issued to Central Americans in five years, a figure that is about to double this fiscal year.
In this regard, Biden thanked López Obrador for also increasing worker visas in Mexico for Central Americans, a strategy that, he said, is proven to boost economic growth and reduce irregular migration.
On the other hand, he noted that historic investments are being made in modernizing infrastructure along the 2,000-mile border with Mexico, while the Bipartisan Infrastructure Act is allocating $3.4 billion for major construction projects at ports of entry between our two countries to make the border safer and more efficient for people, trade and business.
Biden explained that efforts to disrupt the trafficking of fentanyl and other drugs that are "literally killing" people are also being accelerated, as a major anti-smuggling operation targeting human, drug and arms traffickers has been underway since April.
To this end, he said, 1,300 additional personnel have been deployed, and 20,000 dismantling operations have been carried out, in addition to 3,000 arrests, all of which have taken place since April to date.
"We need all countries in the region to join us in tracking down this multi-billion dollar smuggling industry that is preying on our most vulnerable, including the 53 souls who died in a trailer in San Antonio last month," he said.
He said that he and Lopez Obrador are discussing enhanced law enforcement measures, including repatriation efforts, and will agree on their next steps together on all these fronts.
In his opportunity, the President of Mexico pointed out that the current circumstances demand many more things, for example, "to have a closer relationship, closer ties of friendship and cooperation so that we can act together in the face of the great challenges that our two countries are facing. And these are truly difficult times. There is no doubt about that.
"This will not be the first nor the last occasion in which we will close ranks to help each other, we know that, despite our differences and also despite our grievances that are not easy to forget with time or good wishes. However, on many occasions, we have been able to coincide and work together as good friends and true allies".
He said that while it is true that the US-Mexico-Canada agreement - USMCA - already integrates the three countries, "there are still margins to intensify our bilateral relationship. For example, the high inflationary indexes have to do with the imbalances in the world economy due to the pandemic and the war in Ukraine".
In turn, López Obrador said that "we must recognize that for some time now we have not been producing what we should be producing. In the last three decades, it was very comfortably accepted that China became the world's factory. And this was due to the fallacious idea that, with globalization, it was not necessary to continue with our self-sufficiency in food production, because we were capable of producing energy and other goods".
However, he expressed that in the current reality, it is necessary and essential to produce everything we consume in our countries and regions, without reaching an extreme position of closing the economies, "we must remember that the development of our nations depends fundamentally on their productive capacity".
The Mexican president presented his U.S. counterpart with five basic points of cooperation.
The first point, he said, refers to the energy crisis, where he pointed out that Mexico has used 72 percent of its crude oil and gasoline exports to U.S. refineries, 800,000 barrels per day.
Therefore, he said, as gasoline prices go down in the United States, it is necessary to allow Americans who live near the border to be able to buy their gasoline on the Mexican side at lower prices.
To this end, he noted that Mexican inventories can be increased immediately. "We have committed to guaranteeing double the fuel supply. That would be a considerable support."
Secondly, he said that more than 1,000 kilometers of gas pipelines along the southern border with Mexico are being made available to the U.S. administration to transport gas from Texas to New Mexico, Arizona and California in a volume that can generate up to 750 megawatts of electricity and supply nearly three million people.
As a third point, he stressed that, although the USMCA has advanced towards the elimination of tariffs, there are still some others that could be suspended immediately, such is the case of some regulations, regulatory measures and "tedious or bureaucratic procedures in matters of trade related to food and other products, in order to lower prices to consumers in our two countries, always being very careful in the protection of health and the environment".
As a fourth point, López Obrador proposed initiating a public-private investment plan between the two countries to produce all those goods that will strengthen the bilateral market, and thus avoid imports from other regions or continents.
"In our country, we will continue to produce oil during the energy transition. With U.S. investors, we will be establishing gas liquefaction plants, fertilizer plants, and we will continue to promote the creation of solar energy parks in the state of Sonora and in other border states as well."
This, he said, will be achieved with the support of thermoelectric plants and also through transmission lines to produce energy for the domestic market, as well as for export to neighboring states in the U.S., such as Texas, New Mexico, Arizona and California.
He recalled that two months ago, his administration decided to nationalize lithium in Mexico. "This is a fundamental input to advance in our purpose of not depending on fossil fuels. And it will be available for the technological modernization of the automotive industry between our great countries, the USMCA countries."
As a fifth point, he pointed out that an orderly migratory flow is necessary to allow the arrival of workers, technicians and professionals from different disciplines to the United States. "I am referring to Mexicans and Central Americans with temporary work visas to guarantee that the economy is not paralyzed by the lack of labor.
The purpose of such a plan, he stressed, would be to support and have the adequate manpower demanded by the plan proposed by Biden and approved by Congress, to use one trillion dollars for the construction of infrastructure works.
"And it is also indispensable that I say it in a very sincere and respectful manner: It is indispensable that we regularize and give certainty to migrants who for years have lived and worked in a very honest way, and who are also contributing to the development of this great nation."
"I know that your adversaries -the conservatives- will cry out loud. But without a bold, audacious program of development and welfare, it will not be possible to solve the problems. It will not be possible to win the support of the people".
"In the face of this crisis, the way out is not conservatism. The way out is transformation. We have to be bold in our actions. Transform and not maintain the status quo".
You may be interested in: Biden signs executive order to defend women's reproductive rights in the U.S.