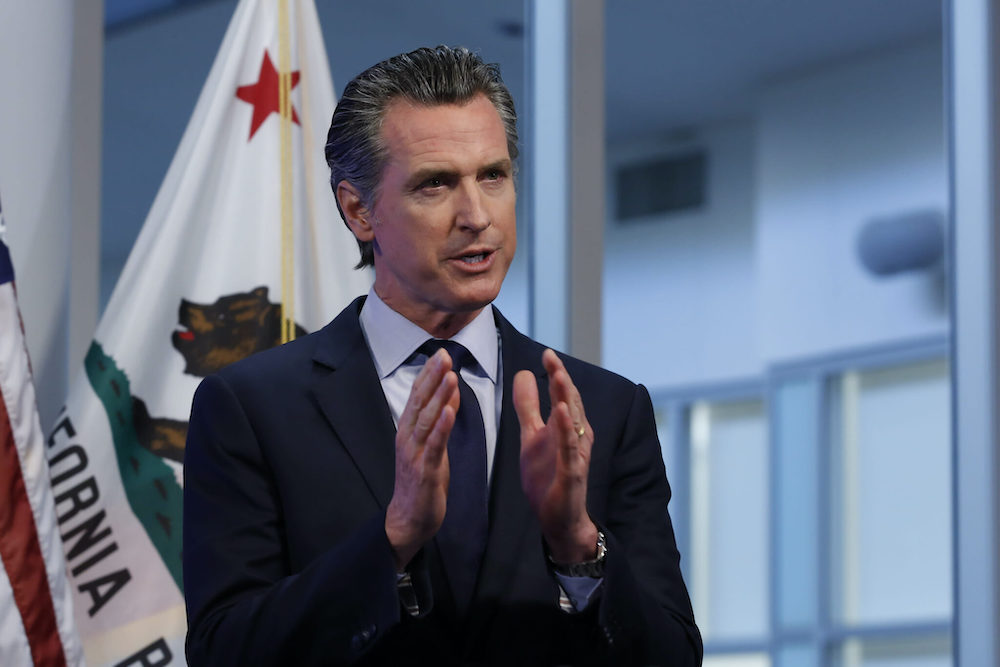 *New 2022-23 budget plan presented
California Governor Gavin Newsom on Monday proposed his 2022-2023 state budget, which includes extending health care coverage to all low-income residents in the state, including undocumented residents; if achieved, the state would become the first to offer universal health coverage.
While it is true that Californian taxpayers already pay for health care for those under 26 and those over 50 who are undocumented and low-income, the new bill provides for everyone to be covered.
Newsom's proposal, which would expand access to Medi-Cal - the state's version of Medicaid - is estimated to cost approximately $2.7 billion annually, once the expansion is fully implemented by 2024.
"We're doing something no other state has done," Newsom said during the announcement of his proposal.
The overall project, which would have a total budget of some $286.4 billion, with a general fund of $213.1 billion, will focus on five issues, which he called "existential threats": combating the current HIV/AIDS pandemic, climate change and its effects, homelessness, income inequality and public safety.
"With significant new investments to address the greatest threats to our state's future, the California Plan illuminates the path forward to continue the historic progress we have made on our short- and long-term challenges, including responding to the evolving pandemic, combating the climate crisis, addressing persistent inequality and homelessness, and keeping our streets safe," said Governor Newsom.
He further noted that, with a $45.7 billion surplus, the California Plan provides for a tax base that includes $34.6 billion in reserves, and continues to pay down long-term retirement debts.
Fighting Covid-19 with science
Newsom explained that he will continue to protect Californians by fighting COVID-19 based on science and under a focus on keeping schools open and the economy moving.
The Plan includes an additional $2.7 billion to increase vaccines, boosters, statewide testing, and increase medical staffing to deal with potential surges in cases.
Fighting the climate crisis
On the climate front, the project seeks to address the extreme weather conditions that have occurred in the state, such as wildfires, which will provide $648 million to support firefighters, obtain more helicopters and bulldozers, along with an additional $1.2 billion, building on last year's $1.5 billion investment, to intensify forest management and other life-saving practices.
In turn, it will seek to address the drought, as in addition to last year's $5.2 billion water package, an additional $750 million investment will be made to help residents, farmers and wildlife.
The ambitious plan also calls for a decrease in California's dependence on fossil fuels and a complete transition to clean energy, and seeks to invest billions of dollars in climate technology research and development, clean cars, and preparing Californians for career opportunities in the field.
Facing homelessness
The governor's plan will seek to get vulnerable people the help they need to get off the streets and get the mental health treatment they need. The plan adds $2 billion for housing and mental health services and cleanup camps.
Governor Newsom's new investments expand last year's $12 billion package, in total, creating 55,000 new housing units and treatment spaces for people exiting homelessness.
Addressing the cost of living
Too many Californians find themselves on the wrong side of income inequality, crushed by the rising costs of the most basic expenses, such as health care, housing, child care and keeping the doors of a small business open.
In light of this, Newsom seeks to create universal access to health care coverage, with universal access to health care coverage for all state residents, regardless of immigration status.
In addition, it will seek to invest in students by adding thousands of child care spaces and increasing access to summer school programs.
The project will also create more housing with two billion in new subsidies and tax credits, while supporting small businesses by cutting red tape and providing hundreds of millions in subsidies and tax breaks.
Security
The project includes its Real Public Safety Plan, which focuses on three key areas to combat and prevent crime:
Strengthen local law enforcement and response to apprehend and apprehend criminals, including $255 million in grants for local law enforcement and create a new "Smash and Grab" Law Enforcement Unit to combat organized retail crime and grants for affected small businesses.
It also provides for more prosecutors to hold perpetrators accountable by ensuring that district attorneys prosecute criminals effectively and efficiently, and by creating a new statewide team of investigators to pursue perpetrators.
He added that another intention is to create a new statewide gun buyback program, hold the gun industry accountable with leading legislation in the country, and interdict drugs at the border.
You may be interested in: California, one year after the first application of the COVID vaccine