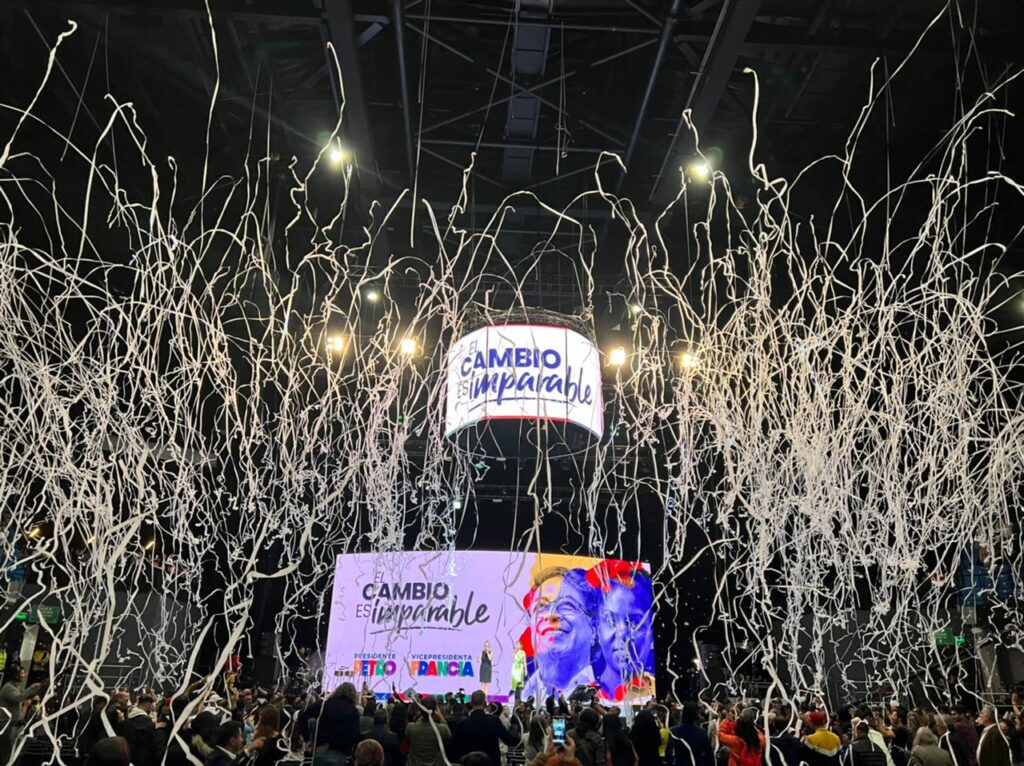 "Thanks to all of you on this day that is undoubtedly historic". Thus opened his speech the virtual president of Colombia, Gustavo Petro, who this Sunday, June 19, won along with his vice presidential candidate, Francia Márquez, the elections and who stressed that peace, social justice and care for the environment, will be the pillars of his next government at the head of Colombia.
"We are writing at this moment a new history for Colombia, for Latin America and for the world. What has happened here today with these 11 million voters who voted, who brought us to this stage and to the government of Colombia, is a change. What is coming here is a real change. A real change", assured Petro, who will take office next August 7.
In his first speech after obtaining the majority of votes on election day, he stressed that he will not betray the people, as there will be a real change that will lead to the "politics of love".
In that sense, he stated that his administration will not be one that seeks revenge or builds more hatred, or to found sectarianism in Colombian society.
"We need love, understanding the policy of love as one of understanding, as a policy of dialogue, a policy of understanding each other. Change also means welcoming hope, the possibility of opening a future and opportunities for all Colombians in hope? change means that the government of hope has arrived".
During his speech, he thanked his family for their support throughout the campaign, Francia Márquez for the effort implemented in the work that today bore fruit, all those who are no longer alive, but were part of a resistance, and the young people who took to the streets to raise their voices for a better future.
In this regard, from the podium placed at the Movistar Arena in Bogota, he asked the Attorney General to release the young people who were locked up under false criminal speeches and who were treated as "bandits".
At the same time, he asked the Attorney General of the Nation to reinstate the elected mayors to their posts.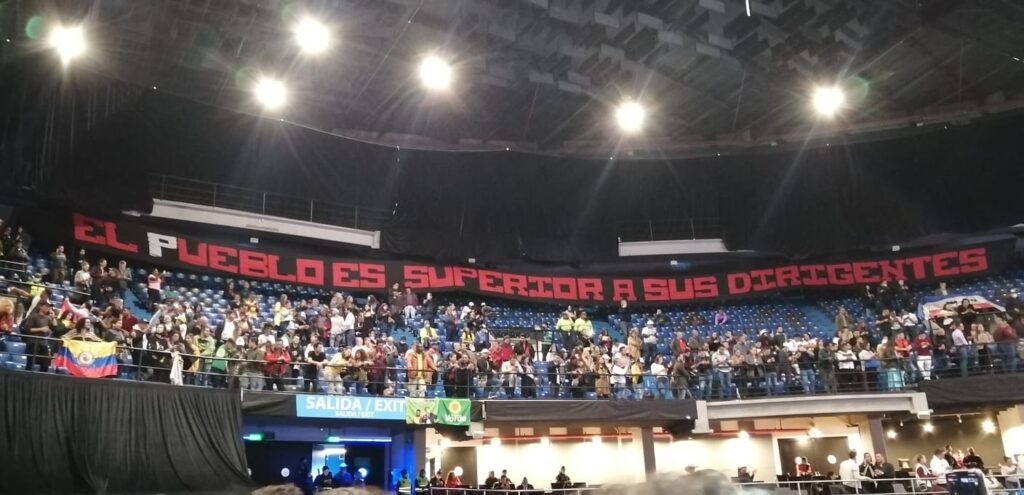 On the other hand, he pointed out that his government will seek to position Colombia as a world power of life, which consists of peace, social justice and environmental justice.
"Peace as the axis of a government of life. Peace would have no reason, change would have no reason, love would have no reason, hope would have no reason, this major effort that today is synthesized in the ballot boxes would have no sense, if we do not lead Colombian society to peace".
This, he said, means that all those who voted for Rodolfo Hernandez, as well as all those who prefer another party or political ideology, "will be welcome at the Palacio de Nariño to discuss Colombia's problems".
Likewise, he pointed out that there will be no political or legal persecution for his adversaries, "there will only be respect and dialogue; this is how we will be able to build what a few days ago we called the great national agreement".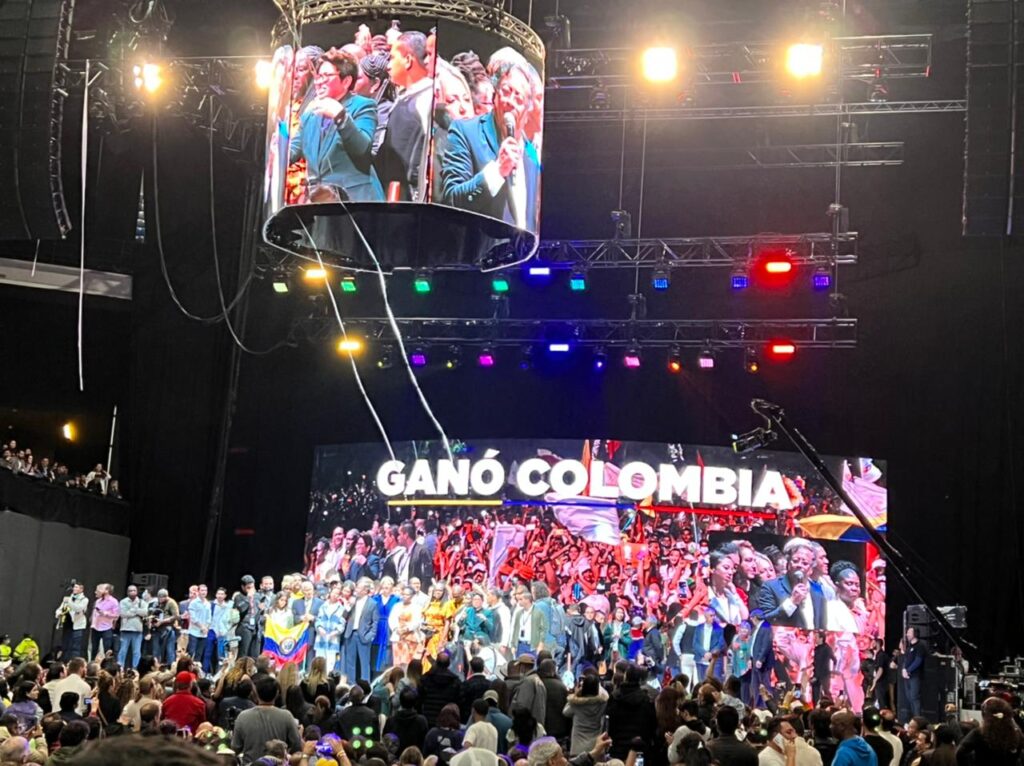 This agreement, he said, must begin to be built on the basis of binding regional dialogue to end violent conflicts and build prosperity throughout the country, where the regional dimension becomes a mandatory norm, and which involves peasants, indigenous people, women and young people equally.
These last two sectors, he added, formed a tide that decided to take to the ballot box to shout for fundamental rights and the reforms that need to be made in the country.
"Fundamental rights can no longer be a dead letter in the Constitution, they have to be in everyday life and in the full guarantee of a living Constitution that can be felt and lived every day, a living Constitution in the fullness of rights."
"The great national agreement is to build peace, and peace is nothing more than the guarantee of rights so that Colombian society has opportunities, peace is that someone like me can be president or someone like France can be vice president."
In economic matters, Petro said that capitalism will be developed in an appropriate manner, which will allow overcoming Colombia's pre-modernity and feudalism.
It will be based on economic pluralism to overcome the old slavery and to be able to have a land full of cultivated food, with space for indigenous communities to develop their autonomy and culture, and with a popular economy that can be strengthened through connectivity, education and cheap credit.
He also explained that we will move towards an economy that allows the creation of more and better jobs that offer better salaries through solidarity and cooperative work.
"It is only on the basis of economic growth, of production, that we will be able to redistribute. Therefore, if we want to redistribute so that society becomes more egalitarian, we have to produce in the countryside, in industry, in tourism, and produce on the basis of the knowledge that is produced in the 21st century, a regulated production without affecting human dignity or nature".
In the area of social justice, he explained, it is necessary "that there be no more mothers who have to come here to show the faces of their murdered children".
At that moment, a woman holding her son's picture up took the microphone to ask that no more young people be murdered, who like her son, were victims of the current and previous governments.
"I welcome you president, because in you is the hope of all of us. In you is the hope of us, the poor, the needy, the black, the white, the rich, the poor, in you is hope. Welcome to Colombia, our country, president," the woman said.
Finally, he stressed that Colombia's diplomatic policy will be a priority, and will seek to place the country at the forefront of the world in the fight against climate change.
"We are no longer one of these countries that emit enormous amounts of CO2 and greenhouse gases, but we are here next to one of the largest sponges that consume greenhouse gases and that other countries dump in the Amazon rainforest.
In this regard, he pointed out that his government will pay special attention to the creation of clean energies, which will allow for an energy transition with enormous advantages for the nation.
Petro reported that, after his victory, presidents from various Latin American countries contacted him to congratulate him, which allows, he said, "we can now propose, on this triumph that the Colombian people have given us, a dialogue in the Americas without exclusions of any people, of any nation in all the diversity of America.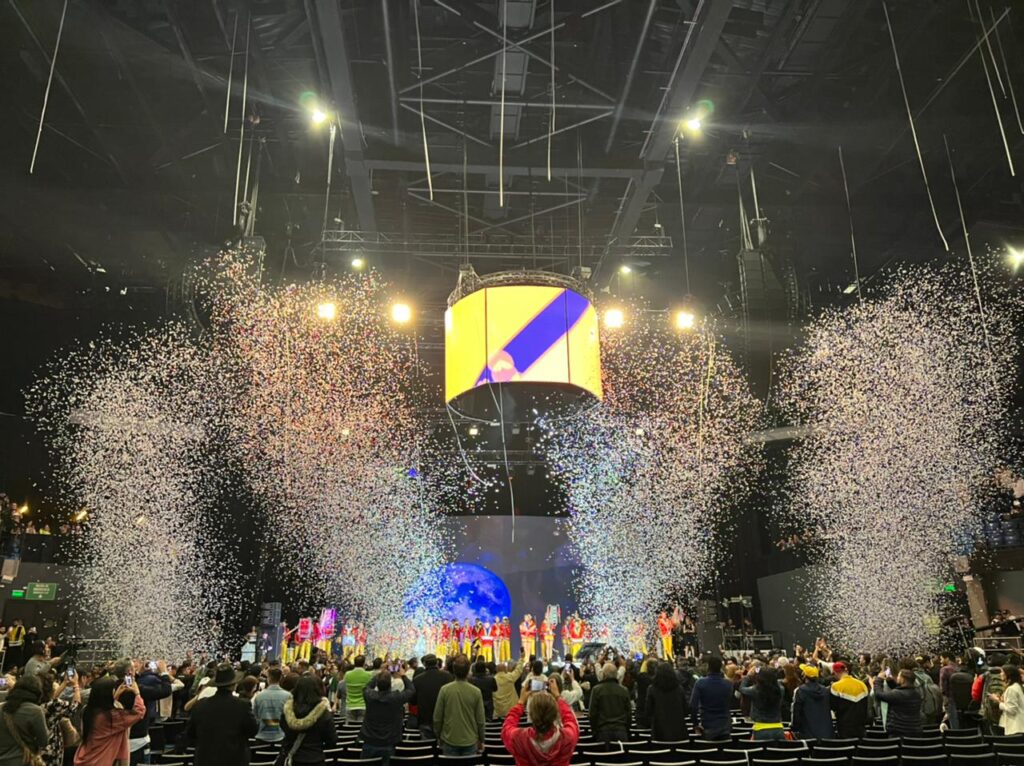 At the same time, he stressed that "it is time to sit down with the United States government and talk about what it means that in all this American continent that we share, emits, like almost no other country, greenhouse gases and here we assume and absorb them from our Amazon rainforest".
"I propose to the U.S. government and all governments in America to accelerate the steps of the energy transition and the steps of building a decarbonized economy, for an economy of life across America."
"Peace is possible in Colombia, dreams can come true, dreams of justice and equality," said Petro.
"Long live freedom, long live Colombia, world power of life! My name is Gustavo Petro and I am your president! I love you very much Colombia, thank you!" were his last words in his first speech as virtual president of the Republic of Colombia.
This note was made with the support of a group of journalists who cover the first-round elections in Colombia, sponsored by Global Exchange in collaboration with Peninsula 360 Press.
You may be interested in: 214 years later, a government of the people has finally arrived: Francia Márquez