San Mateo County is working on a study evaluating the potential for pedestrian rail crossings in North Fair Oaks, over or under Caltrain tracks, which would facilitate walking and biking in the adjacent part of Redwood City.
According to the San Mateo County Office of Sustainability, the study will also explore potential bicycle and pedestrian improvements on local North Fair Oaks streets that provide connections to the new rail crossing and local destinations on both sides of the tracks.
To conduct such a study, the county wants to get feedback from residents through a poll, which is available in English and Spanish. In addition, there will be a series of sessions to interact with members of the community and better understand their needs on the subject, which will take place from this Friday, March 24 to April 6, and more dates are expected to be announced. .
Those interested in knowing the complete agenda, places and times, can access to give click here.
The study team seeks to develop a community-led plan that reflects the priorities of North Fair Oaks residents and defines a path forward for implementing improvements. The study team includes staff from the county, the community organization Nuestra Casa, and consultants.
The study is being done because the community of North Fair Oaks and part of the adjacent city of Redwood City are separated by the four-track Caltrain rail corridor. Railroad tracks separate residents from local destinations including, but not limited to, community facilities and services, schools, shops, and local bus service, thus there is a need for improved and connected pedestrian and cycling infrastructure.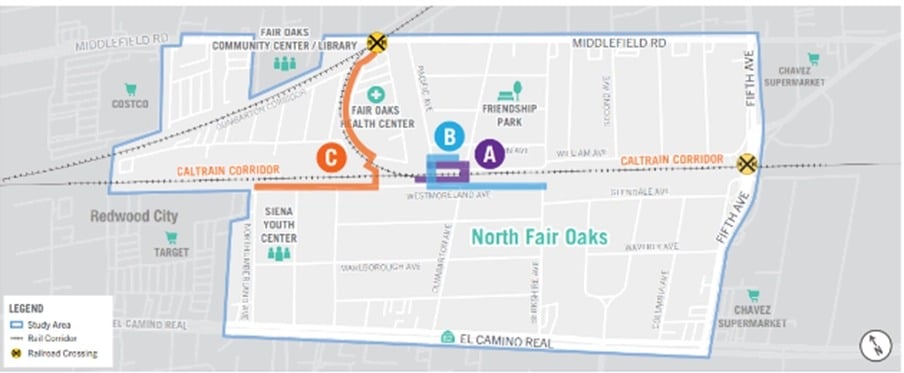 According to the Active Transportation Plan ?ATP, for its acronym in English? of Unincorporated San Mateo County, North Fair Oaks has the highest potential demand for walking and bicycling and the highest concentration of bicycle and pedestrian collisions per square mile of any unincorporated community in the county.
Making the streets more walkable and bicyclable and making it easier to get to destinations with a new bicycle and pedestrian rail crossing could help reduce collisions.
In turn, this analysis aims to create options for a new bike and pedestrian crossing that bring benefits to the locality such as improved access for people who walk, wheel and bike through the rail corridor and nearby neighborhoods; and safer, well-lit public spaces that are comfortable and attractive to people of all ages and abilities.
Additionally, improvements for carless commuters that reflect community priorities and achieve local and regional sustainability goals without displacement of housing; sense of community through attractive public spaces, public art, and structures; and minimal construction impacts on the community and feasible project budget.
The study area boundaries are Middlefield Road to the north, 5th Avenue to the east, El Camino Real to the south, and the unincorporated county/Redwood City line to the west.
You may be interested in: Workers in unincorporated San Mateo County will earn at least $16.50