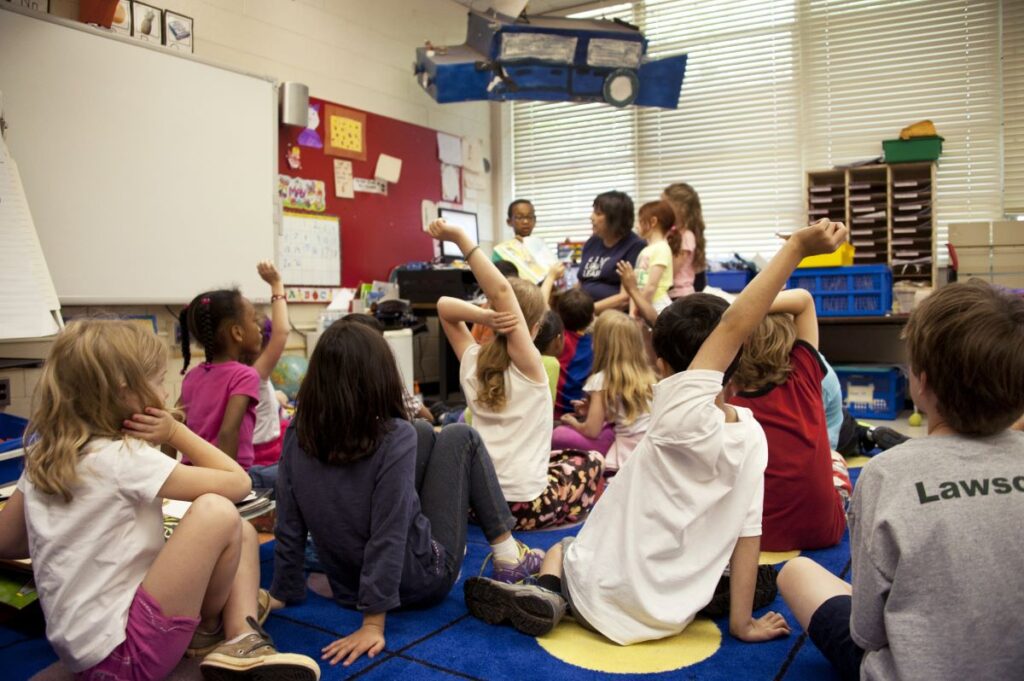 By Sunita Sohrabji. Ethnic Media Services.
What constitutes a healthy learning environment for elementary school children? Will President Joe Biden's race-based admissions and student debt relief plan survive Supreme Court scrutiny?
Education rights are under attack, especially for children of color and transgender students, a group of panelists said, urging Congress and the courts to step in and ensure equal access to quality learning.
The panelists debated several issues that are being challenged in court: whether race should be considered as one of several factors in college admissions; President Joe Biden's student debt forgiveness program; the book ban and the controversy surrounding the teaching of critical race theory. They also discussed the inclusion of disabled students and the importance of early childhood education.
The administration's student loan forgiveness program - which would provide debt relief to more than 40 million working and middle-class Americans by forgiving up to $20,000 of debt - has been challenged by a coalition of states led by Republicans, who claim that the required public period was not offered before scheduling the application of the program. Lower courts have found in favor of the states and have issued an injunction for their enforcement. The Supreme Court is expected to hear oral arguments in the case this February.
Student debt relief is essential
"The COVID-19 pandemic was an unprecedented health, social and economic crisis. The Biden Harris Administration's student debt relief plan is an urgently needed moral and legal response," said Genevieve ?Genzie? Bonadies Torres, Associate Director of the Educational Opportunities Project of the Lawyers' Committee on Civil Rights Under Law at the January 18 briefing hosted by Ethnic Media Services.
"Without this relief, millions of borrowers would be pushed over the financial brink when student loan repayments resume. And among them are millions of borrowers of color who we know have been hit the hardest by the pandemic. This foreseeable increase in delinquencies would weaken the credit of millions of borrowers, blocking their ability to pay basic needs and prevent them from obtaining affordable housing, among other adverse consequences, "he said.
Nearly 50 percent of Latino borrowers and 25 percent of black borrowers could see all their student debt wiped out under Biden's plan, Torres said. Students of color have about a fifth of the generational wealth of their white counterparts and are therefore forced to take on more student loans, he said.
Race-Based College Admissions
The Supreme Court is also expected to rule this June on admissions based on race. The Students for Fair Admissions organization has filed two lawsuits, one against Harvard and one against the University of North Carolina.
Chief Justice John Roberts, Thomas and Justice Samuel Alito were dissenting in a similar case in 2016. Justices Brett Kavanaugh, Amy Coney Barrett and Neil Gorsuch are also expected to rule against race-based admissions.
"We are not talking about quotas. What we're talking about is the limited consideration of race as one of 40 factors in UNC's case and one of more than 100 factors in Harvard's case," said Michaele Turnage Young, senior counsel at the Defense Fund. NAACP Legal and Education.
"All students deserve a fair chance at a quality education, regardless of their income, where they grew up, or their racial or ethnic background," Turnage Young said. "But unfortunately, while the talent is everywhere in our country, the opportunities are not. Too many students of color are faced with systemic and interpersonal racism that negatively affects their educational opportunities."
Inclusive school environments
"It is important that colleges and universities continue to be allowed to take into account the full context of applicants' experiences, including how racism artificially depresses the prospects of many underserved Black, Latino, Native and Asian American students, hardworking and talented, so everyone has a fair chance," he said.
Panelists also discussed what constitutes a healthy school environment.
"We know that education policy decisions must be informed by the values, priorities and experiences of marginalized people," said Liz King, Director of the Education Equity Program at the Leadership Conference on Civil and Human Rights.
Leave identity at the door?
"For too long, people of color, Native Americans, LGBTQ people with disabilities, immigrants, religious minorities, English learners, girls, low-income people, and other marginalized people have had their stories told by someone else." person. They have been denied the opportunity to attend a school that is warm, welcoming and prepares them for the full exercise of their social, political and economic rights," said King, who moderated the January 18 debate.
"No one should be asked to leave part of their identity at the door. Everyone should see themselves and their communities reflected in the curriculum and educational practices," said Morgan Craven, National Director of Policy, Advocacy and Community Engagement for the Intercultural Development Research Association.
critical race theory
Craven discussed censorship in the classroom, systematically marginalized students and communities, and the challenges facing schools' diversity, equity, and inclusion efforts.
50 years of research in education policy and teacher education have taught us that culturally sustainable schools - places where all students feel welcome - are critical to student success.
Several states have banned the teaching of critical race theory, including: Arkansas, Florida, Idaho, Iowa, New Hampshire, Oklahoma, and Tennessee. Seventeen other states have bills in the pipeline to ban critical race theory, broadly defined as the teaching of systemic racism at all levels of society, from housing to employment to health care.
Craven's remarks were ahead of the news: One day after the briefing, Florida Gov. Ron DeSantis banned an advanced course teaching African-American history statewide. Florida is not alone: Between July 2021 and June 2022, according to PEN America, Texas school districts banned 801 books across 22 school districts, the most of any US state. Most of the banned books focused on racial history and sexual identity. Craven said he hoped to see more of this type of activity this year.
restraint and isolation
AJ Link, policy analyst for the Autistic Self Advocacy Network ?Red de Autodefensa de los Autistas?, pointed out the threats that loom in schools about disabled, non-binary or colored students. He laid out eight principles for creating healthy school environments, including addressing childhood trauma, improving protections against bullying and discrimination in schools, and eliminating law enforcement in schools.
Link referred to the practices of restraint and seclusion: the police handcuffing a child who simply has a tantrum, or teachers sitting down students who misbehave. Restraint and seclusion tactics are used disproportionately with marginalized students, he said.
"I really hope that we start to see children as children, instead of threats to be feared. And that we support and invest in our children in a loving, caring and caring way, instead of acting like being a child is automatically some kind of criminal activity," he said.
child education
Whitney Pesek, Director of Federal Child Care Policy at the National Women's Law Center, spoke about the importance of early childhood education and expanding programs for low-income families to access.
"For the early care and education sector, the COVID-19 pandemic has exposed and exacerbated deep inequities in a system that depends on families paying unaffordable sums, early educators receiving poverty wages and that too many communities across the country lack the staff or facilities to meet the demand for early care and education," Pesek said.
She noted that, in more than half the country, child care and early childhood education cost more than going to college. And many families pay more for ECE than for rent.
In addition, there are few subsidies. Rural families live in EPI deserts, with an insufficient supply of authorized day care centers.
"Children under the age of five make up the most diverse generation in American history, so investing in high-quality, affordable care and education also supports racial equity," Pesek said. "It is a gender and racial justice imperative to address these deep inequities in America's early care and education system," she said, calling for strong investment at the federal level.
You may be interested in: Bullying: a battle to win from childhood with education