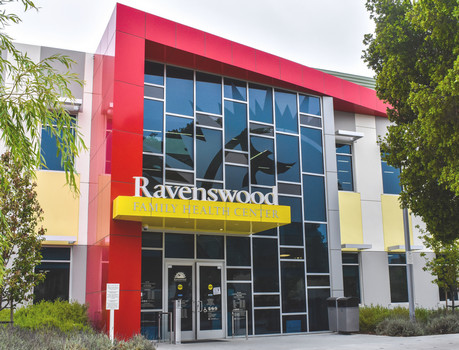 By Pamela Cruz. Peninsula 360 Press [P360P].
This Wednesday, December 1, the Ravenswood Family Health Center will celebrate 20 years of serving the East Palo Alto community. Despite health challenges such as the COVID-19 pandemic, the Ravenswood Family Health Center has achieved its mission of advancing health in the community.
In 2019 alone, Ravenswood served a total of 25,619 patients, including 10,140 pediatric patients, through 117,086 visits.
Of those, 91 percent were low-income and living at or below 200 percent of the federal poverty level; 94 percent were ethnic minorities, including 65 percent Latino, 5.0 percent Native Hawaiian or Pacific Islander, and 5.0 percent African American; while 10 percent were homeless, 36 percent were uninsured, and 59 percent were enrolled in public health coverage programs such as Medi-Cal and Medicare.
In a brief statement, the community health center explained that this would not have been possible without the trust of its patients, as well as the financial and political support during all those 20 years.
He said the Ravenswood staff and board are determined, resilient, and proud of the progress made along the way, which has been able to be a part of the health of generations of residents in the area.
"As a 20th birthday present to us, on November 9, 2021, we successfully concluded our 7-year New Markets Tax Credit Financing obligation and are the ?free and clear? owners of the John and Susan Sobrato campus that opened in May 2015 at 1885 Bay Road in East Palo Alto," he stressed.
Notably, Ravenswood Family Health Network has grown to now include MayView Community Health Centers in Palo Alto, Mountain View and Sunnyvale.
To date, the health center has more than 320 employees, 5 clinical sites and serves more than 21,000 patients through more than 85,000 visits during the COVID pandemic.
"As we recover from COVID, our goal is to restore our combined patient population of 25,000 that MayView and Ravenswood had in 2019," he explained.
"We wanted to share this special day with you and let you know how grateful we are to have you as our friends and supporters. Our work together is to change the trajectory of people's lives," the center stressed.
Ravenswood Family Health Network is governed by a dedicated 11-member board of directors, including a board liaison.
As a federally funded community health center, the majority of Board members are from the community and/or are registered patients of the clinic.
"Running a community health center is a challenge given the constant changes and increasing complexity of health care," Ravenswood details on its website.
You may be interested in: Laura Rubio, a tireless advocate for justice in East Palo Alto