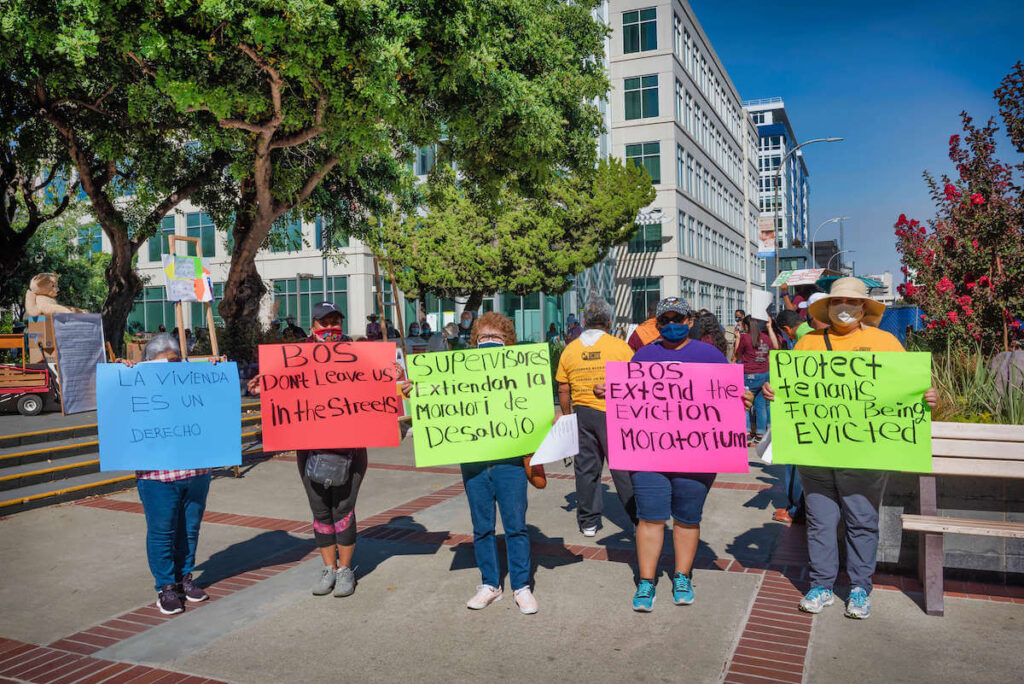 Manuel Ortiz (@ManuOrtizE). Peninsula 360 Press [P360P].
"There are families that owe more than $30,000 in rent" as a result of the economic devastation caused by the COVID-19 pandemic, said Ofelia Bello, executive director of Youth United for Community Action ?YUCA?. California's recent SB91 law could prevent these people from being evicted from their homes.
The SB91 contemplates use of $2.6 billionwhich California Governor Gavin Newsom obtained from federal funds, to cover 80% of rent arrears by people affected by COVID-19.
According to Bello, this law has advantages compared to the previous law created to prevent evictions, AB3038. On the one hand, SB91 "is an extension of AB3088, but it also adds additional funds to help people with rent that has accumulated for almost a year."
"While AB3088 protects families from eviction, these families were still accumulating thousands and thousands of dollars in debt. We're talking about low-income families who were extremely hard hit by the pandemic," said Bello.
With the new law, the tenants' debt would be covered in an 80% and they would be released from debt. It should be noted that landlords themselves could apply for support to cover their tenants' debt.

One of the requirements to obtain the benefits of SB91 is to submit an application explaining that the person has been affected by the pandemic, as well as pay 25% of the debt to avoid eviction. However, if it is the landlord who applies, the tenant may be able to have the entire debt forgiven, and the landlord would get 80% of the debt on the condition that the 20% is forgiven for the tenant.
Therefore, this law could be a "win-win", said Bello. However, he explains that there are still doubts and concerns about the process that people who want to apply for this support will have to go through, "since many of the procedures are online and, ironically, because we are in the heart of Silicon Valley, the center of technological innovation, and we still have many low-income families who do not have the knowledge or the infrastructure necessary for electronic procedures. There are people who don't have computers in their homes.
Another concern expressed by Bello is that the call for SB91 applications opens in mid-March and closes in August, "this is the time they have to distribute the funds and if not they have to be returned", so the community has little time to complete the procedures.
YUCA is based in East Palo Alto and is one of the organizations most involved in the fight against evictions. While they prioritize their attention to people in their area, anyone from other parts of the San Francisco Bay Area can contact the organization for a referral to another group in their area to help them.
YUCA's telephone number is (650) 450-1920.
More information is available on the YUCA website: http://youthunited.net