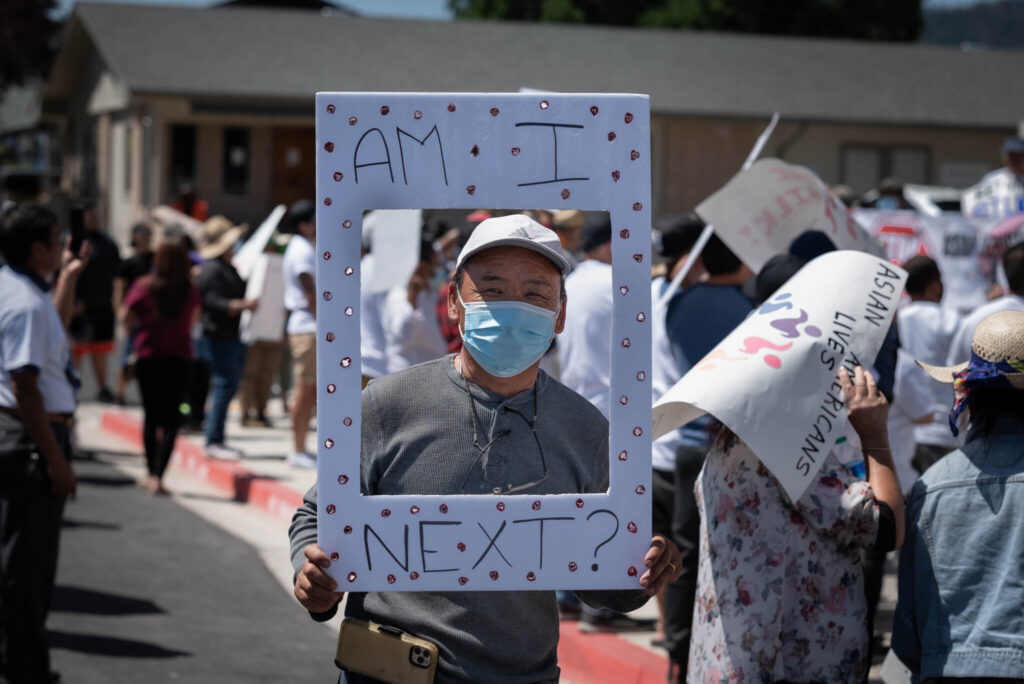 Sandy Close. Ethnic Media Services.
With additional information from Sunita Sohrabji.
Video and photographs by Manuel Ortiz. Peninsula 360 Press [P360P].
YREKA, California - More than 600 Hmong Americans from across California and as far away as Milwaukee and Minneapolis rallied Saturday at the Siskiyou County Courthouse in Yreka to demand a federal investigation into the June 28 fatal shooting of a Hmong father of three by law enforcement.
According to Mai Vang, a Sacramento councilmember who spoke at the July 17 rally, the protest has made this sparsely populated county in the foothills of Mount Shasta the new focus of Asian-American resistance to the rise of anti-Asian violence in the state.
In this case, the targets are Asian-Americans of Hmong, Cambodian, Laotian and Chinese descent who have settled in growing numbers in the county, many of them to grow small plots of cannabis in much the same way as their families did in Laos and Cambodia. The shooting intensified growing racial tensions between county authorities and cannabis growers. Although cannabis is legal in California, outdoor cultivation is prohibited in Siskiyou County. Growers are allowed to grow up to 12 plants indoors.
The shooting victim, identified as Soobleej Kaub Hawj, 35, allegedly turned the wrong way at a checkpoint on the A 12 near Weed during a mandatory evacuation order of the region in the early hours of the Lava fire. His wife and three children were in a second car behind him.
Law enforcement says he was turning back toward the evacuation zone when he was stopped, and that he was pointing a semi-automatic handgun.
Community activists differ, saying it was too dark to see inside the truck. A photo taken by an eyewitness shows the sides of the truck riddled with 21 bullet impacts and both side windows blown out. Activists also say an eyewitness video records the sound of at least 40 to 60 bullets being fired.
The Siskiyou County Sheriff's Department did not issue a formal statement, but posted a response on its Facebook page: "Officer-involved shootings are complex investigations that take time to thoroughly investigate. There are certain details surrounding this incident that have not been made public as the investigation is ongoing; however, a comprehensive incident report will be made public in the future once the investigation is complete."
Zurg Xiong - a 33-year-old local activist who began a hunger strike on July 9 to demand justice for Hawj - was at the center of the July 17 rally. In a letter to Siskiyou Sheriff Jeremiah LaRue and the Siskiyou County Board of Supervisors, which was circulated among the protesters, Zurg reiterated his demands: the release of all video camera footage, an official investigation into the shooting, and an end to racial discrimination against the Hmong community, including restrictive water regulations that activists say target Hmong farmers.
Surrounded by family members keeping a constant vigil, Zurg told the protesters that he was prepared to die if justice was not served.
Many elderly protesters, including Vietnam War veterans dressed in military fatigues, expressed a sense of betrayal at the county authorities' characterization of Hmong farmers as the "Hmong Cartel."
"Why do they hate the Hmong?" asked Dr. Lee Yao Pang of Sacramento, who was referring, like many at the protest, to the volley of bullets fired at Hawj's car.
"We served US forces in the secret war in Laos, rescued US pilots, lost over 35,000 lives supporting the U.S. Now we are accused of running a secret war on drugs here."
"What would a cartel be doing calling for dialogue and peacefully protesting like this?" asked Ed Szendrey, former chief investigator for the Butte County prosecutor's office, who has helped secret war veterans since the 1990s and came to the protest from Chico. He said the county's water regulations were so restrictive that they were driving Hmong farmers out of the county.
"It's as if they assume that every drop of water goes to cannabis cultivation, but people need water for cooking, for bathing, for living. Old couples now have to go to the stream for water.
Six Asian Americans filed a lawsuit on June 4, 24 days before Hawj was killed, seeking a temporary restraining order barring the Sheriff's Office from monitoring water delivery trucks in the Mount Shasta Vista area, where Hmongs make up the majority of residents. The plaintiffs claimed their water rights were violated in an ill-conceived plan to curtail marijuana cultivation. Read the lawsuit here: https://ecf.caed.uscourts.gov/doc1/033112450266
In their answer to the complaint, the defendants noted that thousands of pounds of illegally grown marijuana, with a street value of between $59 million and $179 million, had been seized in the area: https://ecf.caed.uscourts.gov/doc1/033112458714
The county regulation also prohibits pipes carrying more than 100 gallons of water, which activists say leads to racial discrimination against any Hmong who drive a truck with water. "People don't just lose their water, they lose their trucks," Szendrey said, "Alfalfa and wheat farmers use infinitely more water, and they're not stopped or questioned about their water use."
The water restrictions are on certain roads that cover much of the Hmong community, he said. "Even if it's not explicitly stated, this makes it a racist issue. There is a strong social group that wants to drive the Hmong out."
Szendery and other supporters of the Hmong community are calling for a Justice Department investigation into the Hawj shooting.
Mary Ly, a 20-year-old wife and mother of two, moved to Siskiyou from Denver last year to care for her mother. Since the water ordinances were passed, she said, she has experienced increasing animosity directed at herself and anyone who looks Hmong.
"After the regulations were passed, cars followed me home. People would take my picture and bother me. I'm a young Asian American girl, what if this happened to my mother? I'm scared of my mother going to the grocery store." Ly works in retail and says she sees how clerks disrespect Hmong elders. "I've never experienced racism like this before," she says.
Amid chants of ?Shi lou, Shi pa? ?love one another, help one another?, speakers and demonstrators stressed that, in addition to seeking justice for an unexplained death, their aim was to seek dialogue with the authorities.
"We want to show the sheriff that we are strong and we have a voice," said Peter Thao, one of the organizers of the event. "We want to make sure the investigation moves forward and that they release the images of the body. But here's an opportunity to get to know each other and open a dialogue, and if law enforcement needs to be taught our culture, we're open to that."
John Thoa and his wife run a non-profit organization for seniors in Fresno and made the trip to Yreka because "this is a dialogue we need to have - among all our Asian groups - to express our concerns about what's going on here.
Nhoua Xiong, a Chico State student who grew up in Milwaukee, was inspired to join the protest by Martin Luther King, Jr.'s call that "injustice anywhere is injustice everywhere."
We have put aside tribal issues - we have 18 clans - and we are learning, after only 50 years of being in America, what it means to be an American: "to have the right to disagree".
But the optimism and call for dialogue is tempered by despair at the daily cruelty the Hmong say they experience. Among the demands in Zurg Xiong's letter to the sheriff and the Board of Supervisors is that Hawj's dog, Silk, who was also shot, be immediately released to the family. Silk was picked up by law enforcement officers the night of the shooting and will reportedly be "adopted."