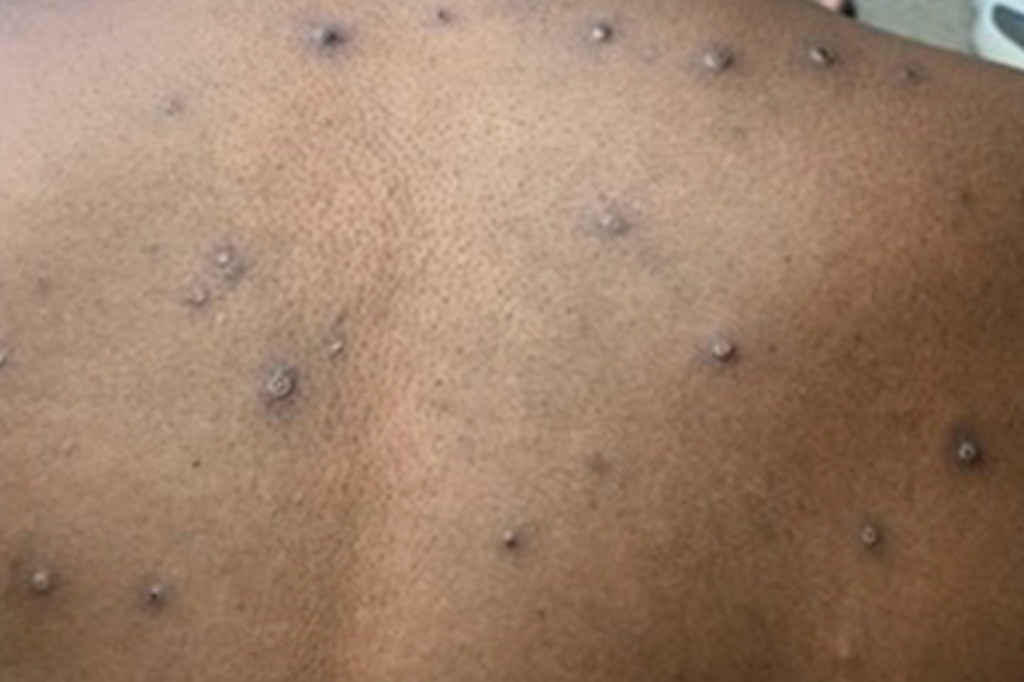 After the first case was reported in the U.S. in mid-May, smallpox is progressing in the U.S. and a State of Emergency has been declared after more than 6,600 probable or confirmed cases.
The announcement was made this afternoon during a press briefing at the Department of Health and Human Services HHS.
According to the Centers for Disease Control and Prevention (CDC), the states with the highest number of smallpox cases are California (826), Florida (525), Georgia (504), Illinois (547), New York (1,666) and Texas (527).
However, those where there has been significant disease progress are DC ?257?, Maryland ?157?, Massachusetts ?134?, New Jersey ?160?, Pennsylvania ?173?, Virginia ?105?, and Washington ?134?
So far, Montana and Wyoming are the states that have not reported a single positive case.
On July 23, the World Health Organization (WHO) declared the disease a "Public Health Emergency of International Concern" after more than 16,000 cases were reported in 75 countries around the world.
"There is a clear risk of further international spread, although the risk of interference with international traffic remains low for the time being," Dr. Tedros Adhanom Ghebreyesus, WHO director general, said at the time.
This, he said, would potentially require a coordinated international response.
Cities such as New York and San Francisco have declared a State of Emergency, as have states such as California, New York and Illinois.
On Tuesday, President Joseph Biden named Robert Fenton as the White House national coordinator for the smallpox response. Fenton, a regional administrator for the Federal Emergency Management Agency that oversees Arizona, California, Hawaii and Nevada, will coordinate the federal government's actions in response to the outbreak.
In addition, Dr. Demetre Daskalakis, director of CDC's Division of HIV/AIDS Prevention, serves as deputy coordinator.
Monkeypox is spread through close physical contact between people. This means that anyone can contract the disease. However, based on the current outbreak, certain populations are affected by monkeypox more than others, including men who have sex with men.
Based on previous outbreaks of monkeypox worldwide, some groups may also be at increased risk of serious outcomes if they contract the virus, including people with weakened immune systems, the elderly, young children under 8 years of age, and pregnant women.
Symptoms of simian pox may include:
Rashes, bumps or blisters on or around the genitals or other areas such as the hands, feet, chest or face.
Flu-like symptoms such as fever, headache, muscle aches, chills and fatigue. These symptoms may occur before or after the rash appears, or not at all.
Simian pox can be spread to anyone through close personal contact, often skin-to-skin, which includes:
Direct contact with monkeypox rash, scabs or body fluids of a person with monkeypox.
Touching objects, fabrics - clothing, bedding or towels - and surfaces that have been used by someone with monkeypox.
Contact with respiratory secretions.
This direct contact can occur during intimate contact, including:
Oral, anal and vaginal sex or touching the genitals (penis, testicles, labia and vagina) or anus (anus) of a person with monkeypox.
Hugs, massages and kisses.
Prolonged face-to-face contact.
Touching cloth and objects during sexual intercourse that were used by a person with monkeypox and have not been disinfected, such as bed linens, towels, fetish items and sex toys.
A pregnant woman can transmit the virus to her fetus through the placenta.
It is also possible for people to contract monkeypox from infected animals, either by being scratched or bitten by the animal or by preparing or eating meat or using products from an infected animal.
Symptoms of monkeypox usually begin within 3 weeks after exposure to the virus. If someone has flu-like symptoms, they will usually develop a rash 1 to 4 days later, the CDC says.
Monkeypox can spread from the time symptoms begin until the rash has healed, all scabs have fallen off and a new layer of skin has formed. The disease usually lasts 2 to 4 weeks.
CDC initially announced that monkeypox vaccines would be released from the Strategic National Stockpile and offered to "high-risk" contacts of patients with the disease, as well as the health care workers who treat them.
Since then, federal health officials have expanded vaccination efforts to focus on the broader community of men who have sex with men, the demographic group that makes up the majority of cases.
With information from CNN.
You may be interested in: Gavin Newsom Declares California a State of Emergency for Smallpox