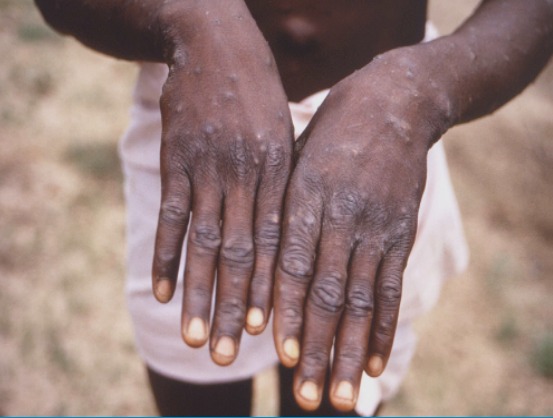 The San Francisco Department of Public Health SFDPH announced today that following a recent increase in cases worldwide and in the U.S., the first probable case of monkeypox has been identified in a San Francisco resident through testing at a California Department of Public Health laboratory.
The risk to the general population from this virus is believed to be low, as the known cause of spread is prolonged contact and body fluids.
Having close physical contact, including sex, with several people can put a person at increased risk of contracting monkeypox.
The individual, who traveled to an outbreak site, is isolated and in good condition, San Francisco health officials reported.
The individual has reported no close contacts in the city during the time period in which he could have spread the infection to others. Initial testing was completed at a state laboratory on Friday and SFDPH is awaiting confirmation of test results from the U.S. Centers for Disease Control and Prevention (CDC).
"San Francisco is prepared for this case and others, should more occur. We want to emphasize that this is not an easily airborne disease like COVID-19; however, we want people who may have been exposed to watch for symptoms and consult a medical provider immediately if they develop symptoms for an evaluation," said Health Officer Dr. Susan Philip.
"While most cases resolve on their own, monkeypox can be serious in rare cases and we want to prevent further spread in the community," he added.
The SFDPH noted that there is still much to learn about the conditions under which simian pox spreads and people can expect public health guidance to evolve accordingly.
It is now known that monkeypox can be spread through activities that include intimate sexual contact, kissing, close breathing, or sharing of bedding and staff. It appears as a rash or distinctive skin sores anywhere on the body, including the genital area, and often begins as flu-like symptoms.
While a cluster of cases has been identified as appearing nationally and internationally, monkeypox remains rare and there are other contagious diseases that can cause skin rashes or lesions. For example, syphilis and herpes are much more common than monkeypox, may appear similar, and should also be treated.
Persons who may have been exposed to monkeypox, or who have symptoms, should immediately contact their health care provider for evaluation and counseling. Physicians should report suspected cases of monkeypox to SFDPH Communicable Disease Control.
SFDPH anticipates that more cases of simian pox could occur in SF, and already monitors updates and guidance from CDC and the California Department of Public Health on the evolving situation.
SFDPH systems are in place to receive reports of suspected cases from health care providers; identify and communicate with anyone who has been in contact with cases during their infectious period; and ensure that clinicians remain well informed about testing, infection control, and management of monkeypox as the situation develops.
The California Department of Health has purchased Jynneos vaccine for distribution to counties for preventive use in persons identified as close contacts.
Most recent cases of monkeypox worldwide are found among people who self-identify as gay men or men who have sex with men, which may put people in this community at higher risk of infection.
However, anyone, regardless of sexual orientation or gender identity, can become infected and spread monkeypox.
In response, the SFDPH urged the media, government officials and the community at large to respond with a rights- and evidence-based approach that avoids stigma.
How to protect yourself from smallpox:
Consider wearing a well-fitting mask and covering exposed skin in dense indoor crowds.
Do not share bedding, clothing and food or drink with others.
Talk to close physical contacts about your general health, such as recent rashes or sores.
Be vigilant if you travel to countries where outbreaks are occurring.
If you have symptoms, particularly a rash compatible with monkeypox, or if you have been in contact with someone who has been diagnosed with monkeypox:
Cover the rash area with clean, dry, loose-fitting clothing.
Wear a well-fitting mask
Avoid skin-to-skin contact or close contact with others, including sexual contact, until a medical evaluation has been completed.
Contact a health care provider as soon as possible for an evaluation.
Assist public health officials in tracing others who may have been exposed
Inform sexual partners of symptoms.
You may be interested in: The number of children with hepatitis of unknown cause is increasing in the country.