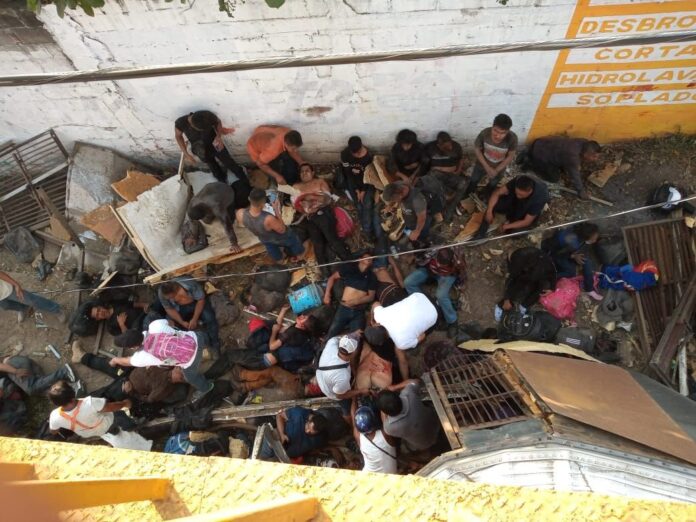 Christian Carlos
There are 58 more injured, 3 of whom are in serious condition. It is believed that most of them were people from Guatemala.
Update: Mexico's Attorney General's Office (FGR) announced that 53 victims have been killed as of 8:30 pm. Through a press release the federal investigative body stated that: "Because it is an unfortunate case of migrants that occurred on a Federal highway, the Specialized Prosecutor for Human Rights (FEMDH), will act together with the Specialized Prosecutor for Regional Control (FECOR), as well as all the technical and support staff that is necessary to carry out the corresponding procedures.
In Tuxtla Gutiérrez, Chiapas, precisely at the bridge Puente Belisario Domínguez and Ribera Cauharé on the Chiapa de Corzo-Tuxtla highway, a cargo truck carrying migrants lost control during a braking maneuver around 3:30 p.m. local time.
Local authorities have counted a high death toll, 49 as of 5:00 pm. In addition, 58 people are reported injured, of which 3 people were transferred to specialized hospitals due to the severity of their life-threatening injuries. Government and private hospitals are treating the injured in different regions.
Testimonies state that during the turning of a dangerous curve, the cargo truck made a desperate maneuver to slow down its speeding, the cargo container in which the migrants were without safety measures overturned due to the abruptness of the braking, resulting in the fatality of 49 people.
Rescue elements and civilians came to the immediate aid of the survivors, ambulances from the Civil Protection of the state of Chiapas have transferred an unidentified number of injured to nearby hospitals.
The governor of the state of Chiapas, Rutilio Escandón, issued a statement on Twitter to express his condolences and make the accident public.
The state medical forensic service reported that the deceased will be transferred to begin the identification of victims. Luis Manuel García Moreno, director of Civil Protection in Chiapas, urged Civil Protection personnel, firefighters from Tuxtla, the Red Cross, ERUM, police from different levels, National Guard personnel, and the National Migration Institute to attend to the victims.