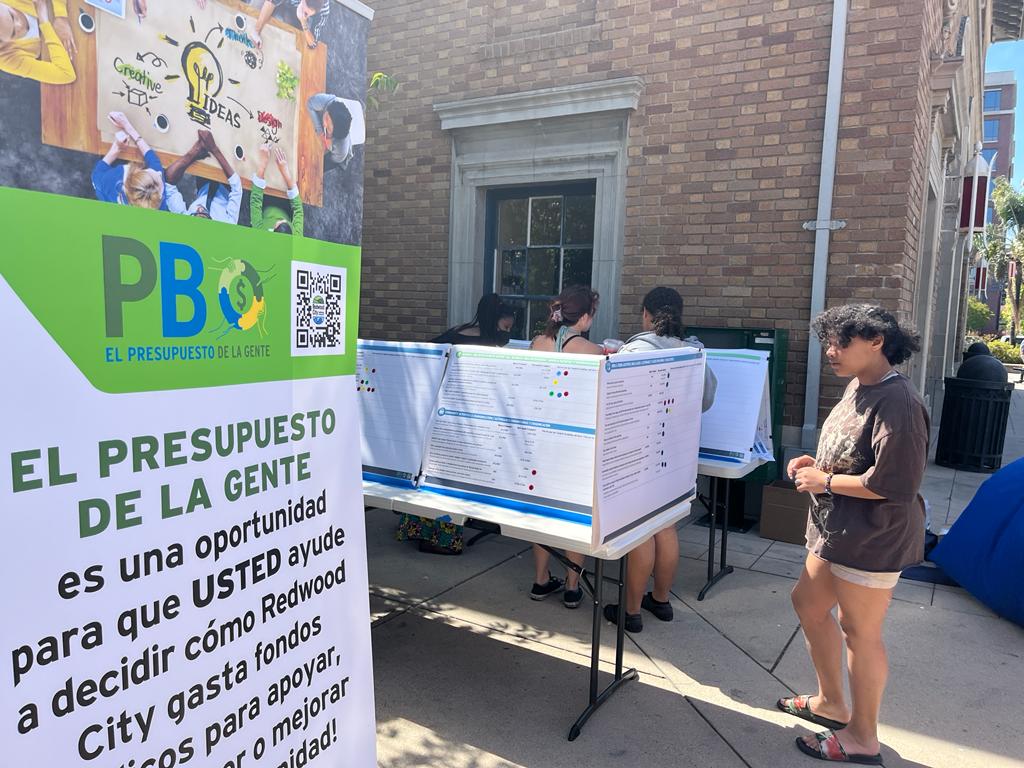 This Saturday marks the beginning of "Voting Week," daily events that allow Redwood City residents to participate in an accessible way in voting on which projects will receive the "People's Budget" (PP), which consists of a million-dollar purse.
Since the vote to allocate the PB began on March 19, residents of all ages and walks of life in Redwood City have been able to have their say and use the power of their decision to benefit the community through resources focused on improving projects that enhance the quality of life for everyone in the city.
So, this Saturday, in front of the Redwood City Public Library, the City Council set up a booth with information to invite more residents to raise their voice by voting to choose the fate of the People's Budget.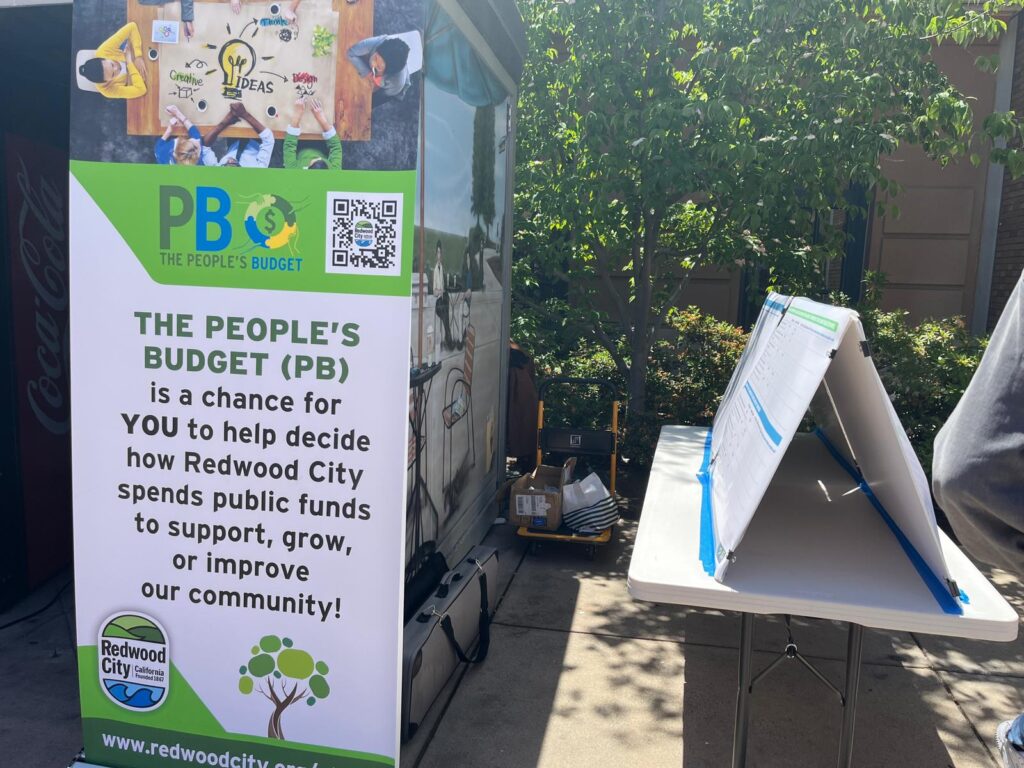 "We are here for the People's Budget, which is an opportunity for the public. Over the past two months, we've been collecting ideas from the public on how to use this $1 million, and so far we've received nearly 700 ideas from more than 500 people," said Redwood City Equity and Inclusion Officer Briana Evans.
He added that the budget comes from the general funds.
"Last year, we got some requests from the public to have more input into the budget process. So the city set aside this money, which would otherwise be used for different purposes, but instead of city staff deciding how to do it or the city capital deciding, instead, the public is going to decide how to allocate these dollars," he pointed out to P360P.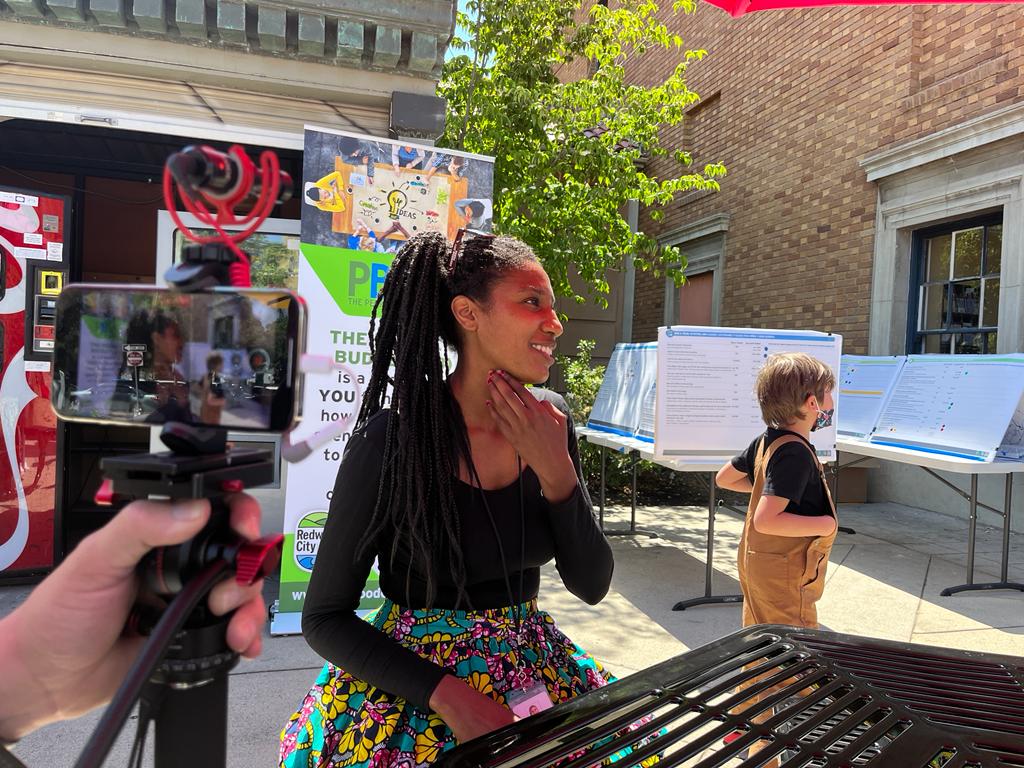 The voting phase of Redwood City's participatory budgeting pilot program continues through Monday, May 9, so there is still time to validate the decision of each resident, who can vote regardless of age or immigration status.
At these events throughout the week, community members will be able to learn more about the Popular Budget, ask questions and rank their seven favorite projects. All events are bilingual in English and Spanish.
Evans recalled that there are several ways to vote, one of them is online, through the site www.redwoodcity.org/pb-esby phone: (650) 780-7334 or by e-mail: pb@redwoodcity.orgor in person at the voting booths that will be set up at various locations throughout the city during this week.
In addition, residents can also pick up a form from any public library, the Veterans Memorial Senior Center or City Hall, fill it out and return it to those same locations or mail it to the City Manager's Office.
To vote, community members can rank up to seven of their favorite projects. Anyone with a strong connection to the Redwood City community can vote, regardless of age, immigration status or place of residence.
The following "Voting Week" events are as follows:
Sunday, May 1st: Stulsaft Park from 12:30 to 14:30 h.
Monday, May 2: Red Morton Community Center from 2:00 pm to 4:00 pm.
Tuesday, May 3: Police Activities League from 4:00 pm to 7:00 pm.
Wednesday, May 4: Palm Park from 4:00 to 6:00 p.m.
Thursday, May 5: Sequoia Station from 4:00 pm to 6:30 pm.
Friday, May 6: Kindergarten from 16:00 to 18:00 h.
Saturday, May 7: Redwood Shores Branch Library from 1:00 pm to 4:30 pm.
The winning projects will be announced at the June City Council meeting where this year's budget will be reviewed in order to support, grow and improve the community.
To learn more, interested parties can visit www.redwoodcity.org/pb-en ?English? and www.redwoodcity.org/pb-es Spanish.
You may be interested in: Redwood City asks residents for help in deciding how to spend $1 million dollars