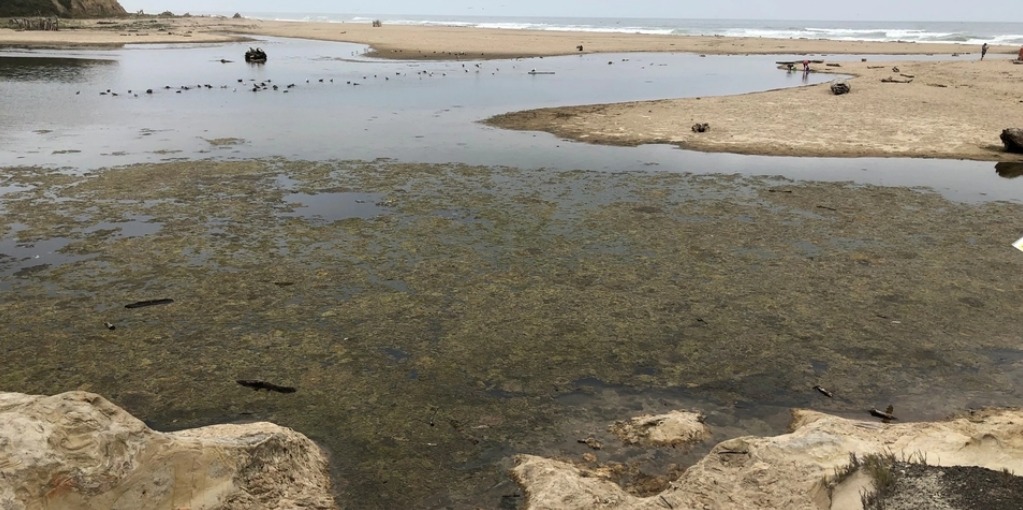 Water sampling at San Gregorio State Beach near Half Moon Bay has revealed the presence of toxic algae in its lagoon. In coordination with the San Francisco Bay Quality Control Board, San Mateo County Environmental Health Services has posted notices in public access areas of the state beach, warning users not to enter the creek or allow children or pets to do so.
Harmful algal blooms (HABs) produce toxins that are potentially fatal to people, pets and livestock.
Compounds produced by bacteria in algae can cause numerous health effects in humans and animals ranging from stomach pain to nerve damage and, in some circumstances, death.
Tests in the San Gregorio Creek Lagoon revealed the presence of algal mats, which are a type of bloom that grows on bottom surfaces. These mats can either attach to the bottom or detach and float on the water or on the surface and wash ashore.
Given this, the waters and shores of the San Gregorio State Beach lagoon and upstream creek should be avoided for a quarter mile due to algae hazards.
While testing is regularly conducted on beaches and adjacent bodies of water, with posted warnings, any stagnant or slow moving fresh or brackish water with visible signs of algal growth should be avoided this summer.
Adults and children should not touch, eat or swallow any algal mats.
Dogs should not eat seaweed mats or drink from the water - dogs are not allowed at San Gregorio State Beach - however, it is requested to call a doctor or veterinarian immediately if a person or pet becomes ill after coming into contact with or ingesting seaweed or water from San Gregorio Creek or anywhere else where seaweed is visible.
For more information on harmful algae blooms, interested parties can access the following website https://mywaterquality.ca.gov/habs/.
"Harmful algal blooms can be very dangerous," said Heather Forshey, director of Environmental Health Services. "As families enjoy the water this summer, we urge everyone to be especially careful with children and pets near any body of water where there are visible algae blooms."
The next water sampling event for the San Gregorio Creek Lagoon is scheduled for mid-August, so state beach users should avoid the lagoon, creek and nearby areas until the water is declared free of toxic algae and posted advisories are removed.
You may be interested in: San Mateo beaches among the worst rated in California according to new report