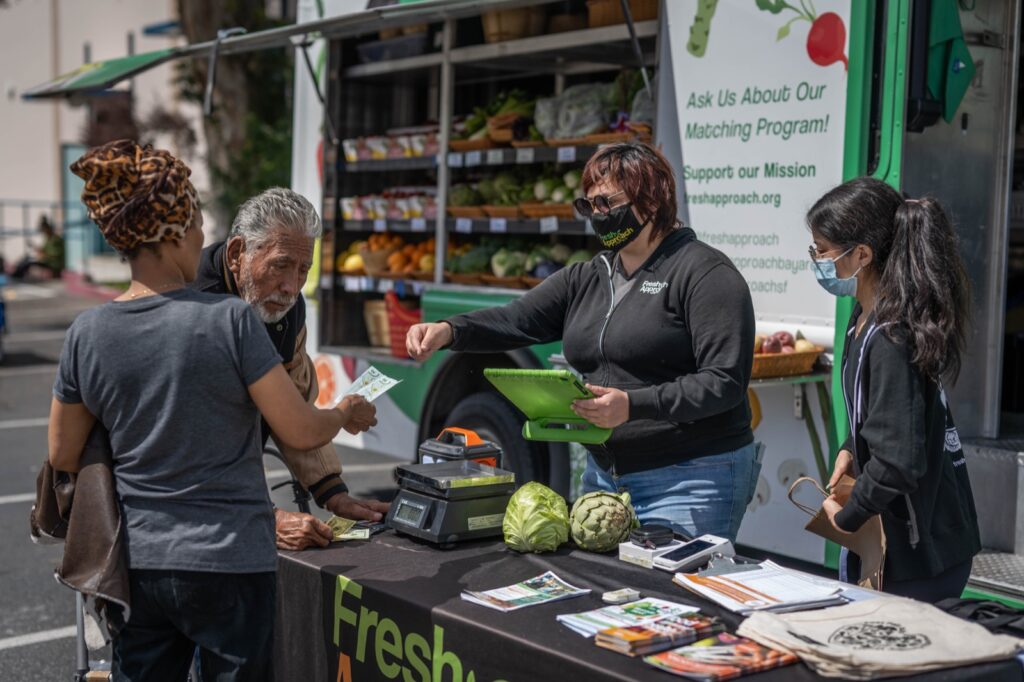 Through trucks, Fresh Approach seeks to bring healthy food to underserved Bay Area communities by selling locally grown fruits and vegetables at discounted prices to shoppers who receive federal assistance benefits.
"Our mission is to connect local farmers with underserved communities, and we do that through mobile farmers' markets. We also have a farmers' market and a gardening and nutrition program. It's to support underserved communities, and help them in a comprehensive approach," Isabel Medina, South Bay Food Access Program manager, told P360P.
Every Thursday, a truckload of food direct from local farms comes to North Fair Oaks, a city in San Mateo County, where residents can get quality produce at very affordable prices.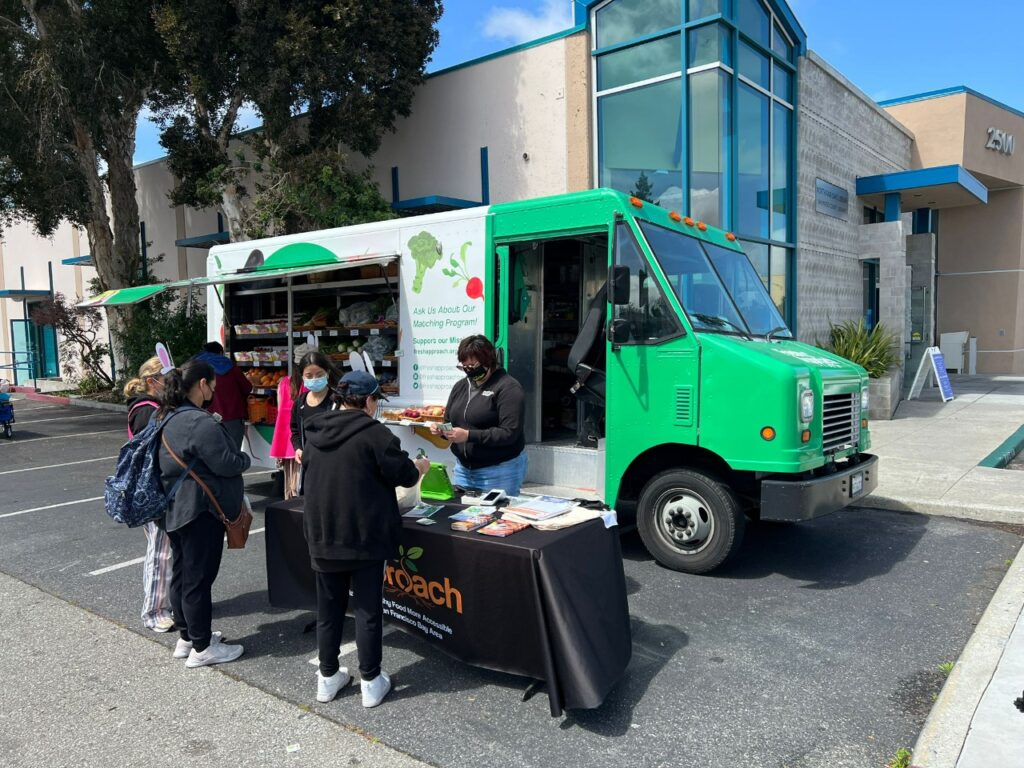 The routes for these mobile farmers' markets are diverse and cover the entire Bay Area.
But Fresh Approach does not act alone, as it associates with other organizations with the same mission, to become partners and cover diverse spaces in places that are easily accessible to all, said Medina.
"We go out to events or to the clinics or various places every week and sell produce from local farmers, especially those within a 200-mile radius. So these farmers are from the Central Valley and Hollister area, we sell them at a reduced price to families who have federal benefits."
The organization serves communities of all ages, ethnicities and income levels. They can be found in health clinics, businesses, municipal governments, churches and community centers.
All products are affordably priced and offer a 50 percent discount to customers participating in the CalFresh program - SNAP, Food Stamps, Special Supplemental Nutrition Program for Women, Infants and Children (WIC), Supplemental Security Income (SSI), Medi-Cal and the Unemployment Program.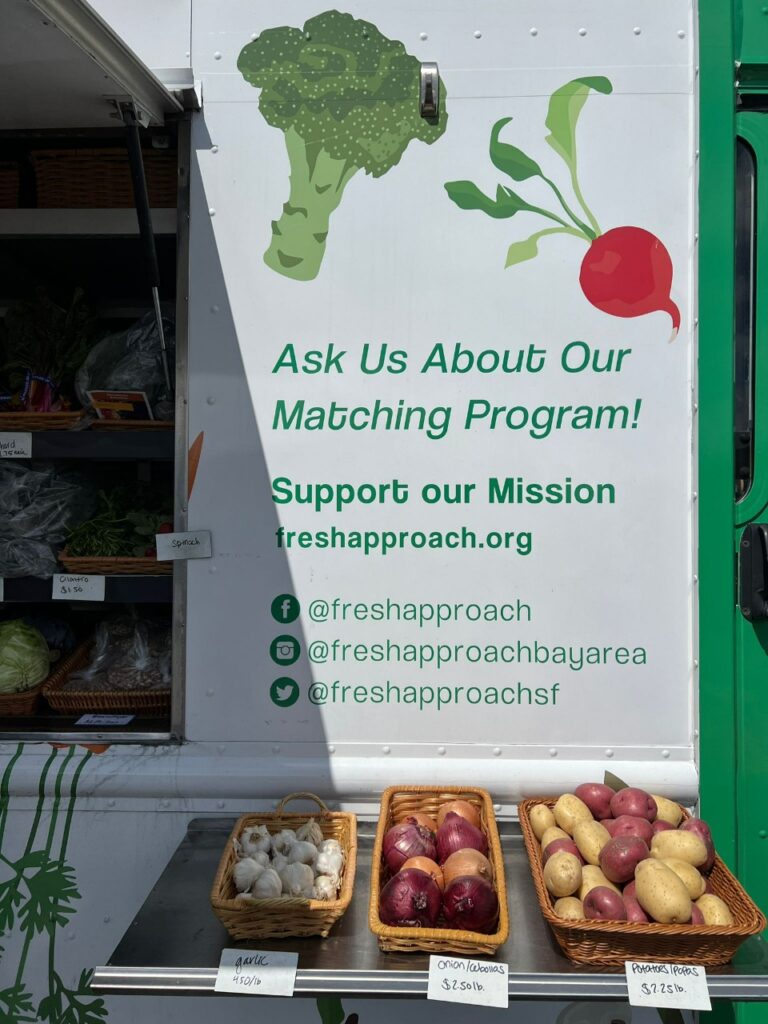 For more information about Fresh Approach's matching programs, interested parties can contact click here.
"We believe that everyone should have equal access to healthy food and that the health of our communities and the livelihoods of our local farmers should go hand in hand," the organization states on its website.
Through 2020, Fresh Approach has served 12 cities in four Bay Area counties, distributing more than 1.3 million pounds of produce and 6.5 million servings of fresh fruits and vegetables.
According to their website, the hours and locations of the mobile farmers' markets are:
Tuesday
Antioch: 11 am ? 12:30 pm, Antioch Senior Center at the corner of W 2nd St and E St, Antioch
Antioch: 1 p.m. to 2:30 p.m., Sutter Delta Medical Center at 3901 Lone Tree Way, Antioch
San Jose: 10 am -11:30 am, Valley Health Center at 500 Tully Rd, San Jose
Sunnyvale: 12:30 p. m. to 2 p. m., 665 W Olive Ave, Sunnyvale
Wednesday
Richmond: 10 am ? 1 pm, Richmond Public Library, at Nevin Ave. and Civic Center Plaza, Richmond
Thursday
Redwood City: 10 am ? 11:30 am, Fair Oaks Health Center at 2710 Middlefield Rd, Redwood City
Sunnyvale: 12:30 p.m. to 2 p.m., Stanford Children's Health Specialty Service at 1195 W Fremont Ave.
However, during 2022, there will be breaks, so there will be no service from May 30 to June 3; July 4 to 8; September 5 to 9; November 21 to 25; and December 19 to 30.
To learn more about all the services and benefits provided by the organization, residents can access the following website www.freshapproach.org.
You may be interested in: Spoiled milk served to students in Redwood City