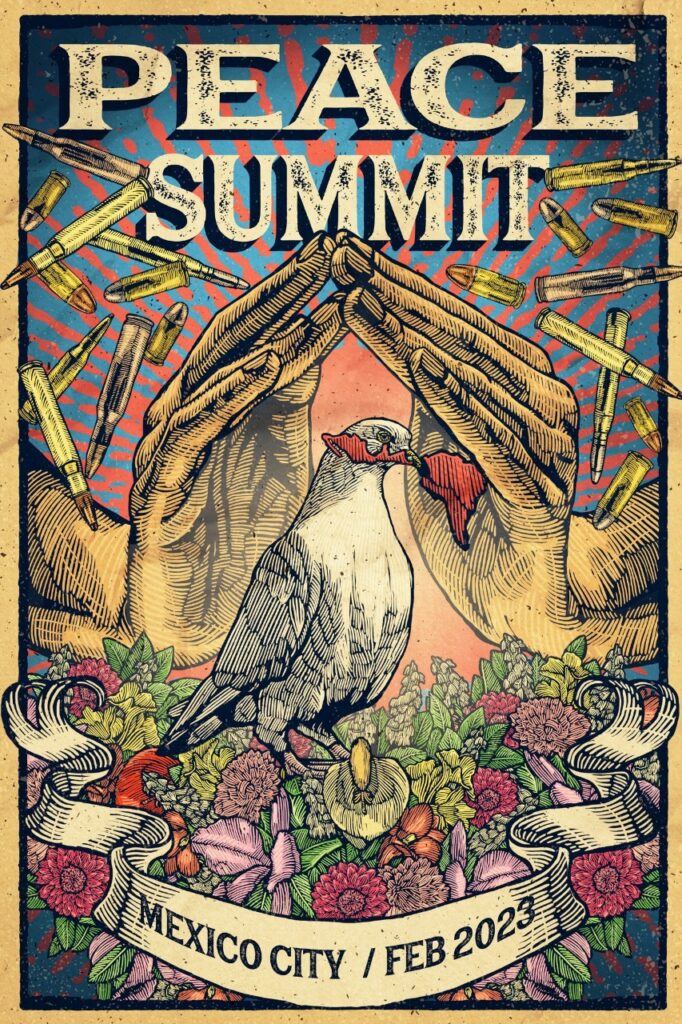 Women, leaders of indigenous, Native American and Afro-descendant communities and more than 50 human rights and social justice organizations will participate in the "X la Paz Summit", which seeks to create an agenda that addresses common problems between Mexico and the U.S. in the areas of migration, armed violence, persecution, forced disappearances, discrimination, inequality and the environment, among others.
After a process of consultations, forums and surveys in Mexico and the United States, the leaders, activists and organizations will present the first results of their work and promote a series of binational actions to promote social justice, human rights and equality in democratic life and binational relations at the Peace Summit in Mexico City on February 27, 2023.
The Summit is taking place against the backdrop of economic devastation caused by the AIDS-19 pandemic which, among other things, highlighted the lack of a strong healthcare system, while the environmental crisis threatens life throughout the region and the proliferation of weapons is killing more people than ever, while there is a criminalization of migrant communities in both countries, particularly affecting indigenous, Native American and Afro-descendant communities, women and human rights defenders.
This was pointed out by the co-director of the non-profit organization Global ExchangeMarco Castillo, during the press conference for the presentation of the Summit for Peace, where he stressed that these problems are the result of a deep crisis that threatens the lives of historically marginalized communities, towns and cities from Central America to Washington DC.
"Every day, poor and historically marginalized communities and cities, from Tapachula to Washington DC, suffer the consequences of a democratic and economic model that does not work. Our peoples are united in tragedy," Castillo emphasized.
Prior to the Summit, the organizers informed that, so far, 6 regional dialogues have been confirmed to begin in September and will be held in the cities of New York, Los Angeles, Tijuana, Mexico City and an indigenous community to be announced in the coming days.
During these discussions, a survey will be developed to identify common problems and principles of solution and a discussion will be facilitated where binationally articulated actions will be proposed. The results of this effort will be presented during the Summit for Peace.
The suffering of the most vulnerable communities crosses borders, so it is necessary to focus on these groups, who have not only responded first to the health, climatic, economic and social tragedies faced by the countries in which they live.
"It is intentional to ignore our existence, it is intentional to ignore that we speak other languages because our language is the basis of our human rights," said Odilia Romero, executive director of Cielo, a Los Angeles-based nonprofit organization.
The organization is led by indigenous women working in partnership with indigenous communities to end gender-based violence, provide language access rights, cultural preservation and reproductive justice, and serve as a diaspora.
"When a transnational company arrives and asks if it is okay for our land to be used for their purposes there is no interpretation, so we do not understand how it will affect us in the long term. This is how violations of the human rights of indigenous people and their land begin, and then we have to migrate and expose to be criminalized," the activist stressed.
"We want the criminalization of people, the gun movement, the criminalization of people of color to stop," he said.
According to official figures and research by some of the participating organizations, gun purchases in the United States and gun violence in Mexico and the U.S. reached the highest level in history in both countries during the pandemic; 70 percent of the guns recovered at crime scenes in Mexico come from the United States.
In addition, more than 10,000 incidents of violence against migrants by authorities in both countries have been recorded since the implementation of the Stay in Mexico Program or MPP.
"We are committed to making space for our voices to come together, the messages and the truth that needs to be heard by the general public and the privileged who may think our culture looks pretty but don't see the violence we have to endure every day," Melissa Iakowi: he'ne' Oakes, executive director of American Indian Community House in New York City, noted in her remarks.
The Mohawk woman, from the Snipe Clan who resides in Akwesasne Mohawk Territory, where she was born and raised, noted that "the Pope was here the other day and met with one Native nation, but there are many of us. Representation matters, the voice of each nation matters."
Tragedy and oblivion unite, which is why events such as the Summit are of great relevance for the most vulnerable communities, said Cristina Bautista Salvador, mother of Benjamín Ascencio Bautista, one of the 43 young students who disappeared in Ayotzinapa, Guerrero, Mexico.
"This is very important to me as Benjamin's mother, for them to hear it out loud. We know that we are not the only ones who are suffering. In the world there are many disappearances and violence. The pain and suffering unites us to raise our voices, to be heard in every corner."
This mother and activist recalled that in Mexico there are more than one hundred thousand families looking for their loved ones, "the Summit for Peace is important as fathers and mothers of the 43 to let them know that we are still looking for our children and demanding their return alive".
For Jorden Giger of the Balck Lives Matter movement in South Bend, Indiana, actions like the Peace Summit are necessary to join forces between different organizations whose struggles are common.
"This summit is extremely important because the guns being used to kill Black people in the U.S. are the same guns being used to kill people in Mexico and Central and South America. We should be organizing as we challenge our governments and community members about the proliferation of guns in our communities," said Giger.
Isabella D'Alacio, an activist and survivor of the Parkland, Florida massacre, said, "Young people need a place at the table to advocate for solutions to the problems that have destroyed our communities. The summit and its outcome will be imperative to creating a future for my generation."
"There is not much difference between a firearm here and in Mexico, the only difference is the people it can hit," he added.
Environmental issues are no stranger to the suffering of vulnerable communities, as inhabitants of mountains, hills and slopes have become activists to protect the resources and nature that surround them.
"In Mexico when we have an environmental struggle in the territory where we are, it is not so free, we could make alliances. The summit is important to learn how trees and other resources can be respected in other places," said Grisel Cuecuecha, of the organization Culturas del Pasado, Voces del Presente, in Tlaxcala, Mexico.
Finally, Marco Castillo emphasized that it is important to dialogue between peoples, communities and organizations to take strong regional actions that point the way to a different reality and a different relationship between Mexico and the United States. "The one we have does not serve to recover peace and advance justice."
"Communities have been divided by a false narrative of rivalry. It is time to review the common agenda because we are more united in this than ever. The Peace Summit will strengthen these common dialogues," he stressed.
To join in this process, the organizers have made available the following web sites www.cumbrexlapaz.org and www.peacesummit2023.org.
You may be interested in: Null results on disappearances in Mexico must be made visible: activist