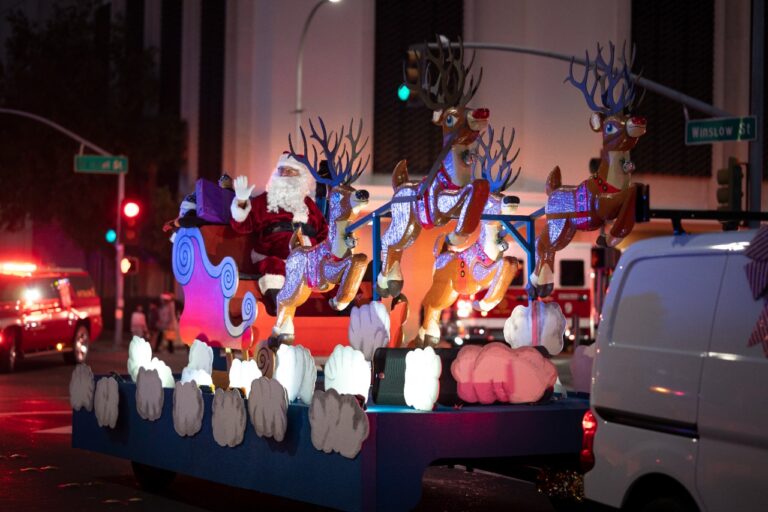 This coming December 10, residents of Redwood City will be able to immerse themselves in the holiday spirit and join the festivities with "Hometown Holidays 2022", a party to celebrate the holiday season in the company of the whole family with activities and food that will put everyone in good spirits. all.
Guests will be able to enjoy a parade, live entertainment, carnival rides, photos with Santa and more. Hometown Holidays is a free event for the whole family that takes place at Courthouse Square in beautiful downtown Redwood City.
The celebration includes the traditional Christmas parade, live entertainment including high school bands, dance troupes, and singing troupes, entertainment activities, carnival rides, and food stations.
This year new entertainment has been added, as attendees will be able to enjoy a mini petting zoo, creation of dyed T-shirts with Dyenosaur Tie Dye Company, both with cost.
Food and craft vendors will attend the event
The carnival rides will be from 10:00 a.m. to 6:30 p.m., while the photos with Santa will be from 10:00 a.m. to 3:00 p.m., One per family.
Live festive entertainment will be from 10:00 a.m. to 4:00 p.m., while the parade will take place at 4:30 p.m.
Details can be found at http://www.hometownholidays.org, or by calling 650-455-5144.
It should be noted that the call for vendors and entertainment is still open, so those interested in volunteering, vendors and artists to help make Hometown Holidays a success can still contact the organizers.
To volunteer, those interested can call 650-455-5144, while for requests for sponsorships, sales or food, they can go to the website by clicking here.
To participate in the parade you can fill out an application clicking here and for artists under 18 years of age you can access by clicking here.
You may be interested in: Get ready! Holiday celebrations kick off across the Bay Area