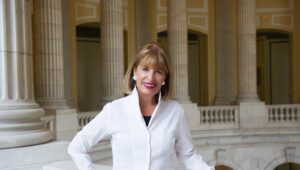 Jackie Speier, who spent more than three decades as a state legislator and member of Congress, announced this week her run for the San Mateo County Board of Supervisors, where she began her career as an elected official in 1980.
Speier spent six years on the county board before serving in both chambers of the state Legislature, then was elected to Congress in 2008. She announced that she would not run for re-election in 2022, expressing her desire to spend more time with her family.
Thus, this Tuesday he announced his candidacy to represent District 1 on the Board of Supervisors in the March 2024 elections.
District 1, currently represented by Board President Dave Pine, includes Burlingame, Hillsborough, Millbrae, parts of San Bruno and South San Francisco and other areas, including San Francisco International Airport.
"I will use the skills I have honed, the relationships I have built, and the experiences I have gained to solve the problems facing our community," Speier said in his announcement. "I know from experience that local action can make a big difference for all of us, and I am concerned that our quality of life in San Mateo County faces great challenges."
He cited income inequality, lack of affordable housing and child care, and the environment as issues he wanted to address at the local level.
"When I announced that I would not be running for reelection to Congress, I made it clear that I was not done and that I would not be retiring. I was simply returning home to be with my family and my constituents. "I believe I have found the path where I can make the greatest contribution to those whom I have represented for so many years," said Speier.
Following Speier's announcement, Burlingame City Councilwoman Emily Beach and Millbrae City Councilwoman Gina Papan announced Tuesday that they would suspend their campaigns for the supervisor position.
Jorge Quezada Flores was the only person on the list of candidates for the county elections department position as of Wednesday. Pine, the current supervisor, will be removed from his position.
Kevin Mullin in November 2022 was elected to the congressional seat previously held by Speier to represent a district that includes much of the Peninsula and part of San Francisco.
You may be interested in: Katharine Sullivan reaches out to improve literacy among San Mateo County students