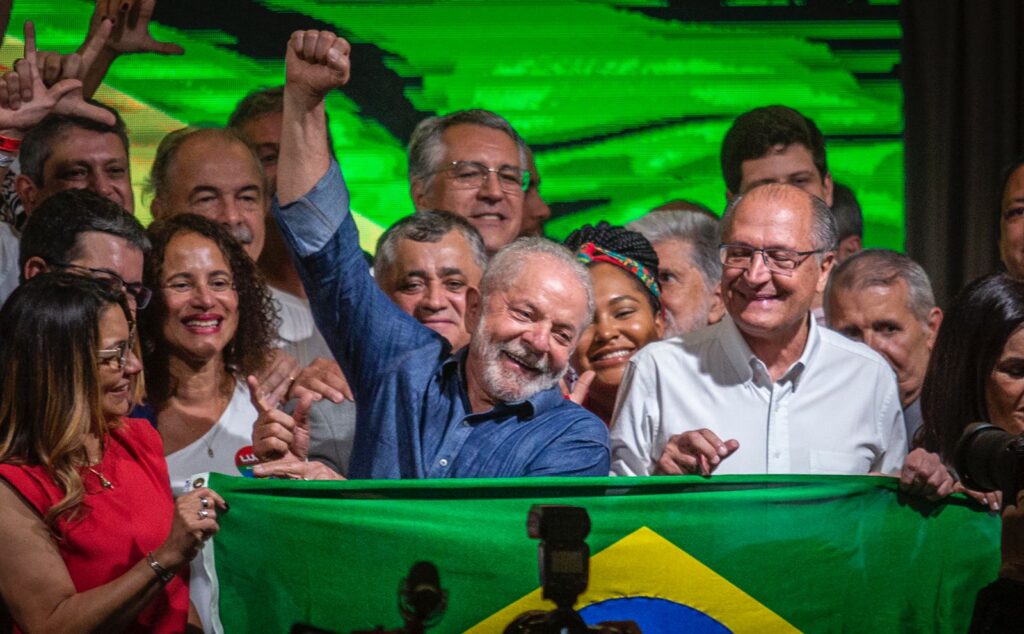 Con más del 50 por ciento de los votos, Luiz Inácio Lula da Silva se convierte en el virtual ganador de las elecciones de Brasil, derrotando al actual mandatario, Jair Bolsonaro, con 1.8 puntos porcentuales tras el 99.99 por ciento de los votos computados, con lo que obtendrá un segundo mandato al frente del país.
El pueblo brasileño ha hablado y decidió sacar a Bolsonaro del poder. Si bien Lula no consiguió obtener el puesto en la primera ronda de las votaciones realizada el pasado 2 de octubre, pues no obtuvo el 50 por ciento más un voto necesario, ha logrado en esta segunda vuelta quedarse como titular del ejecutivo, para ser el 39° presidente de la República Federativa de Brasil.
Con una contienda sumamente cerrada, Luiz Inácio, quien ya había sido el presidente 35, con un mandato del 1° de enero de 2003 a 31 diciembre de 2010, vuelve al Palacio de Alvorada con una mirada nueva para el país sudamericano, enfocada en mejorar la educación, la economía, y sí, en ayudar a detener la deforestación en la Amazonia.
De los 156 millones 454 mil 011 electores que podían votar, apenas lo hizo 124 millones 250 mil 767, de los cuales, 118 millones 550 mil 366 votos fueron válidos, 3 millones 930 mil 730 nulos, y un millón 769 mil 671 en blanco.
En punto de las 19:57 horas del centro de Brasil, el Tribunal Superior Electoral señaló que la Elección estaba matemáticamente definida con el 98.91 por ciento de los votos válidos contabilizados, poniendo como ganador a Lula da Silva con 50.83 por ciento de los votos validos a su favor, lo que significa 59 millones 630 mil 140 votos.
Por su parte, Bolsonaro obtuvo 49.10 de los votos válidos, que se tradujo en 58 millones 205 mil 718 votos validos.
Luiz Inácio Lula da Silva was born in 1945, in the semi-arid area of the state of Pernambuco, in northeastern Brazil, and was the seventh child of a farming couple. Without basic services such as electricity, water or bathrooms, his family moved to the south in search of better luck, to escape drought and poverty.
In São Paulo, Lula began to work as a child, after finishing elementary school he was employed in a metallurgical plant and was admitted to the technical course of mechanical lathe operator. In those years, São Paulo became the most industrialized area of the country, with some of the world's leading metallurgic factories.
Thus, da Silva was one of the many Northeastern migrants who settled in the production line and made metallurgy their profession. It is worth mentioning that at the age of 17 he lost the little finger of his left hand in a work accident and at 18 he lived through the military coup of 1964.
Convinced by a brother, a militant of the then clandestine Brazilian Communist Party, he began to attend union meetings, where he came into contact with the needs of the working class and came into contact with expressions such as wage devaluation, shortages and strike funds.
Due to his qualities as a negotiator, he was invited to occupy an alternate position in the union leadership, elected at the beginning of 1969, inaugurating his career as a union leader.
After marrying at the age of 23, and after losing his wife and child in childbirth, he immersed himself in work and was called to assume a position in the leadership of the union, changing for the first time the shift in the factory for a room in the headquarters of the entity.
In 1975, before his 30th birthday, Lula assumed the presidency of the union. This second half of the 1970s was characterized by the radicalization of working class movements, attracting the enthusiasm and solidarity of left-wing militants who could not find space to act in their areas of origin.
Between 1978 and 1980, Lula commanded several general strikes, which assumed unthinkable proportions, establishing himself as the biggest name of the opposition in the country's political scenario; however, on April 19, 1980, he was imprisoned and spent 31 days in jail.
Political trajectory
When the Workers' Party emerged, it was promptly supported and influenced by intellectuals, religious, artists, students and militants who had graduated from the armed struggle, and Lula was its first president. Thus, for two decades he was the workers' spokesman and main opposition leader, leaving his mark on the model of democracy installed in the country.
In 1990 he headed the Citizenship Institute, which formulated public policies implemented in the following decade, such as Zero Hunger; he also chaired the PT in the campaign for Collor's Impeachment and some of the most important Parliamentary Commissions of Inquiry of the period, such as the one that denounced the violation of the Senate panel, in 1991, and the scandal of the Budget dwarfs, in 1993.
During the eight years of Fernando Henrique Cardoso's administration, he opposed the recessionary economic policy, the manipulation of the exchange rate in order to keep the currency artificially strong and the buying of votes in exchange for the approval of the bill that ensured the right to reelection in 1997, among others.
After three unsuccessful electoral campaigns, Lula was finally elected president of the Republic on November 27, 2002, and was the first worker to be installed as a tenant in the Alvorada Palace.
Re-elected for a second term, Lula chose his successor, Dilma Rousseff, and reached the end of the government with record popularity, as his administration was approved by 87% of the population in December 2010, according to Ibope.
His two administrations were marked by the implementation of income distribution programs, such as Bolsa Familia, and access to credit lines for the poorest, as well as higher salaries, job creation, and various education initiatives.
Con información de Lula Institute.
This article was produced with the support of the organization Global Exchange in collaboration with Peninsula 360 Press.
You may be interested in: Experts dismayed at checkpoints to stop Da Silva supporters on their way to the polls