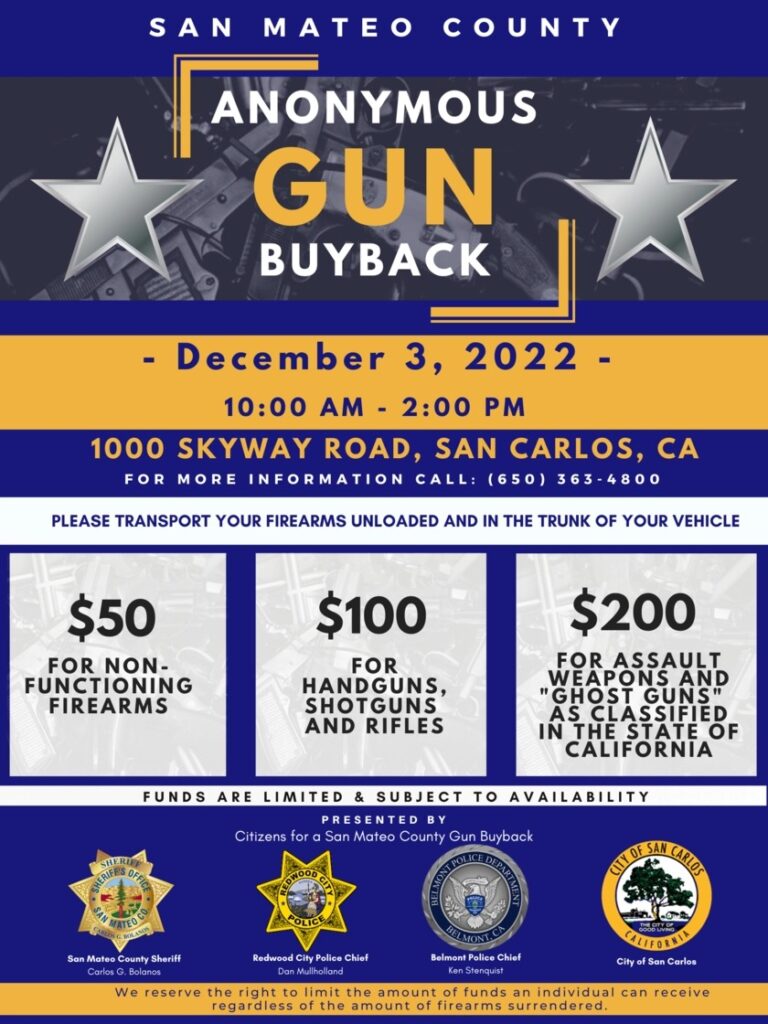 ¡Entrega un arma y consigue dinero en efectivo por ella sin preguntas! Así invitan las autoridades del San Mateo County a su evento de recompra de armas de diciembre, mismas que con dicha acción buscan que los residentes puedan ofrecer el regalo de la seguridad en esta temporada navideña.
Así, el condado de San Mateo y sus socios realizarán una recompra de armas el sábado 3 de diciembre.
El evento se llevará a cabo en 1000 Skyway Road en San Carlos de 10:00 a 14:00 horas. Los participantes deben llevar las armas de fuego de desean cambiar por dinero, descargadas en el baúl de un vehículo o, para camiones y camionetas, en un contenedor cerrado.
Cualquiera que entregue un arma de fuego puede recibir dinero en efectivo: 50 dólares por armas de fuego que no funcionan, 100 por pistolas, escopetas y rifles y 200 por armas de asalto y «armas fantasma» según la clasificación del estado de California.
«Menos armas significa menos posibilidades de que las armas caigan en las manos equivocadas», señaló Don Horsley, presidente de la Junta de Supervisores del Condado de San Mateo y ex alguacil del condado. «Puede mantener a su familia más segura si se deshace de las armas de fuego no deseadas. Es trágico, pero más de la mitad de todos los suicidios ocurren con el uso de un arma de fuego».
Reducir la violencia armada es un objetivo principal de la Junta de Supervisores. En 2021, la Junta se comprometió a retener las recompras de armas hasta 2023 con fondos del impuesto a las ventas de la Medida K aprobado por los votantes que proporciona fondos locales para las necesidades locales.
El Condado ha recolectado un total de 2 mil 071 armas de fuego en cinco recompras realizadas desde mayo de 2018. El pago total ha sido por 206 mil 500 dólares.
«Nuestras comunidades son generalmente seguras», dijo el supervisor Dave Pine. «Pero la violencia armada permanece y ocurren muchas tragedias debido a las armas de fácil acceso. Eliminar las armas no deseadas es un paso significativo para mejorar la seguridad de la comunidad».
Los patrocinadores incluyen el condado de San Mateo, la oficina del alguacil del condado de San Mateo, la policía de Redwood City, la policía de Belmont, la ciudad de San Carlos y Citizens for a San Mateo County Gun Buyback.
Los interesados que tengan preguntas sobre como son las transacciones o las armas que serán compradas pueden llamar al 650-363-4800.
You may be interested in: What happens in the country? Is it time to give thanks for not being in the middle of a shooting?