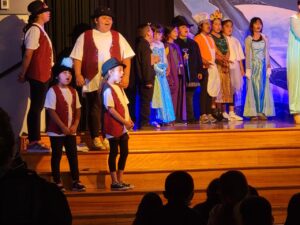 Many children and young people face a lack of identity due to not feeling part of their country of origin while living in the United States. Faced with this problem, the association Audacity Performing Arts seeks to empower them through art, with the purpose of forming ties of communication with the world around them.
«The artistic education of our organization is focused on Mexican and Latin American arts.»said Rosalinda Sánchez, director of Audacity Performing Arts, during a talk with Manuel Ortiz during the radio program Peninsula 360 Press in collaboration with Marcos Gutiérrez from ?Hecho en California?.
Audacity Performing Arts Project is a non-profit organization that seeks to bring young people closer to art to give them the freedom to express themselves, considering each of the young people as an individual, taking into account their cultures, experiences, challenges and individual gifts. Through this practice, Audacity creates a foundation for students at "the decision-making table" of their own creative lives.
?I am from here and there?said Sánchez. The association, he said, knows that young people face daily challenges and seeks to ensure that they do not feel less, since many people do not feel part of the United States, but neither do they feel part of their country of origin, which causes them a feeling of lack. of belonging.
Thus, this organization seeks to include everyone, regardless of their country of origin, language, age, race, religion or beliefs. At the end of the day, art does not have a universal language, we are all art in some way.
Rosalinda said that being part of this organization helps young people have a clearer and more solid future, one where they can integrate into society and contribute to it. Everyone has the right to dream and plan their future.
«When I started taking art education, I started to express myself in a way that I couldn't necessarily with words. We all have that ability to express our thoughts without words through drawing, music, painting, but also with documentaries. Many of our students do not want to socialize because they are afraid to express their ideas», stressed Rosalinda.
Through the different manifestations of art, young people can show themselves without fear or prejudice, and they are able to tell their stories by being themselves.
The association works with Title 1 public schools, is part of the government and goes directly into the classrooms to teach art classes, but there is also a program to bring art closer to some communities.
It should be noted that the school must approach the association to enter and be part of the institution, so it is essential that parents are aware of the resources granted in schools and know what they are intended for, in this way You can request an approach to the arts or other needs in the educational institution, this is how Audacity Performing Arts Project reaches the classrooms in different schools.
As part of the Day of the Dead festivities, Audacity Performing Arts Project will be part of a wonderful event on Sunday, November 5 in Hollister starting at 6:00 p.m., to which everyone is invited.
To learn more about Audacity Performing Arts Project, those interested can visit the website https://www.audacityperformingarts.org/home or contact 408 394 3398.
You may be interested in: Photogallery: National Holidays 2023 in Redwood City