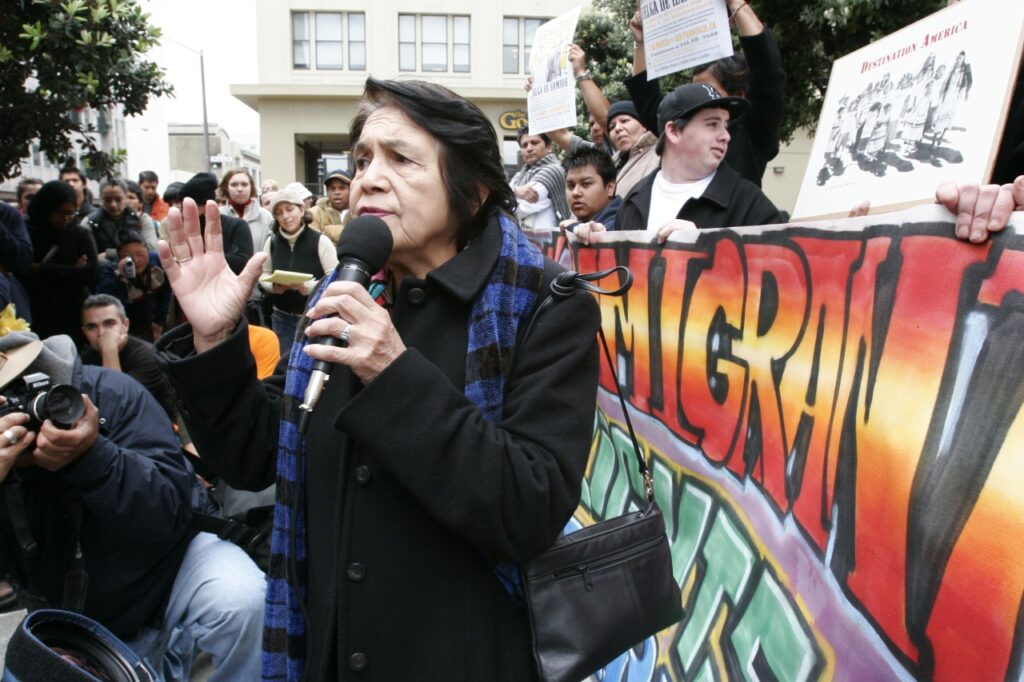 By Pamela Cruz and Constanza Mazzotti
There is no greater religion than service to others. Working for the common good is the best creed," once said German physician and philosopher Albert Schweitzer. And if anyone knows about service, helping and fighting for others, it is Dolores Huerta, a woman whose extraordinary life on behalf of farmworkers' rights never stops.
Dolores Huerta does not ask permission, she just does what needs to be done..
For her, nothing is impossible. Yes We Can has been her cry of struggle through dozens of years searching for ways to favor the voices of those who no one wants to hear, the hands of those who do not want to turn around and those who for years have seen their rights undermined.
It would seem that at any moment his struggle would stop, however, at almost ninety years old, his voice continues to sound loud in the speeches of former President Barak Obama, or when Hillary Clinton pays tribute to his career alongside César Chávez (his partner in struggle) and his famous Grape Strike with which he negotiated for the first time in the United States the rights of farm workers and with which he established legal contracts and health insurance.
She does not like to give interviews, but her voice resonates loudly with her own story of struggle and feminist symbol.
He was born on April 10, 1930 in Dawson, New Mexico, but at a young age moved with his mother to Stockton, California, a farming community in San Joaquin County, where he continues to be a fighting legend for the rights of immigrant farmers.
After being a "Girl Scout" and having dedicated herself to teaching at the elementary level, her life took a totally different direction when she realized the injustices that the peasants lived around her, reason enough to start a fight for their rights, until everyone had the same work opportunities under fair and dignified conditions.
"I couldn't see the children coming into the classroom hungry and needing shoes. Well, I thought I could do more organizing the peasants than trying to teach their hungry children," he said in one of the few interviews given to a television channel.
Always influenced by the strength of her two fathers: Juan Fernandez, who worked as a miner, laborer and farmer in New Mexico, but above all, was a union activist leader and state assemblyman. Dolores saw little of him after he divorced her mother when she was only three years old.
His mother, Alicia Chavez, owned a small hotel in Stockton, California, where she helped farm families and absorbed the full cost of those who were immigrants.
More formally, Dolores Huerta, as she is commonly called, began her life struggle alongside Cesario Estrada Chávez, better known as César Chávez, a U.S. farm worker leader and civil rights activist.
However, Dolores Huerta's work did not begin there, as in 1955 she was a founding member of the Community Service Organization (CSO) alongside Fred Ross (1019-1992) an activist originally from San Francisco, who organized Mexican-Americans in California.
Fred Ross, who was a teacher to Huerta and Chavez, would also pass on, through the CSO, the teachings against segregation and police brutality, creating voter registration, and improved public services as well as the fight to enact new legislation to his best disciples.
Thus, Dolores Huerta and César Chávez later joined forces to found outside the CSO the National Farm Workers Association (NFWA), predecessor to the United Farm Workers Union (UFW).UFW(see the following table).
NFWA focused its efforts on including undocumented immigrant workers in health care systems, getting them to vote, and creating Spanish-language voting materials, among many others.
Subsequently, the organization merged with the Agricultural Workers Organizing Committee (AWOC), led by Filipino Larry Itliong, to form the United Farm Workers Organizing Committee (UFWOC) in 1962.
The main objectives of this committee were to improve the lives of agricultural workers, both economically and socially, as well as to free them from the stigma attached to their work.
At the same time, the United Farm Workers carried out mobilizations, strikes and even boycotts of companies that did not provide good conditions for their workers and posed a health risk, actions that have gained momentum until now.
The working conditions are very, very bad because they have no protection whatsoever. Farm workers do not have even basic human needs. They have no toilets or drinking water in the fields. They cannot defend themselves when they are degraded or humiliated or subjected to inhumane working conditions," he denounced.n a radio interview with Maria Huffman held on February 23, 1968, a crucial year for social movements in Latin America.
The grapes of wrath
On September 8, 1965, Filipino members of the Agricultural Workers Organizing Committee (AWOC) demanded higher wages by declaring more than 5,000 grape workers on strike in the Delano area of Kern County, California.
The protest would last five years, during which Dolores Huerta would become the leader who achieved agreements in favor of the exploited farmers.
This led to the creation in 1966 of the United Farm Workers Organizing Committee (UFWOC), with which Dolores was able to negotiate the first contract with the Schenley Wine Company.
This was the first time the U.S. negotiated farm workers' rights, which included health plans, hiring of workers, administration of contracts and lawsuits on behalf of workers, as well as regulation of toxic pesticides.
In addition, Huerta won amnesty for peasants who lived, worked and paid taxes in the United States in order to enjoy the privileges of citizenship, resulting in the Immigration Act of 1985.
Lifetime achievements
Among the most important awards Huerta has received are the National Women's Hall of Fame (1993); American Civil Liberties Union Award (1993); Eleonor Roosevelt Human Rights Award (1998); and the Ohtli Award (1998).
In turn, the Four Freedoms Award (2003); Humanitarian of the Year (2008); induction into the Labor Hall of Honor (2012); Presidential Medal of Freedom (2012); induction into the California Hall of Fame (2012); and the Radcliffe Medal (2019).
Dolores Huerta has her own foundationShe continues as secretary-member of Los Campesinos Unidos and Vice President of La Union Obrero de Mujeres, is Vice President of the California AFL-CIO and is a board member for the Feminist Majority Fund, which advocates for political and equal rights for women.
As if that were not enough, she is the mother of eleven children and 14 grandchildren, with whom she has combined her life full of social struggle, affirming that "the fact that I am a woman has helped me because we have more stamina than men".
Currently, every April 10, the day of her birth, is proclaimed as Dolores Huerta Day in California.
With information from the Dolores Huerta Foundation.
You may be interested in: Politics takes significant toll on residents over 4th of July weekend