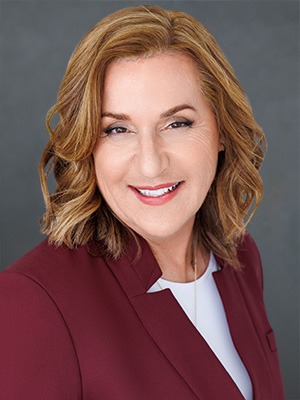 By José Geha. San Jose Spotlight.
A group of Santa Clara council members filed three ethics complaints against a political organization linked to Mayor Lisa Gillmor, including a state complaint that names her.
Council members Anthony Becker, Suds Jain and Kevin Park are raising concerns about Stand Up for Santa Clara, alleging that the 501(c)3 nonprofit is violating the city's "dark money" rules by operating primarily in secret and possibly coming into conflict with the laws of state political finance.
The local ordinance, in effect since 2018, includes "strict disclosure requirements" for political activity to help ensure voters know who is spending money to influence local elections. Anyone who donates $100 or more to any group or organization that spends money to influence voters must report their identity to the city.
The trio filed a complaint about the political group with the Santa Clara city clerk and attorney this week, according to documents reviewed by this news organization. They also sent a similar complaint to the California Fair Political Practices Commission, the state's watchdog for campaign finance violations, about the group and Gillmor.
Finally, council members question whether the group is a bona fide 501(c)(3) nonprofit and file a complaint with the IRS requesting an investigation into the issue.
"Defending Santa Clara's political actions is neither transparent nor honest," Becker, Jain and Park wrote in their complaint to the city. "We want the Santa Clara City Clerk's office and the Santa Clara City Attorney's office to conduct a thorough investigation into Stand up for Santa Clara's violations of the Dark Money ordinance."
Jain explained to San José Spotlight that he and the other council members who filed these complaints hope to expose what they see as a double standard in Santa Clara politics by Gillmor and his allies.
"It seems to me that the other side is constantly accusing us of violating ethics and now we are starting to launch a counteroffensive," Jain said. "There are active campaigns for people calling for us to be impeached and to resign, and we are just fighting back."
Gillmor did not immediately respond to requests for comment.
Stand Up for Santa Clara's Facebook page contains dozens of posts demonizing Becker and his allies and promoting Gillmor. He ran a series of paid political ads in recent years.
In one of those ads, the group called on Becker to resign after he was accused of allegedly leaking a civil grand jury report about five city council members' intimate relationships with the San Francisco 49ers, and then lying about his actions.
Councilors say the group does not display an FPPC number that is required for political ads and has not filed documents revealing where its money comes from.
The website Stand Up for Santa Clara says it was launched in 2015 by residents Burt and Vickie Field, Tino Silva and Steve Robertson, and characterizes itself as "a grassroots watchdog organization dedicated to educating and engaging the citizens of Santa Clara ".
Those residents are staunch Gillmor supporters, and the mayor recently defended Field when he was booted from the parks and recreation committee.
Field did not immediately respond to a request for comment.
But Becker, Jain and Park say the group doesn't provide proper documentation to show who supports or funds it.
"There are no waivers of liability, no filings with the City Clerk's office or the state," reads the complaint filed with the city. "Essentially this is dark money because no one knows who funds them and how they pay for their political ads."
Among other concerns raised by council members is that Gillmor owns the building where Stand Up for Santa Clara lists its address in the Franklin Mall, although the complaint alleges that the specific address does not appear to exist. A letter sent to the group was returned as undeliverable.
"Is (Gillmor) coordinating with this nonprofit? Is this non-profit organization supporting her as a candidate, in which case it is a serious violation of non-profit status," Jain stressed. "She doesn't have any meetings with Burt Field on her calendar. "This raises a lot of questions about transparency."
While Stand Up for Santa Clara says it is a "registered 501(c)(3) Nonprofit Corporation" on its website, council members say the group is not listed in IRS public databases for nonprofits. profit.
If the group is a 501(c)(3), council members say it appears to be violating laws that prohibit such organizations from "directly or indirectly participating in or intervening in any political campaign on behalf of (or in opposition to) any candidate for office." elective public office."
Read the original note clicking here.
You may be interested in: Hate crimes in California increase more than 20 percent in 2022