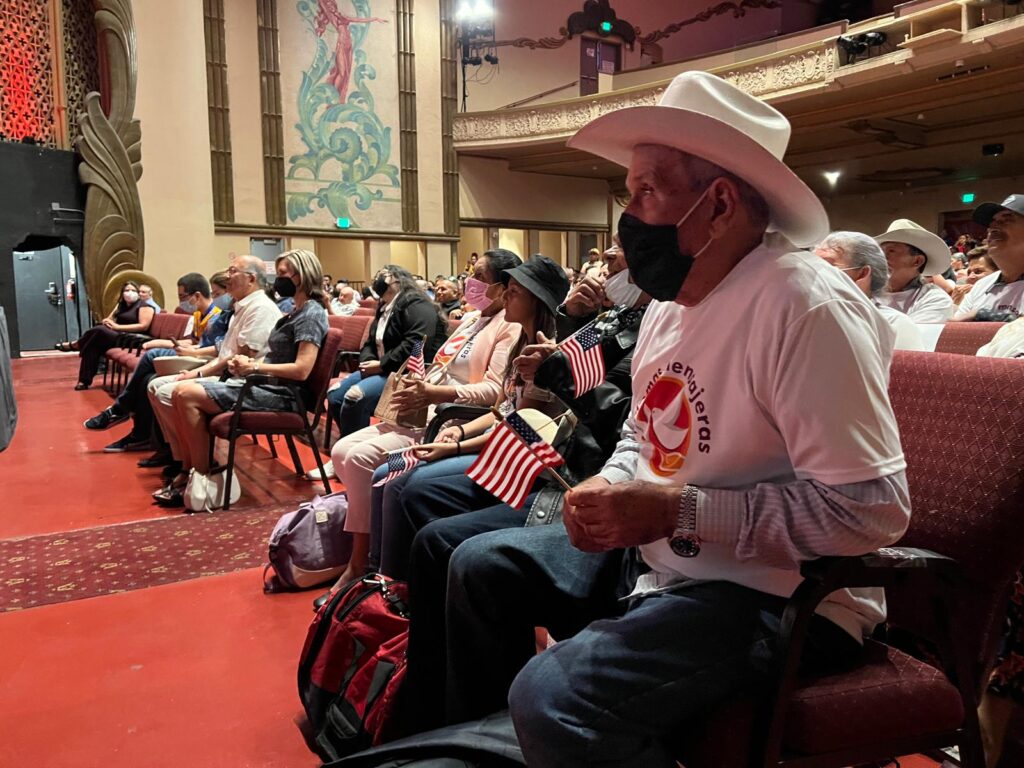 With the song "Caminos de Michoacán" performed by a mariachi, 52 senior citizens from the "Palomas Mensajeras" Program, belonging to the municipality of Arteaga in the same state, were reunited with their relatives, who due to lack of proper documentation have not been able to return to their homeland to see their relatives.
Flowers flooded the Fox Theater in downtown Redwood City, where daughters, sons, grandchildren, nieces, nephews and other family members tearfully welcomed those who missed their loved ones for years in their search for new opportunities and a better future.
It should be noted that the arrival of these 52 seniors was achieved through the government of Michoacán, the government of Mexico, the government of California, and with the support of the city of Redwood City, which a few years ago was known as "Little Michoacán".
"Today we are very excited to welcome the Passenger Pigeons from Arteaga, Michoacán. The families are thrilled and we are very happy to welcome them here at the Fox Theater, which is the heart of Redwood City. We hope everyone has the joy of sharing a moment when they see them walking around town," said Margarita Cuevas, representative of the organization Club Migrantes Manos Sin Fronteras.
Isidro Delgado Cano, a native of Arteaga, Michoacán, could not help but show his happiness and excitement to be reunited with his daughters, as he explained that he will see them again after 24 years.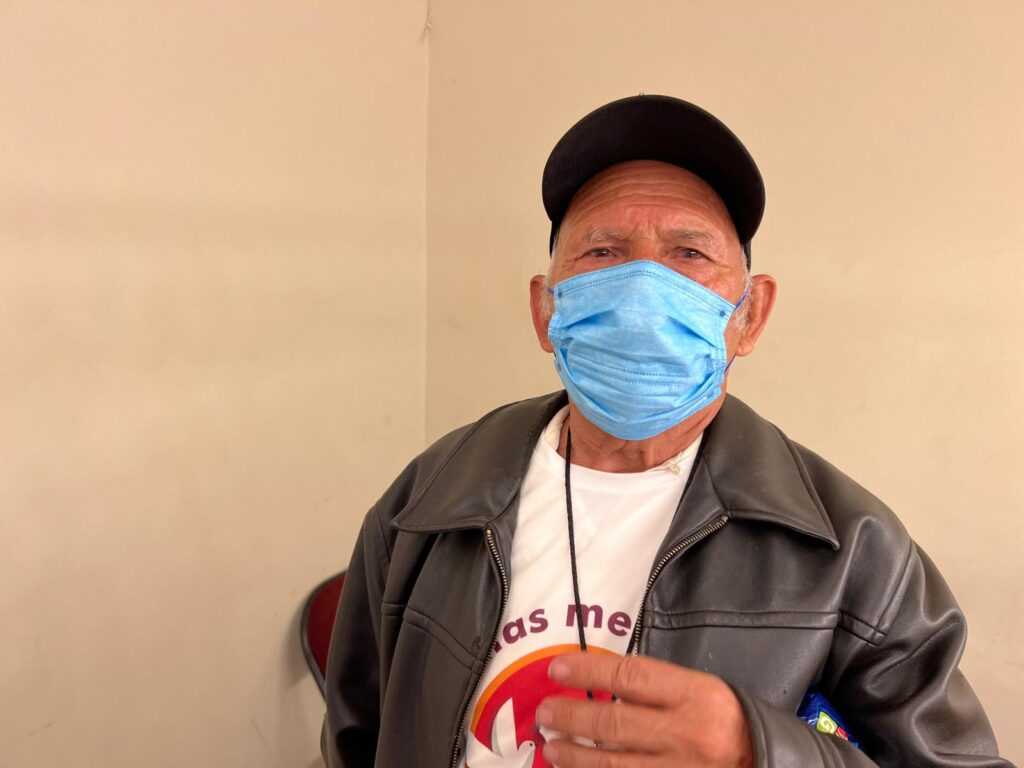 Among the Redwood City representatives at the event was City Council Member for District 1, Jeff Gee.
Margarita Cuevas explained that Palomas Mensajeras "is a family unification program that comes to Redwood City as a three-week visit; it brings senior citizens, 60 years of age or older, they come with a special tourist visa for three weeks and they will stay with families that already live here in our community and they will receive them with open arms, with a great celebration that we will have in downtown Redwood City, at the Fox Theater.
In an interview with the Peninsula 360 Press community journalism workshop in collaboration with Casa Círculo Cultural and with the support of Silicon Valley Community Foundation, Cuevas added that the Palomas Mensajeras come from the municipality of Arteaga, Michoacán, which is one of the largest states in the Mexican Republic "and it is a pride for me to say that they have this opportunity to come to this city".
"My parents are migrants from Michoacán, I really like to help people who come from our country and other countries, but especially for me it is a great dream to help people who do not have the opportunity or the knowledge of how to get ahead and be reunited with their families," he added.
He also expressed that the requirements for the Passenger Pigeons to arrive in the community are: to have a family member who can receive them in the U.S., to have a letter from the City Hall where they live, to be 60 years of age or older, to have a Visa and passport to travel, to have no criminal record and not to have been deported before.
The people who receive the Passenger Pigeons must belong to a migrant program, which on this occasion would be the one called "Migrant Hands Without Borders", which is the one I am representing. We have to have a good place to receive them with a big party to make them feel that they are at home again. We are going to make them a tribute with music, have refreshments and have solidarity with the community of local administrators," he said.
On the other hand, he assured that, for those people interested in receiving more "Palomas Mensajeras" in their cities, they can enter the page of the Institute for Mexicans AbroadThis is a step-by-step guide to make this program a reality in other communities and to obtain the support of the locality in which they live.
Several Secretaries of Migration in Mexico have taken on the task of creating various programs that seek to reunite, even if only by providing a brief visa, those who remained in Mexico with immigrant families living in the United States. It should be noted that this visa is granted by the U.S. government, and that family members stay in the country for only a few weeks.
For the most part, these are older mothers and fathers who have not seen their immigrant children for a long time.
Only nine of Mexico's 32 states have family reunification programs, where parents of undocumented migrants can visit them in the United States. These include Zacatecas, Jalisco, Morelos, Puebla, Oaxaca, Michoacán, Guanajuato, Guerrero and Yucatán.
In order to be considered for this program, the senior citizen must be part of a migrant club in those states. For more information, interested parties can visit the following web site www.ime.gob.mx or call 1-866-5729-836 / 1-855-4636-395.

You may be interested in: San Francisco firefighters donate equipment to Colima