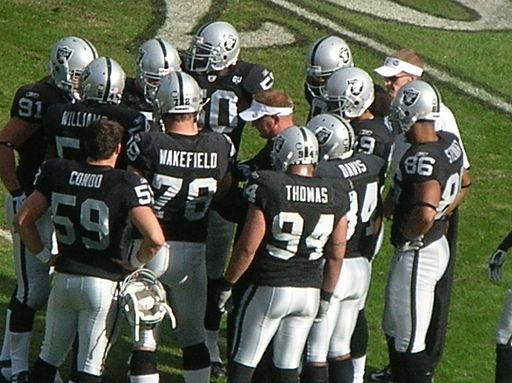 By Joshua Karim. Peninsula 360 Press [P360P].
"I just want to take a brief moment to say that I'm gay," were the words of Las Vegas Raiders defensive wing Carl Nassib, who marked a milestone in the 100-year history of the National Football League (NFL) by becoming the first active player to openly declare his sexual preference. 
Nassib's announcement was made from his home in West Chester, Pennsylvania, where via a video on Instagram he noted that "I had been meaning to do this for some time, and now I feel comfortable enough to get it off my chest."
"I think representation and visibility is very important. I really hope that one day videos like this and the whole process of making it public just won't be necessary," the player said.
In the Instagram post Nassib, who came to the NFL in 2016, drafted by the Cleveland Browns, thanked his family, coaches, teammates and the league for all the support they have shown him.
We're proud of you, Carl
Just moments after Nassib's statement, the Raiders team also posted a brief, but very emotional comment via their Twitter account, "We're proud of you, Carl."
Thus, a large number of messages of support and solidarity were not long in coming, such as the statement from NFL commissioner Roger Goodell, who said that the NFL family is proud of Carl for sharing his "truth with courage".
"We share his hope that someday soon, statements like his will no longer be newsworthy as we march toward full equality for the LGBTQ+ community. We wish Carl the best of luck in the upcoming season," he said.
Meanwhile, Raiders owner Mark Davis said in an interview with ESPN that "it's 2021, all power to Carl. It doesn't change my opinion of him as a person or a Raider.
California Governor Gavin Newsoom also tweeted that "representation matters. Thank you, Carl Nassib, for your incredible courage."
It is worth noting that in Carl Nassib's video, he also points out that he donated $100,000 to the Trevor Projectwhich has been working for 23 years to prevent suicide among LGBTQ+ children under the age of 25.
First active gay NFL player
Nassib came to the Raiders in 2020 on a three-year, $25 million contract in free agency, including $16.75 million guaranteed. Last season, the defensive back totaled 2.5 catches and one interception in 14 games.
It should be noted that Michael Sam was the first gay player to be drafted by the NFL in 2014, when the then-St. Louis Rams selected him 249th overall in the Dfraft.  
However, Sam was cut by the team at the end of the championship of that year without playing any game in the regular season, then he was signed by Dallas Cowboys, where he also did not participate in the regular season.