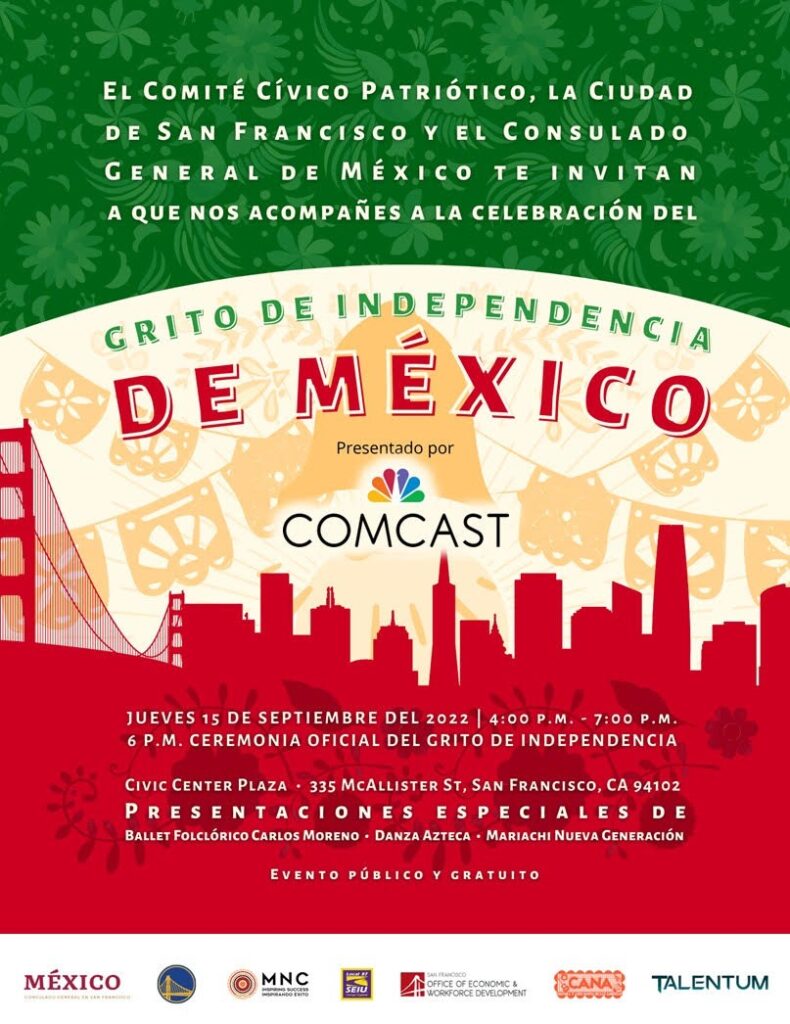 After two years in which the celebration was interrupted by the pandemic, the Consulate General of Mexico in San Francisco announced that the Official Ceremony for the Celebration of the 212th Anniversary of the Independence of Mexico will be held on September 15 at the Civic Center Palza.
Attendees will enjoy music and a colorful celebration to give "el grito" for independence on Thursday, September 15 from 4:00 p.m. to 7:00 p.m. at the Civic Center Plaza, located at 335 McCallister St. in San Francisco.
For the first time, the Consul General of Mexico, Remedios Gómez Arnau, will give the Grito de Independencia from the balcony of the San Francisco City Hall, with Mayor London Breed as the guest of honor.
In collaboration with the City of San Francisco, the San Francisco Office of Economic and Workforce Development, Mission Neighborhood Center (MNC), the Service Employees International Union (SEIU), and the San Francisco Civic Patriotic Committee, a cultural festival will be held at the Civic Center Plaza in front of San Francisco City Hall.
The free, family-friendly public festival will be presented with the support of COMCAST, as well as sponsorship from the world champion Golden State Warriors, San Francisco Carnaval and Talentum, and will also include special performances by the following local artists: Danza Azteca, Ballet Folklorico del Maestro Carlos Moreno, Jarana Yucateca de la Asociación Mayab, and Mariachi Nueva Generación.
The popular verbena, which inaugurates the celebrations for Hispanic Heritage Month, will feature the sale of Mexican snacks to be consumed while enjoying the cultural program.
The first 200 people will be able to enjoy their first taco for free.
In addition, the Consulate General of Mexico in San Francisco will participate in more than 10 community events throughout the consular district.
For more information, interested parties can visit the consulate website.
You may be interested in: North Fair Oaks Festival, meeting place