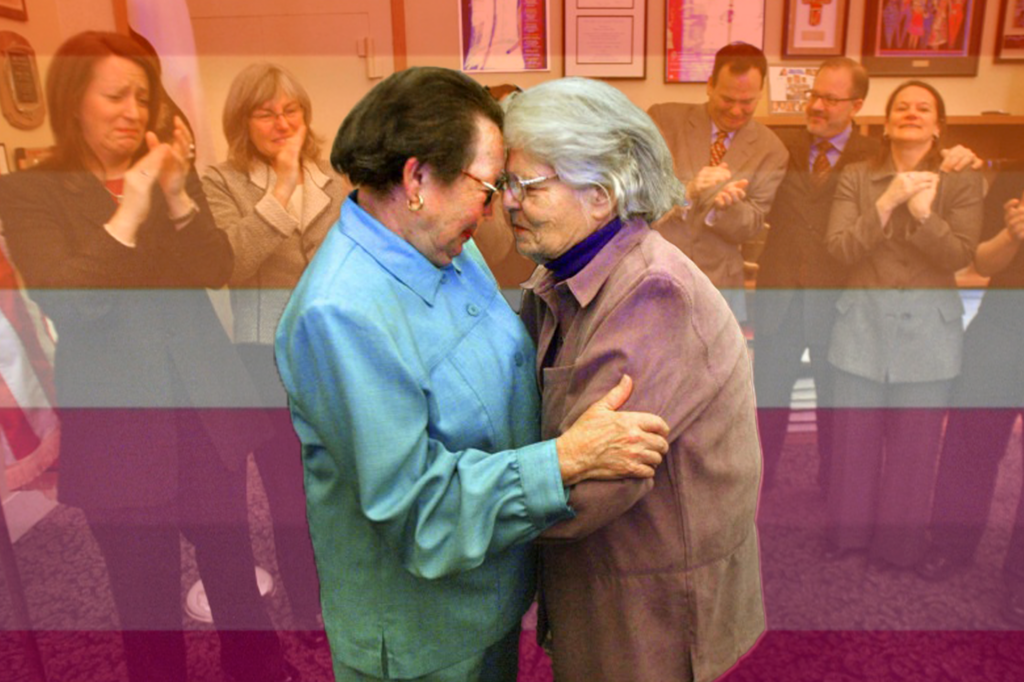 They hold each other by the arms facing each other, they lean their faces until they meet in an intimate gesture of belonging, they both wear suits, one in light blue and the other in lilac, both have gray hair but only one of them hides it in a dark tone, Del Martin and Phyllis Lyon in the center of a group of people celebrating their marriage. That's the photo that went around the country and tells of a lesbian cry for freedom in California.
This week, as part of Lesbian Visibility Day celebrated every April 26, we remember two pioneers in the fight for lesbian rights in California and the country.
Del Martin was born in San Francisco on May 5, 1921 and Phyllis Ann Lyon in Tulsa on November 10, 1924, the two became the first lesbian couple to legally marry in San Francisco in 2004, although within a month of their union, the California Supreme Court invalidated their marriage.
However, the story of Del Martin and Phyllis Lyon San Francisco's first lesbian marriage began many years earlier.
These were the most prosperous post-war years in the United States, the 1950s, when minority groups were beginning to emerge in a public sphere that repressed, above all, sexual diversity.
Dorothy Louise Taliaferro "Del" Martin and Phyllis Lyon decided to create in 1955 the Daughters of Bilitis (DOB), a name coined after the lesbian character contemporary to Sappho by the French author Pierre Louÿs.
This social and political organization was the first for lesbians in the United States and later joined the National Organization for Women (NOW) in 1967.
The Daughters of Bilitis launched their own magazine, "The Ladder," in the 1950s, a publication that in its early days was just a stapled pamphlet handed out hand to hand among lesbians who were gradually getting to know each other and whose purpose was to create community outside the public sphere where they could easily be reprimanded and repressed.
It is worth mentioning that "The Ladder" became the first magazine by and for the lesbian community with a national circulation until its disappearance in the seventies.
Activists Del Martin and Phyllis Lyon passed away on August 27, 2008 and April 9, 2020, respectively, in San Francisco.
Both activists worked together for more than fifty years for the struggle for LGBTI rights among lesbians.
You may be interested in: James Franco celebrates 44 years of life amid controversy