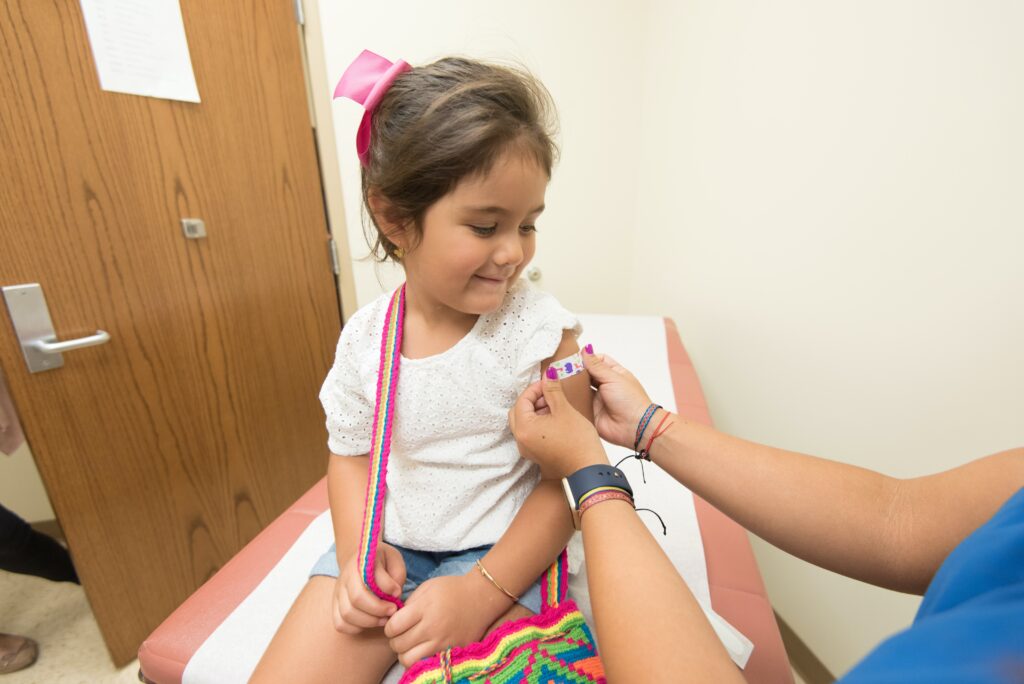 By Pamela Cruz. Peninsula 360 Press [P360P].
The Playland Pediatric Immunization Clinic, located at the San Mateo County Event Center, continues to serve children ages 5-11 by appointment.
The little big heroes have a safe and fun space to roll up their sleeves and get their dose of immunization.
According to the county, pediatric appointments for this age group are available at the Playland clinic through Nov. 27. by appointment only by means of MyTurn.
The San Mateo Health Department said it will offer the pediatric vaccine at some county-operated community clinics, with convenient access for residents in the hardest-hit neighborhoods.
In that regard, he explained that residents can also check MyTurn to book appointments at those clinics and see other offerings near where they live, including local pharmacies.
In addition, County Health is partnering with the County Office of Education to support immunization clinics at elementary schools in four locations in the north, central, south and coastal communities during this week of November 15.
"We will continue to identify gaps in vaccine reach to ensure that vulnerable communities have convenient access to vaccination opportunities," he said in a statement.
It should be noted that local pharmacies, including CVS, Safeway, Lucky Supermarkets and Walgreens offer vaccines for the 5-11 age group at some of their locations.
Residents should check MyTurn and the websites of these pharmacy chains to confirm availability. At this time, Costco and Rite-Aid have not indicated a plan to offer these vaccines.
An additional resource is vaccines.govuseful for finding locations without having to enter a lot of data.
Reinforcements
San Mateo County Health urges all persons 65 years of age or older or those with underlying medical conditions or risk for a life or occupational situation who received the second dose of Moderna or Pfizer six or more months ago to receive a third dose.
In addition, those who were vaccinated with a single dose of Johnson and Johnson vaccine two or more months ago should receive a booster. California's state eligibility process allows individuals to self-determine their risk of exposure.
Back-ups are available at community clinics, health care providers, pharmacies and the Event Center. View county-operated clinic schedules here.
You may be interested in: Pfizer seeks approval for its COVID-19 drug