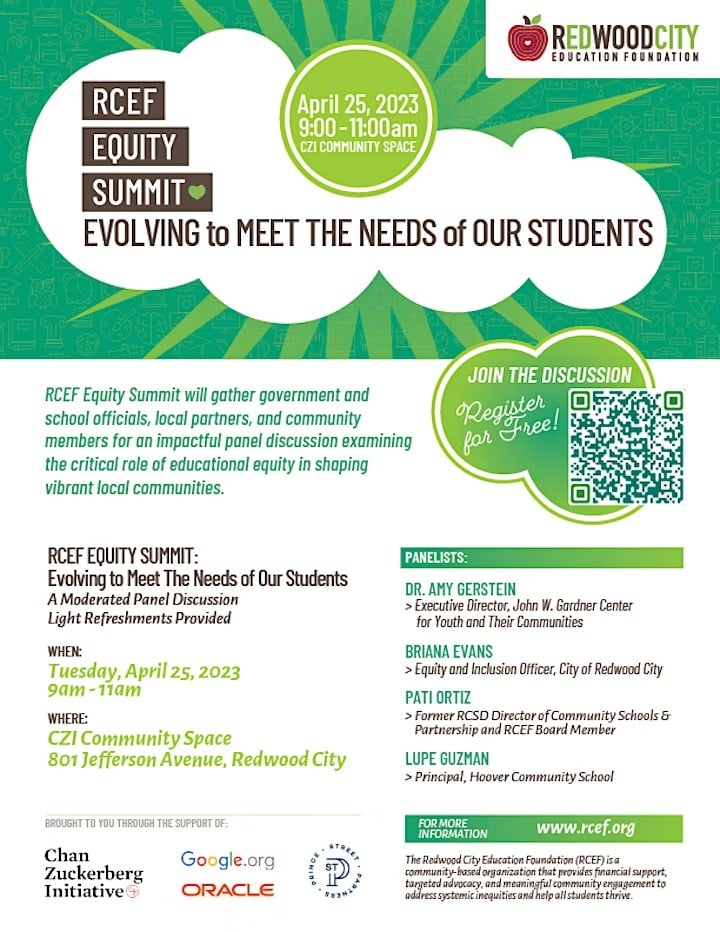 To raise awareness to address the systemic inequities facing K-8 public school students in the city, the Redwood City Education Foundation ?RCEF? has organized an equity conference that will bring together state and local equity officials to advance an issue that affects all residents.
Thus, on Tuesday, April 25, this non-profit organization will hold its RCEF Equity Conference: "Evolving to Meet the Needs of Our Students" from 9:00 a.m. to 11:00 a.m. in the Chan Zuckerberg Initiative Community Space in Redwood City.
The conference will bring together government and school officials, local partners and community members for an impactful panel discussion examining the critical role of educational equity in building vibrant local communities.
"Public school education must provide a quality education for all of our future residents and leaders. Unfortunately, in California, there is a gap between what the state provides and the resources our educators need for our students," said Shannon Petrello, president of the foundation's board of directors.
Founded by concerned parents and community members, the RCEF ?celebrating its 40th anniversary this year? was born in response to the drastic cuts in school funding resulting from California's Proposition 13.
"Unlike most educational foundations, RCEF specifically supports schools with the greatest unmet need due to social and economic inequities, including Garfield, Hoover, and Taft Community Schools," Petrello said.
During the Equity Conference, RCEF will host a thought-provoking panel discussion on the importance of using an equity lens when considering how to support local schools.
The expert panel, moderated by Sara Alexander, RCEF Executive Director, will shed light on how the social and economic realities of living in the Bay Area impact Redwood City schools.
Panelists include Briana Evans, City of Redwood City Equity and Inclusion Officer; Dr. Amy Gerstein, Executive Director of the John W. Gardner Center for Youth and their Communities; Pati Ortiz, former Director of Schools and Community Partnerships for the Redwood City School District; and Principal Lupe Guzmán, from Hoover Community School.
The panel will examine the unmet needs of RCSD students and explore possibilities for how the entire community can work together to address those needs.
Those interested in attending the conference can register by giving click here.
You may be interested in: Does the increase in homeless K-12 students indicate a worsening trend?