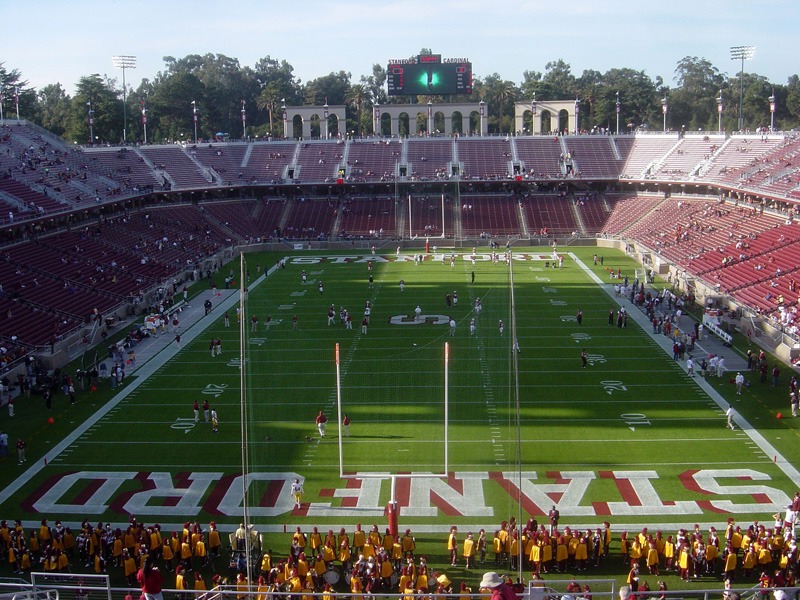 Summer is coming to an end, but the activities don't stop for this weekend in the Bay Area and Peninsula 360 Press brings you the agenda you need to spend a Saturday and Sunday. Here's the schedule of events in the Bay Area September 3 and 4.
? 0 ?
Are sports your thing? Well, this Saturday is Cardinal Kids Day in its 2022 edition and with it the opening of Stanford's soccer season, which will kick off against the Colgate Raiders.
Bay Area families can get up to four free children's tickets for every adult ticket purchased for Saturday's game. Meanwhile, outside the stadium, Fan-Fest will be set up, featuring family-friendly activities, food trucks and live music.
The date this September 3 starting at 5:00 pm at Stanford Stadium located at 625 Nelson Road in Stanford. You can't miss it, tickets start at $15.
? 0 ?
For those who like items with history, this is of interest to you, because this Saturday is the Mountain View Buddhist Temple's Rummage Sale, where you can find everything from crockery to antiques. Not to be missed.
You can attend from 9:00 am to 3:00 pm at the Mountain View Buddhist Temple, located at 575 North Shoreline Blvd in Mountain View.
? 0 ?
Ready to rock? Rock the Dock kicks off its fall concert series and this Saturday features classic rock cover band Dutch Uncle who will perform a full-length set at the Port of Redwood City, located at 459 Seaport Court in Redwood City. The date is from 3:00 pm to 6:00 pm. Attendees can bring refreshments, blankets and lawn chairs to the free concert. It is for all ages.
? 0 ?
The music continues, and for Sunday, September 4, the band New Acoustic Collective will perform songs from their new album "Amor en Ritmo," a blend of Latin music and jazz. The concert will be held outdoors in the historic Carriage House courtyard in the Gamble Garden. Arrive early to explore the large main garden before the concert.
The event is this Sunday from 4 to 6 p.m. at the Gamble Garden, located at 1432 Waverly St., in Palo Alto.
? 0 ?
The beloved art fair above the town of Woodside returns in person this year. Drive down Skyline Boulevard to shop local artists, have breakfast, lunch and dinner on site and spend time among the redwoods. Artwork by featured artists can also be purchased online.
The date is Sept. 3-5 at 13,889 Skyline Blvd. in Woodside. Breakfast is served from 8:00 a.m. to 10:30 a.m., lunch is from 11:30 a.m. to 4:30 p.m. and artist booths are open from 10:00 a.m. to 5:00 p.m.
? 0 ?
Belmont's signature festival returns this year for its 50th anniversary. The festival celebrates Greek culture with a wide selection of dishes from gyros to loukoumades, live music and dance, cooking demonstrations and theatrical performances of Greek mythology.
It will be held this September 3 and 4 from noon to 10 p.m. at Holy Cross Church, 900 Alameda de las Pulgas, Belmont.
? 0 ?
The streets of downtown Millbrae will be transformed into a bustling street fair with food trucks and more than 200 artist booths. The surrounding streets will host live music, community performers, children's games and a car show.
Come out this September 3 and 4 from 10 a.m. to 5 p.m. to the Millbrae Art & Wine Festival on Broadway that runs from Meadow Glen Avenue to Victoria Avenue.
? 0 ?
The Miracle League has started its registration for those over 5 years old who like baseball.
The Miracle League brings together children and youth with learning or developmental disabilities to play the glorious game of baseball, regardless of the individuals' abilities. All are welcome in the community where volunteers and peers will work to support them so they can have the best possible experience in Redwood City.
The season will be held on Sunday afternoons from September 25 through October 30 at Hawes Field.
Those interested in registering or registering someone can do so by giving click here.
? 0 ?
Silicon Valley Shakespeare presents a new adaptation of Jane Austen's classic novel "Sense and Feeling." The comedy play follows the lives and romantic endeavors of the Dashwood sisters, who find themselves in a difficult financial situation after the death of their father. The performance will take place in an outdoor theater under the stars at Sanborn County Park.
The date is this September 3 and 4 at 7:00 p.m. at Sanborn County Park, located at 16055 Sanborn Road in Saratoga.
? 0 ?
You may be interested in: Oakland to receive 2,400 additional doses of smallpox vaccine for Pride Festival