Again a firearms incident in Redwood City. On the afternoon of November 15, a man was killed by the police in this city, after he allegedly threatened to use three children as a shield and shoot a woman with whom he was traveling in a vehicle on El Camino Real.
Endorsed and promoted by some members of the Republican Party as well as affiliated business people, firearms ownership is a very deadly epidemic in North America that is spreading rapidly in Redwood City, East Palo Alto and other San County cities. Matthew.
It is urgent to put a stop to the purchase and sale of firearms in the United States. We in Redwood City, and surrounding cities, need to speak up even louder to demand a strong rejection of firearms.
The shadowy firearms industry in the United States, according to consultancy IBIS World, is valued at $19.5 billion.
That is why it is an epidemic that is difficult to eradicate, because there are politicians who give more value to money and power than to life itself.
But what is worth more than the lives of our children, our loved ones, our neighbors, our entire community? Nothing, that is why we must launch a resounding rejection of the possession of weapons in our cities.
We don't want more shootings, we don't want more deaths, we don't want to live in fear, we don't want the gun industry to keep sticking its nasty tentacles into our communities.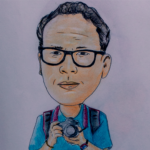 Manuel Ortiz Escámez is a Mexican journalist and documentary photographer based in Redwood City. He is co-founder and director of Peninsula 360 Press. He has more than 20 years documenting international migration and social justice issues in various countries, including Mexico, the United States, Colombia, El Salvador, Bolivia, Brazil, Honduras, France, Japan, and Ukraine. He has a degree in Sociology and a master's degree in documentary film from UNAM.
You may be interested in: 4th of July, between celebration and anxiety