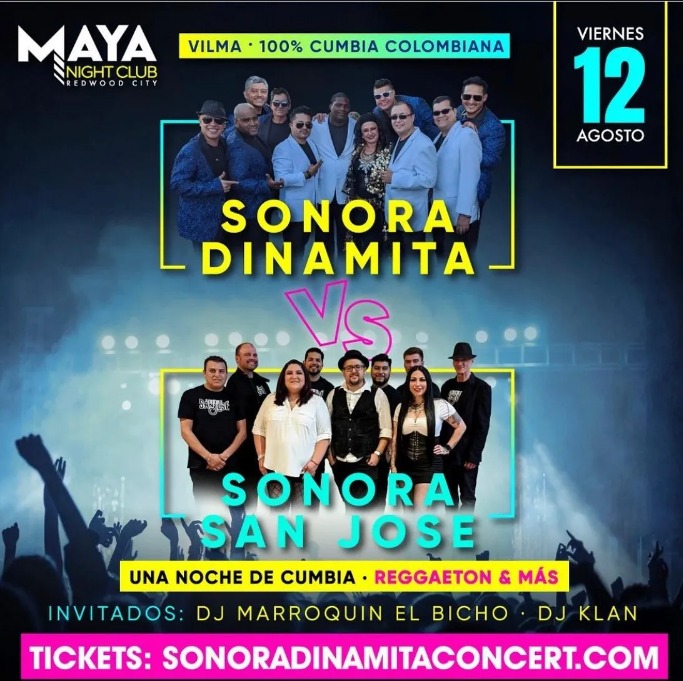 With more than 60 years of history, 45 albums under their belt and a lot of flavor, Sonora Dinamita will get everyone dancing in Redwood City this Friday, August 12, filling the Mayan Nightclub with tropical music from Colombia.
With tickets ranging from $33 to $103, the latter with bottle or cooler service, all those of legal age will be able to visit the venue located at 1776 Broadway in Redwood City to dance and sing along to his many hits.
La Sonora Dinamita is the ambassador of Colombia's tropical music around the world, born on the initiative of Lucho Argaín with the purpose of creating a group of excellent interpretive quality with international projection, and he succeeded.
The group was born on March 22, 1960 in Cartagena de Indias, Colombia, when the director of Discos Fuentes Ltda. signed Argaín as an exclusive artist for his label. At first it was suggested that the name of the group be Sonora Buscapié, since they had the idea of a very explosive concept; it was thus that the name Sonora Dinamita was finally proposed.
Soon the band moved to Medellin Colombia already baptized, to face the recording of their first musical production, which received the name of "Ritmo" and the songs composed by Lucho Argaín: "Yo la vi" and "Mayen Raye" were their hits.
In 1961 the second album was recorded and the following year the third, however, that same year 1962 marked the disintegration of the Sonora Dinamita, this break lasted for 14 years.
In 1968 the requests from Mexico for Sonora Dinamita's music became more and more reiterative and for that reason Discos Fuentes published a compilation with their greatest hits.
By 1977, the brothers José María and Pedro Fuentes sought out Lucho Argaín and told him about the successes of their first recordings, and convinced him to re-form Sonora Dinamita. In this second stage, the recording of new songs was not long in coming, presenting to the national and foreign market their fourth musical production titled "La Explosiva Sonora Dinamita".
In April 1978 they began recording their fifth Lp titled "El Meneíto" which included the song "Se Me Perdió La Cadenita" composed by Lucho Argaín and one of the most important hits in the history of Sonora Dinamita; entering the Mexican market with great impact.
It was in 1979 that Lucho Argaín settled with his orchestra in Mexico and began a career that took him on a triumphant journey, reaping success and resounding applause on his trips to the United States, Paraguay, Guatemala, El Salvador, Nicaragua and Costa Rica, among others.
In 1981 for the first time a female voice was included, having participated: Lucha López, Lucy Peñaloza, La India Meliyara, Julieth, Ana Lucia de Hoyos, Margarita, Vilma Díaz, Susana Velázquez, Glennis Ramírez, Luz Stella Montoya Villa and Zayda Saladem.
Meanwhile, in the male voice have participated: John Jairo, Mike Alvear, Álvaro Pava, Oscar Argaín, Nando Malo, Willie Calderón, Rodolfo Aicardi, Bobby Ruiz, Álvaro Pizarro and Macondo. All those interested in attending the event can reserve and purchase tickets at click here.
You may be interested in: Redwood City joins "Building Community through the Arts."