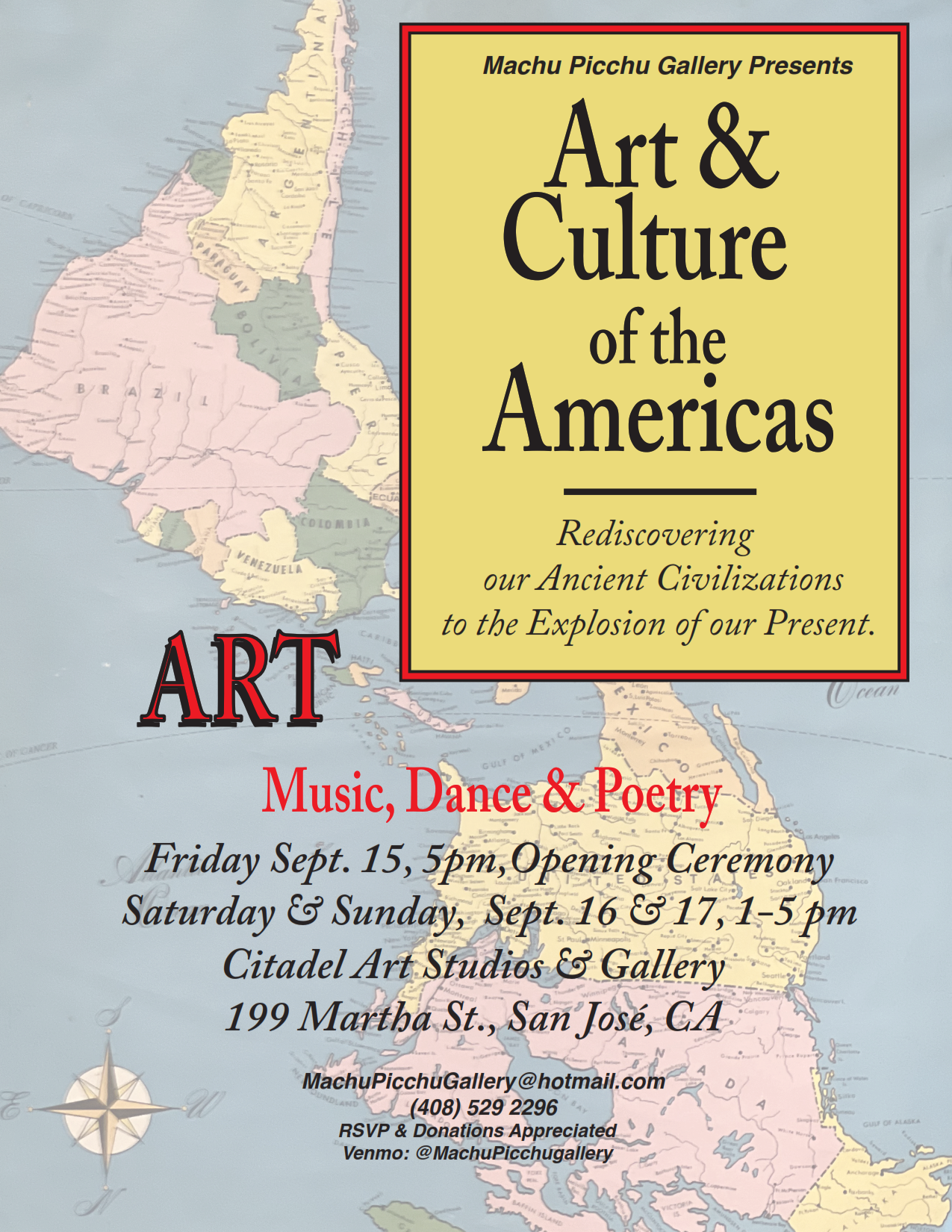 The Machu Picchu Gallery of the Americas, in San José, commemorates this Hispanic Heritage Month through an exhibition that celebrates the art and culture of the Americas, with the aim of bringing the rich heritage of the continent to its own and others.
The innovative art exhibition, ?Rediscovering our ancestral civilizations until the explosion of the present?, has been curated by the founder of the Machu Picchu Gallery, Olga Enciso Smith, and will be inaugurated next Friday, September 15 at Citadel Art Studio Gallery, located at 199 Martha Street, in San Jose, California.
The exhibition invites visitors to rekindle the legacy of great civilizations of the Americas through talented local visual artists, including: Emmanuel Cervantes, Eddie Ramírez, Willie Beat, Michael Rogan, Sean Magic Gil and many more.
To enrich the opening ceremony experience, indigenous works from the Huichols, an ethnic group from Mexico, will be exhibited; ceramics and textiles from the Shipibos of the Peruvian Jungle; Mayan textiles from Guatemala; the presentation of Bolivian and Argentine singers; as well as bilingual poetry.
Join this special exhibition and embark on a journey through time, weaving the tapestry of our magnificent history, heritage and creativity.
«A&COTA/ART AND CULTURE EXHIBITION OF THE AMERICAS 2023, ?Rediscovering our ancestral civilizations to the explosion of the present?, is an invitation to celebrate our collective past, our present and forge together a bright and inspiring future for a better world for all and for our future generations," the organizers said in a statement.
In 1942, the history of humanity changed forever, when Christopher Columbus set foot on the shores of the American continent.
The arrival of Europeans to the American continent in the 16th century was a crucial moment that marked the meeting of three majestic civilizations that left an indelible mark on the world: the revered Incas who reigned in most of South America, the impressive Mayans who flourished in Central America and the illustrious Aztecs, reigning in what is now Mexico.
Through this exhibition, I contemplated the impressive wonder of the Inca walls, masterpieces of precision that defy the ages with tons of weight skillfully balanced on granite without the need for cement.
Plus, witness the indelible ingenuity of the Mayans, who unlocked the enigma of "0", a numerical revelation that would shape the very foundations of modern mathematics.
?In these ancient cultures can be found a source of limitless inspiration, a testament to the Human Spirit's endless pursuit of knowledge and its relentless pursuit of architectural splendor and immeasurable creativity.?
Although admission to the inauguration is free, the organizers have asked to confirm your attendance through Venmo: @MachuPicchuGallery.
You may be interested in: Young cultural ambassadors from San Mateo County will bring art and poetry to the community