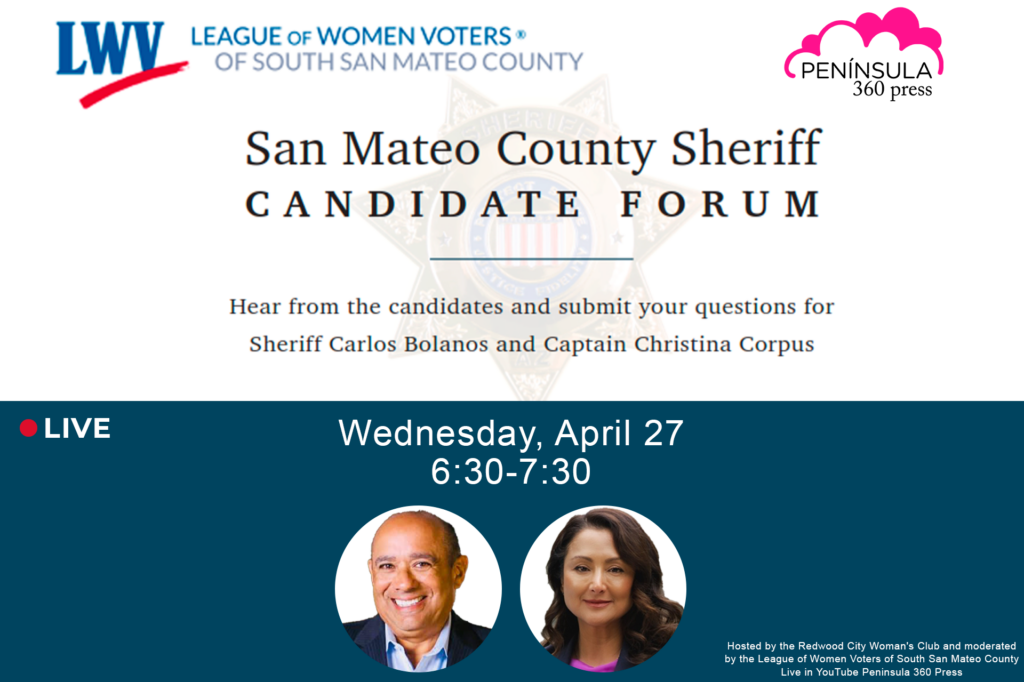 This Wednesday, April 27, the first debate will take place where Millbrae Police Chief Christina Corpus will try to convince people to vote for her and thus oust current San Mateo County Sheriff Carlos Bolaños, who has held the position since 2018.
Organized by the Redwood City Woman's Club and moderated by the League of Women Voters of South San Mateo CountyThis Wednesday, the first public debate will be held in our San Mateo County Sheriff's race, where Corpus and Bolaños will let residents know why they are the best choice for the office.
Who is Christina Corpus?
Christina Corpus is the daughter of immigrants from Nicaragua and Mexico. She was born and raised in the Bay Area, where she has lived all her life, and started as a correctional officer with the San Mateo County Sheriff's Office in 2002, was later promoted to Deputy Sheriff and worked primarily in the North Fair Oaks area.
Corpus has worked in the Corrections Division, Professional Standards and the Operations Division. Most of her career has been involved with community policing, first as a deputy and then as director of the Sheriff's Office Community Alliance.
After she was promoted to sergeant, she returned to Community Policing as a supervisor. In order to deepen her understanding of law enforcement with more education, she enrolled at Union Institute and University, where she completed a bachelor's degree in Law Enforcement Leadership.
After being promoted to Sergeant and serving as a Community Policing Supervisor, Christina was promoted to Lieutenant and supervised the entire Community Policing Bureau. She later became the Bayside Patrol Commander and managed the Community Policing Unit, School Resource Unit, Field Training Unit, K-9 Unit, Motor Unit and the Sheriff's Activities League program.
When she was promoted to Captain, she continued to oversee the Bayside Patrol Bureau and recently became chief of Police Services for the City of Millbrae.
Christina also serves as a board member of Lifemoves, Casa Circulo Cultural and Sheriff's Activities League. In August 2021, she completed her Master of Science in Law Enforcement and Public Safety Leadership from the University of San Diego.
Corpus is married and has two children: Gianna, 12, and Jacob, 10.
Who is Carlos Bolaños?
San Mateo County Sheriff Carlos G. Bolanos was elected as the 25th sheriff of San Mateo County in June 2018. As the county's chief law enforcement officer, he oversees all aspects of the sheriff's office, including its adult correctional facilities; patrol services; law enforcement contracting; emergency and public safety services; forensic laboratory services; technology services; and administrative and fiscal services.
Bolaños has more than 40 years of law enforcement experience. He began his law enforcement career in 1979 as a police officer with the Palo Alto Police Department, rose through the ranks and served in a variety of positions, including Police Captain of the Salinas Police Department and Chief of Police of the Redwood City Police Department.
In January 2007, Sheriff Bolaños was appointed deputy sheriff of San Mateo County and served in that position until 2016 and by 2018 he was elected sheriff of San Mateo County.
As sheriff, he has focused on programs, policies and procedures that enhance public safety, promote transparency and address specific community needs.
Under his leadership, the Sheriff's Office launched a new Enhanced Crisis Intervention Team (ECIT) program, the first of its kind in the state; implemented a body camera program for all sworn personnel; opened an Acute Stabilization Unit for the treatment of inmates with serious mental illness; launched the AAPI Liaison Program; and expanded its evidence-based inmate programs and services.
Bolaños is also active in the community and has volunteered his time to numerous organizations throughout the county. He currently serves as a board member of Starvista and the San Mateo County Historical Association, as well as a past president of the Rotary Club of Redwood City.
He holds a Bachelor's degree in Economics from the University of San Francisco and a Master's degree in Public Administration from California State University, East Bay. He is also a graduate of the California Command University Program and the Homeland Security Executive Leaders Program.
Platforms
According to Christina Corpus, the world has changed a lot in the last 22 years and the security structure of the Sheriff's Office needs to be revamped.
"Today we face challenges from rising crime rates, new laws imposed on law enforcement and updated policies related to immigration, mental health and COVID, related issues since the last Sheriff's election in 2018, law enforcement has changed dramatically, but our San Mateo County Sheriff has not kept up."
In that sense, she said she is ready to lead in that position with "a view to the future".
"We need a sheriff who is willing and able to meet the challenge of public safety in the 21st century," he stressed on his campaign page.
For his part, Bolaños said he is not afraid to face the toughest challenges in San Mateo County.
"Whether it's COVID-19, policies that strengthen transparency and accountability, officer welfare or changing the public's perception of law enforcement, I find solutions that have real impact," he said.
"I have built a reputation for taking action and achieving results. Since taking office in 2016, I have focused on programs and policies that increase public safety, promote transparency and address the specific needs of our community," he added.
To learn more about Corpus and Bolanos' campaign for San Mateo County sheriff, residents can visit the following websites www.christinacorpus.com and www.bolanosforsheriff.comrespectively.
This Wednesday's debate for the San Mateo County Sheriff's race will be held in partnership with Thrive Alliance, CVE's Cycling Safety Council, San Mateo Coalition for Immigrants Rights, San Francisco Peninsula People Power, UUFRC Social Action Committee, and Peninsula 360 Press.
The event will take place at the Redwood City Women's Club located at 149 Clinton Street in Redwood City from 6:30 to 7:30 pm. However, all those who plan to attend the San Mateo County Sheriff candidates' debate are asked to arrive before 6:15 p.m.
Due to limited seating at the venue, those interested in the San Mateo County Sheriff candidates' debate can also watch the Candidates Forum on their devices via the address. https://www.youtube.com/watch?v=TqFsVaZyuXI.
You may be interested in: Countdown to California primary elections begins