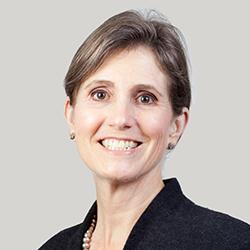 Peggy Jensen, who leads the county's COVID-19 relief and recovery efforts, is nominated as San Mateo County's second-in-command.
Jensen's promotion to deputy county manager awaits approval by the Board of Supervisors, which will take place Tuesday, Jan. 4, 2022.
Jensen has been a county employee for 33 years and recently led the county's Recovery Initiative to ensure that all residents successfully emerged from the pandemic.
As one of three deputy county administrators, her assignments also include Home for All, which aims to make housing affordable for residents at all economic levels; end homelessness; and promote initiatives that improve the quality of life.
In her new position, Jensen will build on her current job and serve as interim county manager in Mike Callagy's absence.
"I am honored that County Administrator Mike Callagy has nominated me to serve as assistant county administrator. If appointed, I look forward to taking on new responsibilities and welcome the opportunity to continue working with county colleagues and community partners to end homelessness, increase affordable housing and build a better future for all county residents," said Jensen.
Callagy nominated Jensen as assistant county manager after a recruitment process during which he said she stood out for her extensive leadership experience, collaboration, innovative thinking and strong communication skills.
"Peggy has always been an exceptional asset to the county and residents have benefited from her thoughtful leadership both before and after the pandemic. She is a dedicated public servant with a wealth of experience, and I couldn't be happier to have her in this new role where she will continue her COVID recovery efforts and expand our work to end homelessness," Callagy said.
The Board of Supervisors must confirm the nomination because the deputy county manager is a department head level position.
Board Chairman David J. Canepa said Jensen has been a vital component in the county's response to COVID-19.
"From the beginning of the pandemic, Peggy brought together leaders, partners and residents from across the county to guide us all toward a stronger, more resilient community. Under her watch, the Recovery Initiative helped with economic, food, housing and child care assistance. The Board is incredibly pleased with his nomination," Canepa said.
Jensen joined the County Administrator's Office in 1988 as a budget analyst and later directed the Family Support Division of the District Attorney's Office. In 2000, she was appointed director of the Department of Child Support Services and in 2007 returned to the CMO as deputy county director.
In addition, she was a 2019 recipient of the Northern California Municipal Management Association's Women's Leadership Summit Professional Excellence Award.
You may be interested in: Latino Forum Returns to East Palo Alto