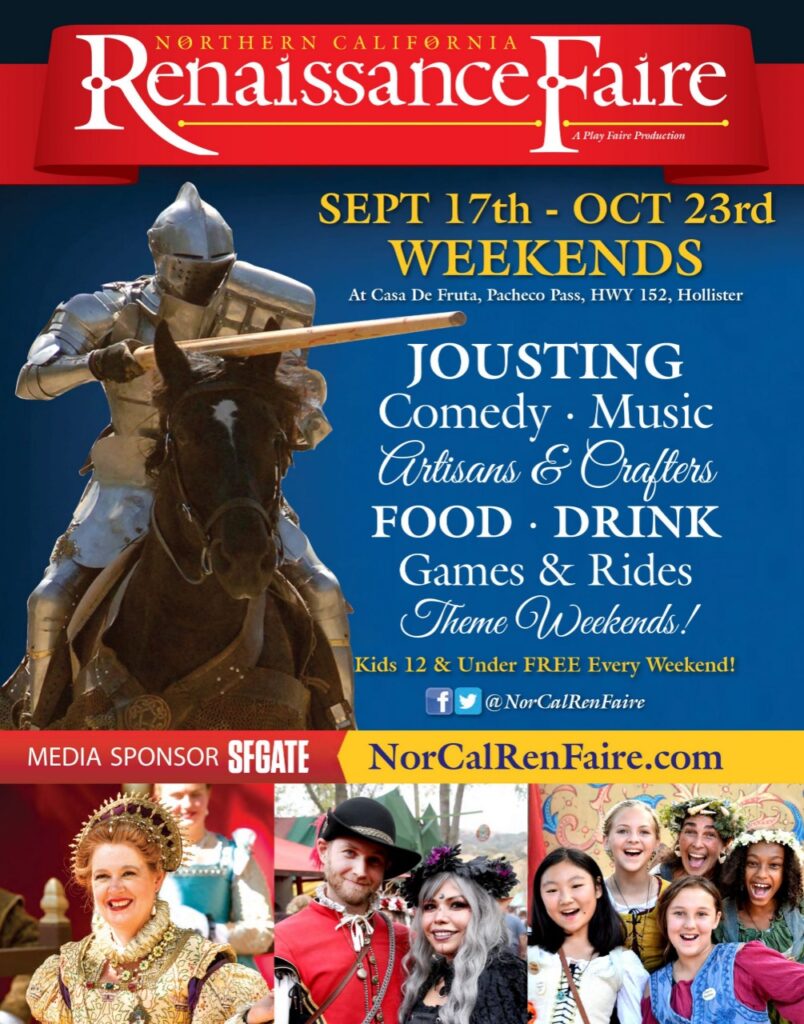 By Janis Mara. Bay City News.
At the Bay Area Renaissance Faire people can practice axe-throwing, watch Shakespearean comedy, don period costumes and enjoy a trip back to Elizabethan times. The Northern California Renaissance Faire in Hollister, will be held every weekend through October 23.
The event, held in a glen at Casa de Fruta, recreates a village during the reign of Queen Elizabeth I of England. Attendees are encouraged to dress according to the theme, but even if you're not willing to don a corset or speak Old English, there should be more than enough to amuse you. Entertainment includes live music, jousting, dancing and refreshments.
"I don't eat fire to impress the crowd. I just like the taste of kerosene," said Brian Howard, one of the Fair's entertainers. The Los Angeles resident is not only a fire-eater, he's also an improv comedian, which adds a whole new dimension to the concept of multitasking.
The Fair's shows also include an abridged version of "Twelfth Night," one of the world's first romantic comedies. Written by William Shakespeare, it is packed with comedy and various machinations of characters with names like Toby Belch and Andrew Aguecheek.
Pirates will invade the event next weekend, according to organizers, although International Talk Like a Pirate Day was already celebrated last Monday. Guests are encouraged to dress as pirates and there will be a pirate costume contest for children under 7. Children under 12 get in free to the Fair; adult admission is $35.
Jousting has long been one of the most popular activities at the Fair, with what organizers describe as full-contact jousting "to entertain the Queen." In addition to watching others risk life and limb, there are many participatory activities, including axe throwing, archery and knife throwing.
As you wander the approximately 11 acres encompassed by the glen, if you work up an appetite, there are plenty of groceries including turkey legs, tri-tip sandwiches and grilled artichokes.
The origins of the popular events are often debated, but many sources report that the California Renaissance Faire began in 1963 in Agoura Hills in Southern California. The event also has considerable history in Northern California. The Northern California version began in Marin County in 1967 at China Camp State Park, according to numerous media outlets.
This year's Fair opened last weekend and continues through October 23 on Saturdays and Sundays from 10:00 am to 6:00 pm. Tickets must be purchased online at www.norcalrenfaire.com.
You may be interested in: Ramses "The Great" will be visiting the deYoung museum in a new exhibition