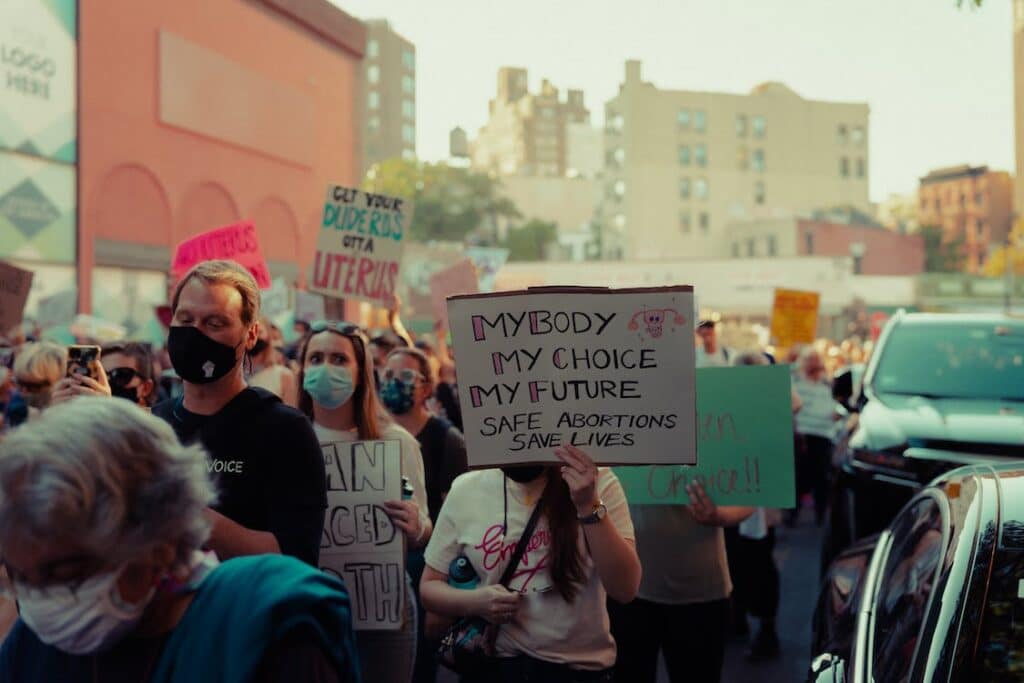 In recent years, reproductive rights have been one of the topics that have been talked about and have influenced the political decisions of countries, the US is no exception.
And it is that, the right to abortion was the pillar of the Democratic wing in the midterm elections of the United States and that gained strength since, at the end of June of last year, the Supreme Court of Justice of the country repealed the Roe vs. Wade ruling, causing the elimination of the right to abortion throughout the country and leaving each state to establish its own laws.
"Every person, no matter who they are or where they live, should be able to make all the decisions about their lives and their future," said Angela Vasquez-Giroux, vice president of Communications and Research at NARAL Pro-Choice America, at a press conference organized by Ethnic Media Services in which experts met to discuss the influence that reproductive rights could have on the upcoming 2024 elections.
And it is that in at least 17 of the 50 states of the country, they have established prohibitions on abortion, putting thousands of women at risk, since sometimes doctors and hospitals are forced to delay medical procedures.
"We know that too many people have different barriers that they have to overcome," he said, noting that the fact that health services are forced to deny the care that people with a risk pregnancy need, poses a variety of obstacles such as travel or spend your resources to get care.
Likewise, he indicated that communities of color have been among the most affected, but also one of those that have fought the most for reproductive rights and indicated that "45 percent of voters affirmed that abortion played a more important role than in previous elections.
On her occasion, Lupe Rodríguez, executive director of the National Latina Institute for Reproductive Justice, pointed out that millions of Latina women are being affected by state bans against abortion and that at least 3 million of them do not have the economic resources to travel to other states to receive the medical care they need.
In addition, immigrant communities and communities of color are often in danger of being deported and separated from their families if they have to travel to another state.
"People are very confused about the laws in their state and where they can get information about medical care, that has shown that there is a lot of misinformation, especially in the Latino community," he said, noting that anti-abortion activists are distributing information false in social networks with the aim of avoiding abortions.
He also declared that since the Supreme Court of Justice decided to repeal the Roe vs. Wade ruling, a greater part of the population has declared itself in favor of abortion.
For her part, Ebony Baylor, Vice President of Government Affairs at In Our Own Voice: Black Women's Reproductive Justice Agenda, pointed out that women of color need laws that respect their civil rights and indicated that they are one of the communities that are most abandoned in the medical field, security, lack of resources and inclusion in issues such as elections.
"The United States has the highest mortality rate of any other developed country and women of color are three times more likely to suffer pregnancy complications than white women," and denounced that racism is one of the reasons why this It happens, because sometimes, due to their origin, they are denied medical attention.
Yvonne Hsu, Head of Policy and Government Affairs at the National Asian Pacific American Women's Forum ?NAPAWF, for its acronym in English?, lamented that in the country women facing "a crisis of access to abortion."
In addition, he denounced that the repeal of Roe vs. Wade is an "assault on communities of color and APPI ? Asian-American and Pacific Islander? and pointed out the need for women to have the right to decide about their reproductive lives.
Finally, Suba Srinivasaraghavan, a field organizer at They See Blue, pointed out that there are more women in the United States who vote than men and that they are the ones who vote ?in greater numbers? by the Democratic wing, which means an influence to defend reproductive rights in the country and a more hopeful path for women.
You may be interested in: California launches site to provide legal information on abortions