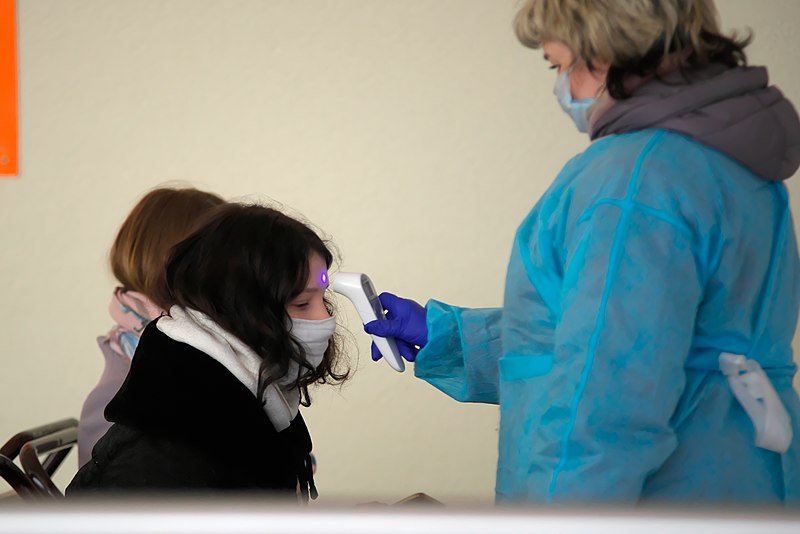 Just a day and a few hours before the year 2021 ends, the COVID-19 marks that it has left in these twelve months are deepening. Just this Monday, December 27, 46,072 positive cases were registered, but by Tuesday the figure was 431,567, and towards the end of the year things do not look better with Omicron gaining strength.
These figures are almost double those recorded in December 2020, when on Dec. 11, the highest number of infections for that month, there were 248,757 cases, according to the Centers for Disease Control and Prevention (CDC).
California has been no exception in peak infection numbers this week, as on December 28, 2021, there were 86,634 cases, which accounted for 20 percent of the total cases in the country that day.
Thus, California has already accumulated a total of 5,350,816 cases, and an unfortunate 75,558 deaths due to complications from the disease.
However, the golden state also enjoys the highest vaccination rates having already administered 64 million 75,795 doses, resulting in 79 percent of the population being vaccinated.
On a more local level, San Mateo County has become aware of the importance of the vaccine. For 83.3 percent of its population age 5 and older is fully vaccinated, according to the CDC.
San Mateo County, like many in the state, is under a Red Transmissibility Alert Level, which means high, so all residents should wear a facemask in public places and indoors.
In light of these numbers, it is imperative that residents continue to protect themselves and others by wearing face masks, keeping their distance and trying to avoid crowded places.
Also, health authorities have made calls to all those who are not vaccinated to be inoculated as soon as possible, and if you already have the full doses and you are older than 16 years, go for the booster.
Just this Tuesday, the director of the CDC, Rochelle Walensky, detailed that the current daily average for the last 7 days, is about 240,400 cases per day, which is an increase of approximately 60 percent over the previous week.
This rapid increase, he said, is largely a reflection of the unusually transmissible Omicron variant.
"In just a few weeks, Omicron has rapidly increased across the country and, we expect, will continue to circulate in the coming weeks," he told a press conference.
Notably, hospitalizations and deaths remain comparatively low at this time, as the seven-day average has been around new thousand admissions per day, which is up about 14 percent from the previous week.
While the seven-day average of deaths per day is about 1,100 per day, down about 7 percent from the previous week.
"This virus has demonstrated its ability to adapt quickly, and we must adapt with it," she said, noting that the CDC has updated its isolation and quarantine guidelines for both medical personnel and the general public to help hospitals prepare for an increase in cases.
"These updates to our recommendations were made to reflect what we currently know about COVID-19 infection, including the time when a person is most infectious. Studies have shown that when people become infected with SARS-CoV-2 they are most infectious one to two days before symptoms develop and two to three days after. After five days, the risk of transmission decreases substantially.
Walensky said these actions are based on "two years of science, two years of understanding the transmissibility and a lot of information we've gained from the initial virus, as well as the Alpha and Delta variants, and more we continue to learn every day about Omicron.
"We know that most viral transmission occurs in the first five days, 85 to 90 percent. So, if a person can isolate themselves for the first five days, they should do it."
At the same time, he stressed that if you are infected with SARS-CoV-2 virus, regardless of your vaccination status, you should isolate yourself for five days, and during periods of isolation, it is best to wear a mask near people in your home to prevent the spread of the virus at home.
After five days, if you are asymptomatic or if your symptoms have largely resolved, you can leave isolation, as long as you continue to wear masks around other people, including in the home, for another five days.
For those who have been exposed to COVID-19, quarantine recommendations are based on their vaccination status.
If you are boostered or have been vaccinated with your Pfizer or Moderna series within the last six months or with your J&J vaccine within the last two months, quarantine is not necessary. However, you will need to wear a mask for 10 days following your known exposure, in addition to testing on the fifth day after your exposure.
If you are unvaccinated or were vaccinated with your Pfizer or Moderna series more than six months ago or with the J&J more than two months ago and have not yet received your booster, you should be quarantined for five days following your last exposure.
After those five days, you should continue to wear masks around other people for another five days, and you should also be tested on the fifth day.
And if at any time you develop symptoms of COVID-19 during your quarantine period, or your 10 days after exposure, such as fever, runny nose, cough, headaches or body aches, you should get tested and isolate yourself until the test results come back. And, of course, isolate yourself if you test positive.
"As we continue to fight COVID-19, prevention is truly our best option. The degree to which each of these prevention measures are implemented, as well as compliance with isolation and quarantine recommendations, will determine the outlook in the weeks and months ahead."
You may be interested in: Vaccine Booster and Mouth Covers, Allies Against COVID This Holiday Season