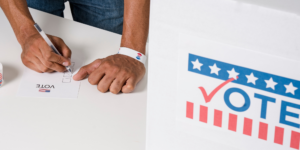 Like every election, there are challenges that the system and society face, but for the 2024 elections, technology will play a very important role, since information is generated immediately, although not everything is true. In addition to this, electoral officials fear for their safety and distrust is beginning to take hold, so generating security and trust will be the main challenge in a race that is expected to be complicated.
After the last presidential election, 31 percent of election officials left their jobs due to security concerns and threats, while 11 percent of those interviewed said they had also considered it, reported William T. Adler, director Elections Project Associate at the Bipartisan Policy Center, during an information session held by Ethnic Media Services.
For William T. Adler, this is part of a very dangerous cycle, as election officials sometimes face threats and are likely to leave their jobs, which decreases voter confidence and generates more misinformation among society.
? It has always been difficult to administer elections, it is a government job that pays little and is thankless. In recent years it has become more complex because we have incorporated more technology into the processes and the officers have become the ones who manage the system, something that was not required before.?, commented Adler.
Given this, he said, electoral officials must be prepared with the appropriate tools to be ready before voting, in this way they can prevent crisis situations if something were to happen.
?It is difficult to predict what the exact threats are or will be, but educate yourself on the specifics of the process, in the jurisdiction that you cover, if you prepare, then when something happens you will be able to report appropriately.?, he pointed out to the media Adler.
Gowri Ramachandran, deputy director of the Elections and Government program at the Brennan Center, commented that electoral officials are in charge of much of the process, which is why her work team is already providing information for the 2024 elections to be ready for possible situations that may arise.
?It is recommended that they have more security and resilience with the infrastructure to avoid any interruption. When there are problems with the machines or lack of personnel, people must participate to solve these problems.?, he added Gowri Ramachandran
Ramachandran recommends making a copy of the database, having competency tests for the electronic system, requesting a security system for offices and making it clear to public officials that any threats to election workers will not be tolerated.
And, he said, preventing in time helps ensure that these small technical failures do not cause a crisis at the time of the elections, since ultimately the problems that arise translate into distrust in the electoral results.
Another recommendation he gave is that electoral officials do not fall into misinformation that generates distrust in their work, they must be the ones who transmit clear and precise information, considering the languages so that anyone is clear about the electoral process.
Nora Benavidez, senior advisor and director of digital justice and civil rights at Free Press (FP), called on society not to be fooled by digital content that is using Artificial Intelligence to generate images, videos or audios with the purpose of generating instability and crisis.
He explained that care must be taken with the information shared on X, formerly called Twitter, since some accounts that are verified are for payment and not because their content is actually verified, since in recent months very sensitive content has been seen on This social network that has led to misinformation on topics, for example, such as what is happening in Palestine due to the war between Israel and Hamas.
It is known that Facebook, YouTube and other networks have fired people who are in charge of moderating the content, and for not complying with their security protocols they fire them, it is very delicate, since some platforms stopped taking care of the content by allowing that anyone share sensitive and false data.
For Benavidez, when talking about integrity and protection on digital platforms, investment in the team of people who do comply with content moderation protocols should be considered.
In addition to this, the next elections will be different by once again having Donald Trump as a possible candidate, since the risks of insurrection and infiltrations should not only be considered on election day.
Given this, he said, it is very important that before and until election day there is content moderation, checking that the content is correct in the English language, in addition to others, in order to avoid regrettable attacks.
?People are going to be hungry for information, so they are going to use social networks more than any other means of information. So, one of the most important things is to reach voters where they are with the right information.?, he added Benavidez.
Sam Gregory, executive director of Witness.org, spoke about how electronic intelligence tools play such an important role for the upcoming elections, since it is possible to generate audiovisual content in a simple way by making people believe that it is real through Intelligence Artificial (AI).
An example of this is the voice generator that allows editing and creating audios, as well as identity theft or the generation of false images that could call into question the reputation of the candidates and change the course of the elections.
For Sam Gregory, the most delicate issue will be moderating the generation of false information, since there are not many tools capable of identifying this, so each person and medium must be in charge of verifying and denying it.
Experts ask the media and journalists to be closely aware of the information that is generated before, during and after the elections, which will be the greatest challenge for 2024.
You may be interested in: American democracy prepares for the 2024 elections