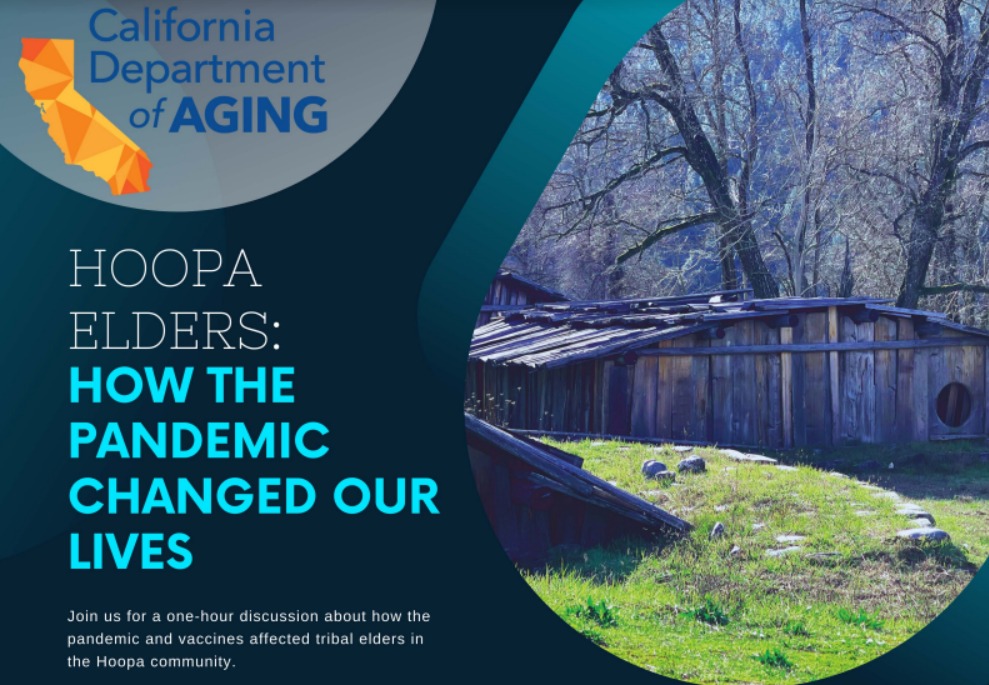 By Pamela Cruz. Peninsula 360 Press [P360P].
Historically, tribal communities have borne the brunt of massive disease outbreaks that have devastated native populations.
With regard to COVID-19, Native people are among one of the minority groups most at risk for the disease and for severe symptoms. Cases of this disease among Native Americans occur at 3.5 times the rate of non-Hispanic whites.
The devastating impacts have been on all tribal communities in the country. However, older adults have shown resilience, love and patience, as exemplified by those belonging to the Hoopa community.
Located in Northern California's Hoopa Valley, these seniors are not giving up and are betting on the SARS-CoV-2 vaccine to bring their loved ones back into their arms.
So far, 3,400 doses have been administered in the area, including the first, second and booster doses, indicating that 75 to 80 percent of elders are vaccinated, said Angie Brown, deputy public health officer for Hoopa Valley Tribal Health and K'ima: w Medical Center, during a media session conducted by Ethnic Media Services.
He added, the tribal elders were early adopters and access to the COVID-19 vaccination clinics, "they've been very receptive."
He also explained that, so far, the Chuppah Valley has had 672 COVID positives, while only 37 seniors had to go to the hospital for more severe symptoms, "which shows that the vaccine is working, that our seniors are getting the vaccine, and it's protecting them."
These older adults, he said, have already started their booster doses because they know the importance of increasing protection, especially in vulnerable groups.
"People in our communities live close-knit, multi-generational households with many extended family members. So when it comes to a pandemic, you can imagine that it would affect our families. If there is a positive case of COVID in a family, it can spread through the family very quickly because of the large families we have," she explained.
Being used to having gatherings with family and friends, for these older adults, "the pandemic has really created a sense of isolation. They have missed crucial events, including the birth of children, weddings, funerals, family dinners, and daily interaction with peers, just to name a few.
Among the biggest impacts, Brown noted, are the decline in the social, emotional, mental and physical health of many of the elderly.
"That's the biggest impact on our seniors, aside from their physical health, COVID has brought our people and our seniors the feeling of isolation, and that decreases mental health and causes depression. They are used to having interaction with other people."
The protection of these older adults has been joined by the younger population, who have helped by getting their vaccinations or by not risking them with encounters that could infect them. This situation has become positive because the number of infections has been reduced thanks to this understanding of the pandemic, said the specialist.
For Hoopa Reservation resident and Hoopa Valley Tribal member Lois Risling, who is married to Hoopa Valley Tribal member Steve Baldy and has four children and three grandchildren, her family has become her strength in weathering the pandemic.
Louis, who is retired, said the pandemic has forced them to face fears and fight to make it all right. The thought of their children, who live in another house, and whom they have cared for since they were children, who could face death from this virus, simply filled them with fear, but they decided to be strong and fight with all the weapons they could muster.
"It was very difficult for me to understand that 'my children' were at risk of death. And later I found out that even after the vaccines came, they were still at risk because they didn't qualify for a vaccine right away," she said.
She added that at the beginning of the pandemic, they suffered from food insecurity, as it was extremely difficult for them to find food for their family.
"Another thing that was difficult, was getting food, because at the beginning of all this, we were living in a real food desert. The people who normally brought food from the community were in that age category where they couldn't get vaccines," she recalled.
The food, he said, often had to be left on the porches, to be picked up later, but the area is an important passageway for animals such as bears, foxes, skunks, raccoons and many others, who would come to steal the food.
For this group of people, the pain was exposed when they learned of young people they knew who had lost the fight against COVID-19, and while the suffering was there, they could not even go to funerals.
"So, that's my experience. I don't like COVID. I'm tired of COVID. I want COVID to go away." She stressed.
And despite the fact that the history between diseases and native communities is not good, as entire groups died of smallpox, the natives have chosen to seek the vaccine and fight against this disease that has claimed the lives of thousands of people in the country.
Louis acknowledged that the COVID-19 vaccine helped him reconnect with his family.
"It helped me reconnect with my children, because we were still afraid. And, like I said, I'm talking about 40-year-olds to my kids, because they had kids who, at the time, couldn't get vaccinated and now we still have kids under 5 who still can't get vaccinated, and my kids say, 'You're protected.
You may be interested in: Anti-vaccine Christian dies after losing battle against COVID-19