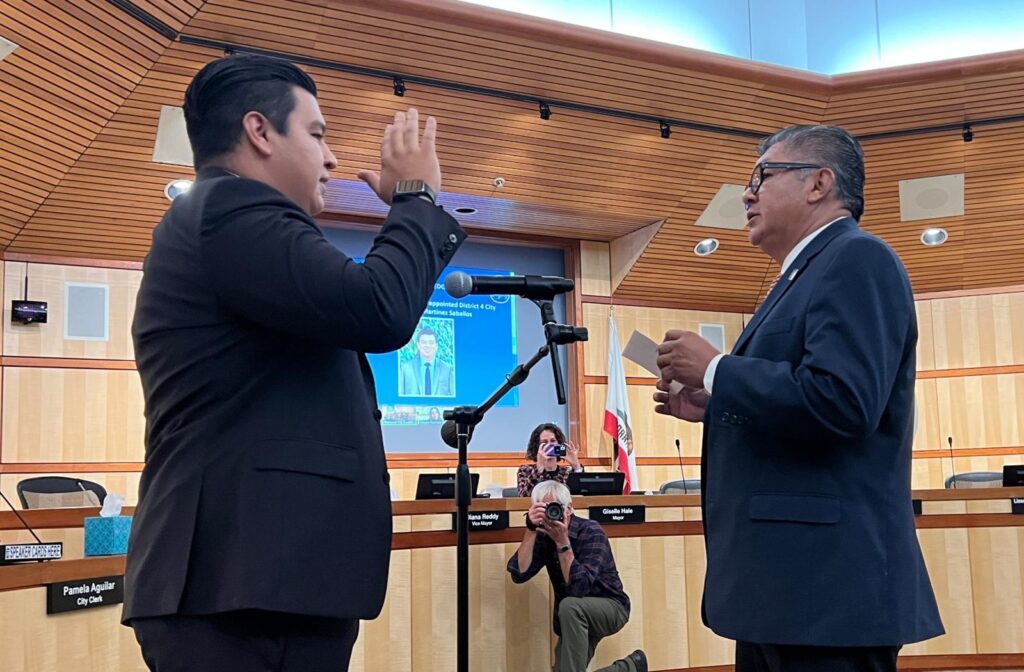 After the Redwood City City Council unanimously appointed on August 20, 2009, a new Elmer Martínez Saballos to fill the City Council seat for District 4 until December 2024, this Monday, the new member was sworn in during the council meeting.
Councilmember Martinez was sworn in at the City Council dais, where he took an oath to protect and enforce the U.S. Constitution and the laws of Redwood City.
"We are honored to now call him our colleague on the Council and know he will work tremendously hard on behalf of all Redwood City residents and look forward to working together to support our community. Thank you for taking this step," said Redwood City Mayor Giselle Hale following Martinez's swearing in.
After hugs and celebration from his now colleagues, Councilman Martinez took a few minutes to thank them for the task, for which he said he was "ready for the challenge".
"I am eternally grateful for the trust that has been placed in me today. I know this is not an, an easy job or one that many people just jump into without really thinking about it," referred Councilman Martinez. "My action for my service to the community and my devotion to all of you stems from my family, struggles, passion and hard work that have made it possible for me to be on this dais."
"It was instilled in me very early on that if you have the ability to do good for yourself and good for your family, you have a responsibility to do that for your neighbor, for those who are struggling. And that's why I'm here today, because I want this community to be strong for everyone, but I have a special focus for the most vulnerable among us," he stressed.
Following the resignation of Councilman Michael Smith in July of this year, and the reason Martinez will throw his name in the ring for the seat, he said that "it will not be easy to pick up the mantle and continue the work that he has done to build on the work that you all have completed, but I am ready for this challenge. I am ready to grow with all of you. I am ready to become a more effective community leader and keep Redwood City a strong place on the Peninsula, the great place to call home that it is today."
After his speech, the mayor reminded him that he has the support of the community, staff and colleagues, so he will not be alone in the task.
Elmer Martinez has been a lifelong resident of Redwood City and serves as a senior policy associate for ReadyNation, a national nonprofit organization that mobilizes business leaders to advocate in the state legislature for policies and programs that support children and youth, the mayor's office said in a statement.
In turn, he previously served as a district representative for former State Senator Jerry Hill and State Assemblyman Kevin Mullin, where he directly assisted constituents in navigating state government resources during the COVID-19 pandemic.
In addition to his professional roles, Martinez has volunteered with the Redwood City Education Foundation, Cañada College's OYE Youth Conference and is a graduate of the Chamber's San Mateo County Leadership Program.

You may be interested in: Redwood City appoints Elmer Martinez Saballos as Councilman for District 4