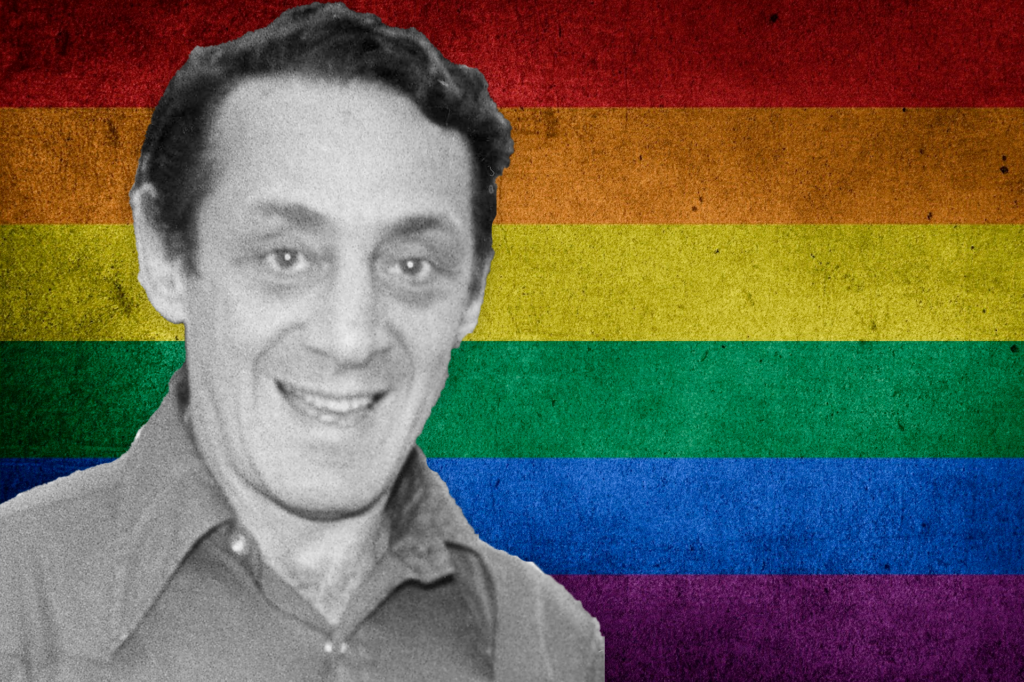 "If a bullet goes through my brain, let that bullet destroy the doors of all the closets," Harvey Milk said and recorded in a recording when he felt threatened, not knowing that he would end up becoming a symbol of the gay cause. And today, the echo of his fight for LGBT+ rights continues to reverberate loudly.
In November 1977, Harvey Milk made history by being elected the first openly gay man to public office in the United States.
His position as a city supervisor on the San Francisco Board of Supervisors lasted only about 11 months after he was shot at point-blank range five times by his colleague Dan White, two of those shots to his head, resulting in his instant death.
Harvey Bernard Milk, was born in Woodmere, New York in May 1930, a time when it was repressed and considered a crime to speak out as a homosexual. In 1962, for gays he was deserving of being blamed and taken to jail for sodomy throughout the United States as they banned same-sex relations.
The life of Harvey Milk, the first openly gay politician and activist, was an example for many LGBTI people, as he assumed his sexual identity and fought for his rights, although at the beginning he dedicated himself to various professions such as naval officer, teacher, theater producer and even bank executive.
Castro Street is emblematic of Milk's career. In 1972 he moved to California with Scott Smith and opened a photo store in the heart of the Castro neighborhood, the future home of his political career.
As soon as he could, Milk enacted one of the LGBTI community's most important ordinances protecting gay men and women from discrimination in housing, employment and other public spaces.
The ordinance was threatened by "anti-Harvey" conservatives such as conservative senator and legislator John Briggs and Anita Bryants, singer and political activist and staunch opponent of LGBTI rights who promoted "Proposition 6" or the "Briggs Initiative" seeking to censor the enactment of rights and freedoms for the Lesbian, Gay, Bisexual, Transgender, Transsexual, Transgender and Intersex (LGBTI) community.
The fight between Harvey and Briggs came to a head when Harvey challenged his opponent in a live television debate, which was a resounding success, prompting organizations like Antiproposition 6 to march with the slogan "come out! come out! come out! wherever you are! Come out! come out! come out! wherever you are!".
Milk also delivered in 1978 one of the most emblematic speeches of the struggle for gay rights entitled "The Speech of Hope", which says in one of its excerpts:
"Gays here and across the country, young people who are coming out of the closet and listening to the religious right through the media, what they need is hope. You have to give them hope. Hope for a better world, a better tomorrow, a place to go if the pressures at home become unbearable. Not just for gays but for blacks, Latinos, the old, the crippled... If you help elect more gays, you will be sending a clear signal to those who feel on the outside, a signal that progress is possible. If one gay man can, the doors are open to everyone.
Harvey Milk and his colleague Jim Rivaldo, a veteran San Francisco political consultant, gay rights activist and Harvey's political career manager, founded the Gay Democratic Club of San Francisco, later the Harvey Milk Gay, Lesbian, Bisexual and Transgender Democratic Club, in 1976. https://www.milkclub.org/.
By June 1977, Harvey's advocacy career, which he had sustained until then, began to be highly threatened by a hard-fought campaign led by Anita Bryant to overturn the gay rights law in Florida and passed in several other states.
Harvey put up a fight by running for alderman for the third time, winning District 5, which includes the Castro ward, hence he became known as the "Mayor of Castro Street" with his famous greeting "Hi, I'm Harvey Milk, and I'm here to recruit you."
A few months later, in November of the same year, the worst of the mishaps occurred, perpetrated by Dan White, a corrupt councilman who circumvented the security protocol of the San Francisco City Hall, killing his opponent, Mayor George Richard Moscone, whom he shot four times causing his death, to later take the life of Councilman Harvey Milk.
The double murder outraged the entire LGBTI community and brought together a total of 40,000 people spontaneously to march in silence to San Francisco City Hall calling that day "Black Monday".
Today, Harvey's legacy continues. More and more politicians are open about their sexuality and make the rights of millions of LGBTIQ+ people the basis of their careers, because, they know, the battle is not over yet.
You may be interested in: Annual Pride Celebration Returns to San Mateo County