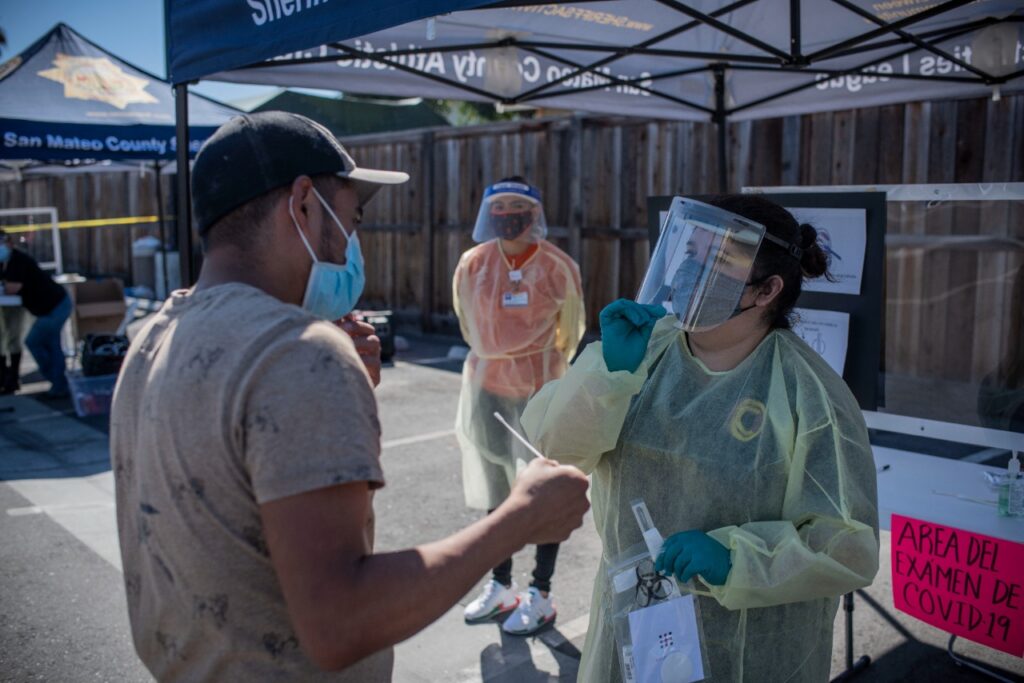 Three years after the first COVID-19 shelter-in-place orders, the investment of the San Mateo County during the pandemic was approximately $360 million in recovery initiatives focused on helping those most affected.
The total, the county said, includes $188 million for housing, $76 million for food security and more than $16 million in direct financial aid for individuals and families.
In this sense, he specified that the financial support was also directed to small businesses, child care providers and youth programs.
"The pandemic shed a light on the gap between the haves and have-nots here in San Mateo County," said Dave Pine, Chairman of the San Mateo County Board of Supervisors. "What we've tried to accomplish with these investments is really focus on programs and projects that address the most basic needs of our community to close that gap."
For her part, Peggy Jensen, Deputy County Executive, presented a report to the Board this morning on the allocation of pandemic recovery funds over the past three years after COVID-19 led to numerous health orders and other measures that affected the economy.
The response was initially informed by task forces that first met in April 2020 to develop strategies to help the community cope with what many feared would be an economic crisis.
The task force, which involved dozens of community organizations, residents, civic and business groups, and other partners, aimed to "build a more equitable, healthy, and connected San Mateo County" with support for residents in need and relief efforts. economic.
The county said there is still a total of $36 million unallocated for emerging issues.
In terms of housing, he stressed that 26 million dollars were for emergency financial assistance for rent, public services and transportation supported by private, city and county donors that helped 8 thousand 807 households; while $109 million went to state-funded emergency rental assistance that helped 7,400 households.
In addition, 55 million dollars were transferred to the Affordable Housing Fund, which generated 2,500 new units in the housing pipeline; $21 million to create housing for homeless residents by adding 283 non-congregate temporary housing units and 52 new permanent housing units; and $1.5 million in farmworker housing for a 40+ unit senior housing development that will include a farmworker resource center.
Towards Food Security, $64 million went to Great Plates, funded by the state and operated by county staff provided 2.9 million meals served to 4,683 seniors; plus $3.9 million to Second Course funded by a county allocation of federal recovery funds provided 99,600 meals to 759 seniors.
Also, $8.5 million for the Second Harvest Food Bank funded by a county allocation of federal recovery funds helped provide 37 million pounds of food distributed annually to more than 36,000 households.
Small businesses and non-profit organizations were also supported after $33 million went to them.
Financial assistance included $16 million in grants for those not eligible for federal assistance ?$1,000 grants to 16,017 people? supported by a $5 million allocation of county funds.
The smallest of the home were not forgotten, because according to the county, 4 million dollars went to the child care aid fund; $870,000 for the Child Care Coordinating Council.
They noted that $10.7 million was for summer enrichment programs, learning center expansion, after-school care, supported by a county allocation of federal catch-up funds.
To help with this, $6 million was earmarked for 284 new public Wi-Fi sites, access points in low-income communities, and residential services.
You may be interested in: The debate on the use of masks in the US continues.