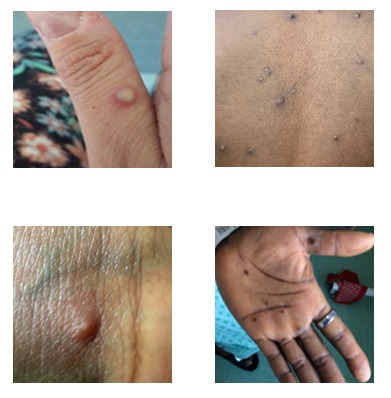 The Mayor London BreedThe San Francisco Department of Public Health, reported that according to the San Francisco Department of Public Health, the city government has declared a state of emergency for smallpox, which will be in effect as of Monday, August 1, allowing it to prepare and dedicate resources to prevent the spread of smallpox.
As of Thursday, there are 261 diagnosed cases of monkeypox in San Francisco, a figure that places it as one of the epicenters of the disease in the country, registering more cases than most states.
While this virus affects everyone equally, there is currently a higher risk of exposure in the LGBTQ+ community, which accounts for nearly 90 percent of cases in San Francisco.
In turn, the Latino community accounts for 30 percent of the cases, even though they make up only 15 percent of the city's population.
While it is known that there is a nationwide shortage of smallpox vaccine, the mayor said she will continue to push for faster delivery so that it can be distributed efficiently in San Francisco, which suffers disproportionately from smallpox cases.
The declaration of a Local Emergency, he said, will mobilize city resources, accelerate emergency planning, expedite staffing, coordinate agencies throughout the city, allow for future reimbursement from the state and federal governments, and raise awareness throughout San Francisco about how everyone can stop the spread of this disease in the community.
In turn, Breed pointed out that the declaration of Local Emergency does NOT mean the implementation of behavioral restrictions or other measures as was done with COVID-19.
"It's about having the resources and the ability to move quickly to implement them. During COVID, we used our local declaration to open emergency vaccine sites, deploy workers to immediate needs, enter into emergency contracts, and nimbly move the government bureaucracy to deal with the virus. These are the kinds of actions that will allow us to carry out this Local Emergency," she said in a statement.
This local emergency takes effect August 1 and must be adopted by the Board of Supervisors within a week, Breed explained.
For its part, the Board of Supervisors agreed to convene an emergency meeting next week to consider the declaration, "I am sure they understand the urgency of this matter," said the mayor.
To follow the city's updates on vaccines and other developments, interested parties can access the website at https://sf.gov/information/monkeypox.
Count
A few weeks ago, the San Francisco Department of Public Health ordered 35,000 vaccines to begin reaching people most at risk of contracting the virus.
However, in the last three weeks, barely a third of that request has been received. "That's not enough and the reality is that we're going to need a lot more than 35,000 vaccines to protect our LGBTQ+ community and stop the spread of this virus," Breed stressed.
He explained that this is not only to protect the health of the public, but also to stop the spread to other communities. "Last week, I wrote a letter to Health and Human Services Secretary Xavier Becerra asking for more support. Since then, our case count has nearly doubled," he said.
San Francisco reported its first case of monkeypox on June 3, and cases have continued to increase since then.
The risk to the general population from this virus is believed to be low, as it is not an easily airborne disease like COVID. However, this is the first time it has spread in so many countries at once and increasing rates of cases are being seen in San Francisco.
Last weekend, the World Health Organization (WHO) declared the disease a Global Health Emergency.
"The most critical need right now is more vaccines." The federal government distributes the vaccine to state health departments and then the California Department of Public Health allocates the vaccines to counties, such as San Francisco.
"We have no control over the amount of vaccines we receive. San Francisco needs more support and we need more action. That's why we are declaring a Local Emergency," said London Breed.
"San Francisco demonstrated during COVID that early action is essential to protect public health. We stand ready to do whatever it takes to protect our communities, especially those most at risk of contracting this virus," he said.
You may be interested in: SF runs out of smallpox vaccine, more requested from federal government